Not So Fast! Five Reasons McGregor vs. Diaz Will Disappoint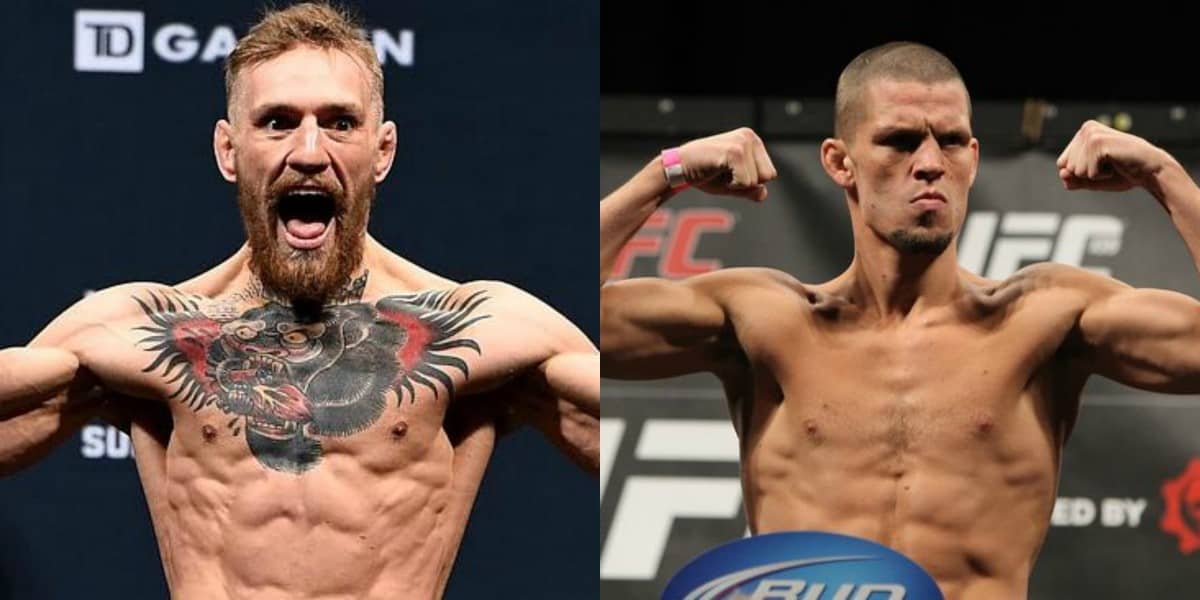 Dates, schedules, opponents, and main events change all the time in mixed martial arts (MMA). But for UFC featherweight champion Conor McGregor, half of his promotional stint has been based around last-second tweaks.
To little concern of the Irishman, these unsuspecting changes have no stopped his meteoric rise. Due in part to his habit of training to simply get better, not necessarily for a singular opponent, McGregor has continued his winning ways en route to becoming the biggest star in the sport.
However, there will come a time when these perennial switches so close to fight night end up hurting McGregor's stock. While it may not come in the form of defeat, it may at least diminish his aura of invincibility.
Unfortunately for fight fans of all shapes and sizes, the featherweight king's jump up to 170 pounds this coming weekend at UFC 196 may be the straw that breaks the camel's back. McGregor's opponent, Nate Diaz (who is filling in for Rafael dos Anjos), possesses a significant size advantage and understands how to utilize distance as good as anybody. Not to mention he possesses a chin that has held up for the most part over eight years of UFC competition.
Their matchup undoubtedly seems glorious on paper, but with somewhat contradicting movements inside of the cage, and our expectations for McGregor every time he takes flight, UFC 196 may in fact produce a dud.
Here are five glaring reasons why a McGregor vs. Diaz tilt will disappoint the masses.
Reason 1: Short notice
Nate Diaz is essentially rolling off the couch to face the biggest name in MMA today on just two weeks notice.
While the able veteran has insisted that he stays in shape in the off season, Diaz's unwillingness to fight at any other weight than 170 pounds may suggest he's not entirely telling the truth. His cut down to lightweight has been historically tough, so it is understandable that that would have been too much to ask of the 30-year-old.
But when he steps inside of the Octagon this weekend, he'll be forced to go toe-to-toe with a striker who implores consistent pressure. Diaz also inhabits a similar approach offensively, but he also tends to take his time to size an opponent up.
If Chad Mendes was any indication of how a fill-in fighter on short notice fairs against McGregor, it's that they don't tent to do well when the Irishman works the body. McGregor's speed will easily allow him to attack Diaz's long torso, which in hand can further hamper the Stockton brawler's ability to maintain energy and effective offense.
Reason 2: McGregor's weight gain
While Conor McGregor will not resemble a hulking Brock Lesnar at UFC 196, he will in fact be a bigger fighter with more muscle.
McGregor has competed at 155 pounds once before, but never as a welterweight. The move will certainly be an ongoing experiment as the featherweight champ figures out how his body reacts to the significant weight gain. This includes his speed, reaction time, quickness, clinch ability, and overall flexibility.
As a fighter who heavily relies on is speed and precision, carrying more muscle around may not be the best of ideas, especially against a fighter like Diaz who will allow zero mistakes.
It will be interesting to see how McGregor adapts to his new environment at 170, but it may not be as seamless as people think. Anything short of his normal output and ability would be a complete and utter disappointment.
Reason 3: Diaz's chin
Outside of a head kick knockout by Josh Thomson at UFC on FOX 7, Nate Diaz has never been finished by strikes. The Stockton native still possesses one of the very best chins in the sport.
He has taken beatings from top-ranked opponents like Rafael dos Anjos, Benson Henderson, and Rory MacDonald. But through all of it, Diaz still possesses one of the very best chins in the sport.
This doesn't quite bode well for McGregor fans worldwide, who have grown to expect a knockout finish every time the Irishman steps inside of the Octagon. Max Holloway remains the only fighter to ever take the champ the distance, and he's a lengthy striker just like Diaz.
When McGregor is unable to stop the former lightweight title contender in his tracks in the first round, we could start to see that his one-punch knockout power may not be built for the welterweight faction.
Reason 4: Diaz's ground game
It could easily be declared that Nate Diaz possesses the best grappling out of anyone the Irishman has ever encountered.
This includes Jose Aldo, Chad Mendes, and Dustin Poirier.
If Diaz finds himself in trouble on the feet opposite McGregor this Saturday, he may very well opt to take it to the canvas. In the past, and even more so following his brief scrambles on the ground with Mendes at UFC 189, McGregor's grappling ability has been called into question.
He does train with renowned submission expert and fellow welterweight Gunnar Nelson, but nothing can prepare McGregor for the real thing. Which is also the reason why both of his two professional losses have come by way of submission.
It wouldn't even be surprising to see Diaz pull guard if he happens to clinch with the former featherweight.
Reason 5: No title
Back when Conor McGregor had no tattoos and didn't know what Las Vegas air smelt like, he was a two-division champion for England-based promotion Cage Warriors Fighting Championship.
It's one of the main reason why Dana White and the UFC were willing to sign McGregor in the first place.
So when the Irish sensation was on the cusp of fighting for the UFC lightweight championship at UFC 196 this weekend, he was stepping in to accomplish history. McGregor was aiming to become the first fighter in promotional history to hold two titles simultaneously.
Unfortunately for the MMA universe, dos Anjos got injured and was replaced by Diaz.
While Diaz is a formidable opponent any day of the week, McGregor will no longer be chasing immortality. Without the shiny gold belt on the line, "Mystic Mac" is fighting just another eager opponent looking to get paid.