Jon Jones was uncomfortable with Israel Adesanya's racially charged attack on Du Plessis at UFC 290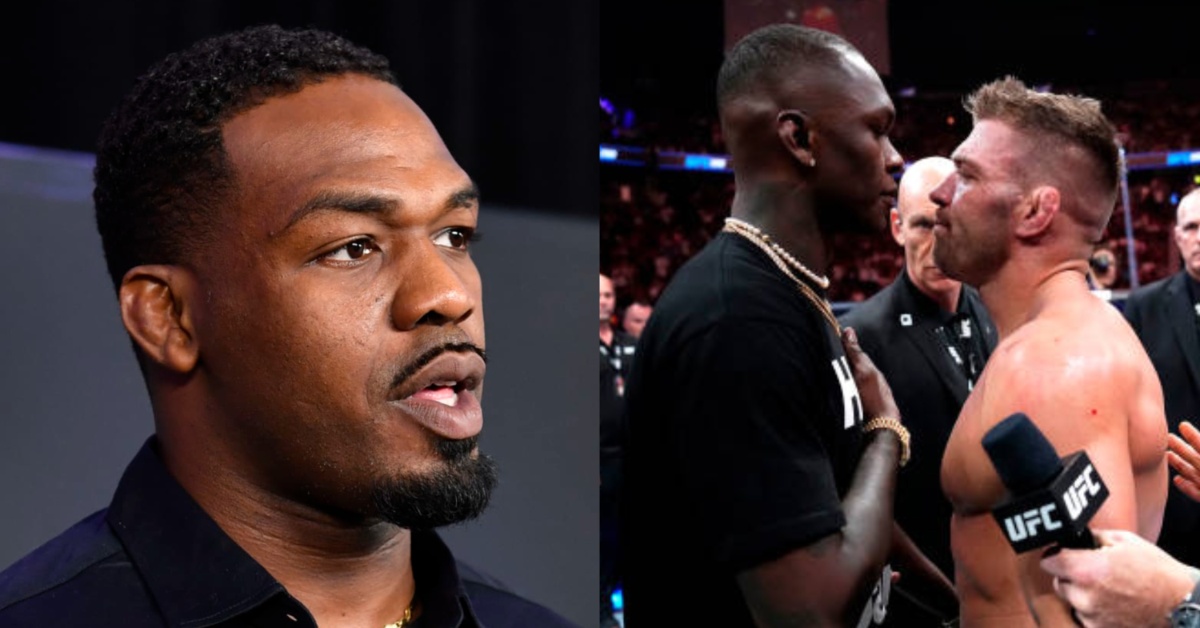 Even UFC heavyweight champ Jon Jones believes Israel Adesanya may have taken things a little too far in his confrontation with top-ranked middleweight contender Dricus Du Plessis.
'The Last Stylebender' has been at odds with Du Plessis ever since the South African suggested that he would be the promotion' first true African world champion. Obviously, those comments struck a chord with former titleholder Kamaru Usman and reigning champion Israel Adesanya. The pair have shared some back-and-forth comments in the media, but it all came to a head at UFC 290 after Du Plessis scored a shocking second-round knockout against perennial contender Robert Whittaker.
Immediately following the win, Adesanya hopped in the cage and engaged in a racially charged confrontation that saw 'Stylebender' repeatedly use the N-word while referring to Du Plessis.
Asked his thoughts on the intense face-off between Adesanya and Du Plessis, Jon Jones admitted to finding the whole thing fairly uncomfortable.
"I don't want to talk sh*t, because Izzy and I have become friends and whatever," Jones said during a recent appearance on the Kanpai Pandas podcast. "But I was uncomfortable. As a black man, I was uncomfortable my damn self. That was just weird."
Israel Adesanya Plans on Fighting Dricus Du Plessis Following His UFC 293 Headliner with Sean Strickland
With Du Plessis establishing himself as the No. 1 contender to the middleweight title, fans were hoping to see him square off with 'Stylebender' in the UFC 293 main event this month, but the turnaround was simply too short for 'Stillknocks' to accept. Instead, Israel Adesanya will step inside the Octagon with the always outspoken and ever-controversial Sean Strickland.
Win or lose, Adesanya still has every intention of settling some business with Dricus Du Plessis, suggesting that it would be the "biggest fight in sporting history." We're guessing he's never heard of the Thrilla in Manilla or Mayweather vs. Pacquiao for more modern fans. But considering Du Plessis' meteoric, and honestly shocking rise as a legitimate contender, and the tension already boiling over between these two, fight fans are undoubtedly chomping at the bit to see them share the Octagon sooner rather than later.