After the madness that was UFC 223 last week, it was refreshing to have a fight card with little drama and big excitement in last night's (Sat., April 14, 2018) UFC on FOX 29 from the Gila River Arena in Glendale, Arizona.
As expected, Dustin Poirier and Justin Gaethje threw down in 2018's 'Fight of the Year' frontrunner (watch full highlights here) in the main event, capping off a wholly exciting card overall that featured several exciting knockouts.
Although Matt Brown was scratched from the co-main event, we still got a barnburner in Carlos Condit against Alex 'Cowboy' Oliveira, and aside from that, the entire card went off without a hitch.
Saturday proved that sometimes the best cards are the least promoted, and when dust was settled, UFC on FOX 29 delivered. Check out the five biggest takeaways from last night's card right here.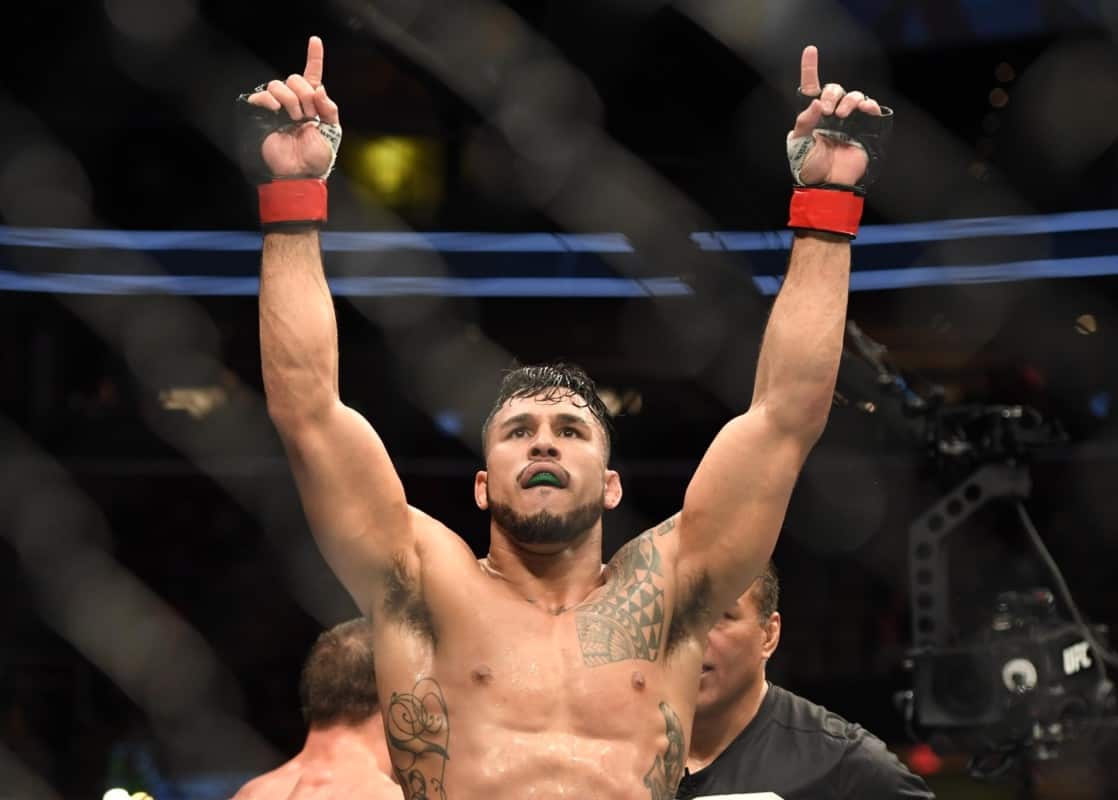 5. Brad Tavares Scores First Finish Since 2011
Brad Tavares has been on the UFC roster for eight years and had only scored one finish in that time.
The Hawaiian was arguably in a must-win situation against Krzysztof Jotko and did so in emphatic fashion. Tavares' striking looked crisp, eventually scoring his first TKO since defeating Phil Baroni back at UFC 125 in 2011.
Tavares called out former divisional champion Michael Bisping following the fight, and honestly, it's not a bad matchup for either man. But it's not one that will do anything for Bisping in his final fight, so don't expect to see it happen soon.
Tavares is on the up and up, so he should be looking for a fighter in a similar spot in his next bout to see who can rise up even more.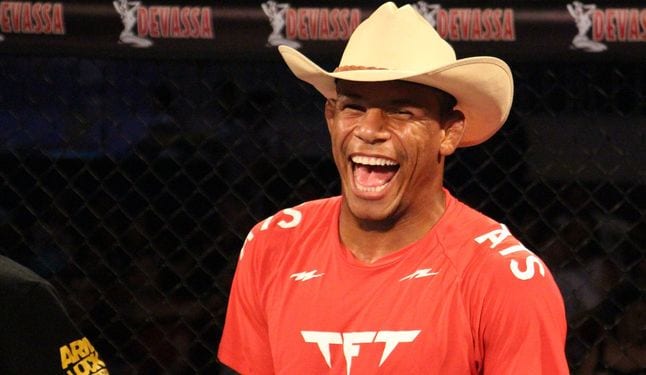 4. Alex 'Cowboy' Oliveira Wins Biggest Fight Of His Career
The Brazilian 'Cowboy' earned the biggest win in his UFC career after choking out former interim champion Carlos Condit.
Oliveira went into the fight on short notice and relatively unheralded after losing to Yancy Medeiros in his last outing.
That loss made it difficult to remember that before the Medeiros fight, 'Cowboy' had knocked out the previously unfinished Ryan LaFlare and had rattled off a 4-0 (1 NC) streak before the defeat.
Now with a submission victory over a former UFC champion, 'Cowboy' is poised to break into the top ten in the welterweight division, and there are plenty of exciting matchups for him.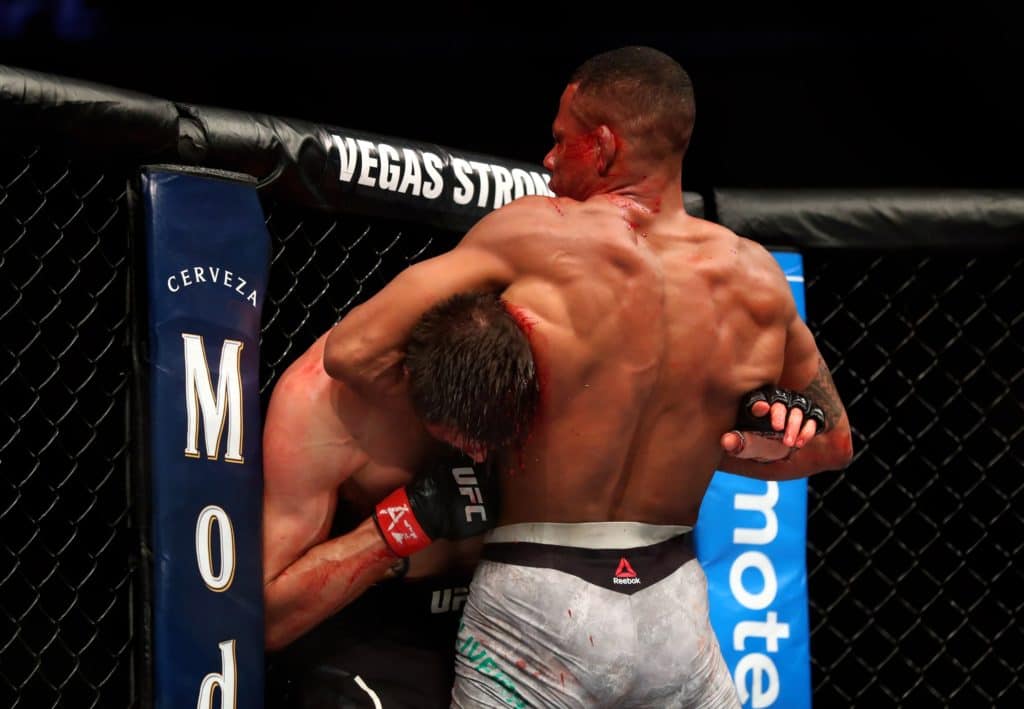 3. Carlos Condit On The Way Out
It was tough for Condit fans to watch the former WEC and interim UFC welterweight champion get finished in Saturday's co-main event.
Condit had played off his previous loss to Neil Magny as a lack of killer instinct, saying he intended on getting back to his old, ultra-violent ways against Oliveira. All things considered, he did, with his trademark whipping head kicks and left hooks from hell, but it wasn't enough to ensure victory.
Oliveira came into the bout on the heels of a deflating TKO loss, and he seemed like the perfect opponent for Condit to beat and look good doing it.
Instead, he found himself on the wrong end of a guillotine choke in the third round, blood covering his face as he tapped out. It was certainly tough to watch for Condit fans, and the writing on the wall seems harder and harder to ignore.
After an illustrious career filled with fan-friendly violence, Condit has given his all to this sport and owes fans nothing more. If he chooses to continue fighting, a step down from the killers he's been stepping into the cage with seems in order.
Perhaps a fight with Ryan Laflare would make sense if he wants to continue he his career, but he has nothing left to prove.
2. Justin Gaethje Needs To Fight Smarter
There's no denying the rush fans get when Gaethje fights, but it's beginning to be to his own detriment at this point.
Now sporting a 1-2 record in the UFC, with both losses coming by way of T/KO, the damage he's accrued is troubling. Gaethje eschews defense and constantly presses forward, which likely cost him the victory against Poirier.
With CTE and concussions becoming more and more prevalent in the larger conversation about contact sports, Gaethje seems hellbent on testing those dangerous waters, which benefits no one.
Perhaps a change in strategy would refresh his defensive instincts. Gaethje is a Division I All-American wrestler, but he rarely if ever goes back to his base skills to avoid taking damage.
A fight against Al Iaquinta sounds ideal for both men.
1. Dustin Poirier: Title Contender
Poirier has finally found his groove as a lightweight in the UFC, and seems poised for a title shot with the run he's on. Aside from the no contest against Eddie Alvarez, 'The Diamond' has only one loss at 155 pounds, and has been wracking up wins ever since.
While a few years ago, a title shot seemed almost impossible for Poirier, the Louisiana native has worked his way into the conversation, and could seriously fight for the belt with one more victory.
Poirier vs. Tony Ferguson seems like a no-brainer after Saturday, a both will most likely require a lengthy recovery period and a victory for either man sets them up for UFC gold.