Dustin Poirier opens as massive betting favorite to defeat Nate Diaz in potential UFC grudge fight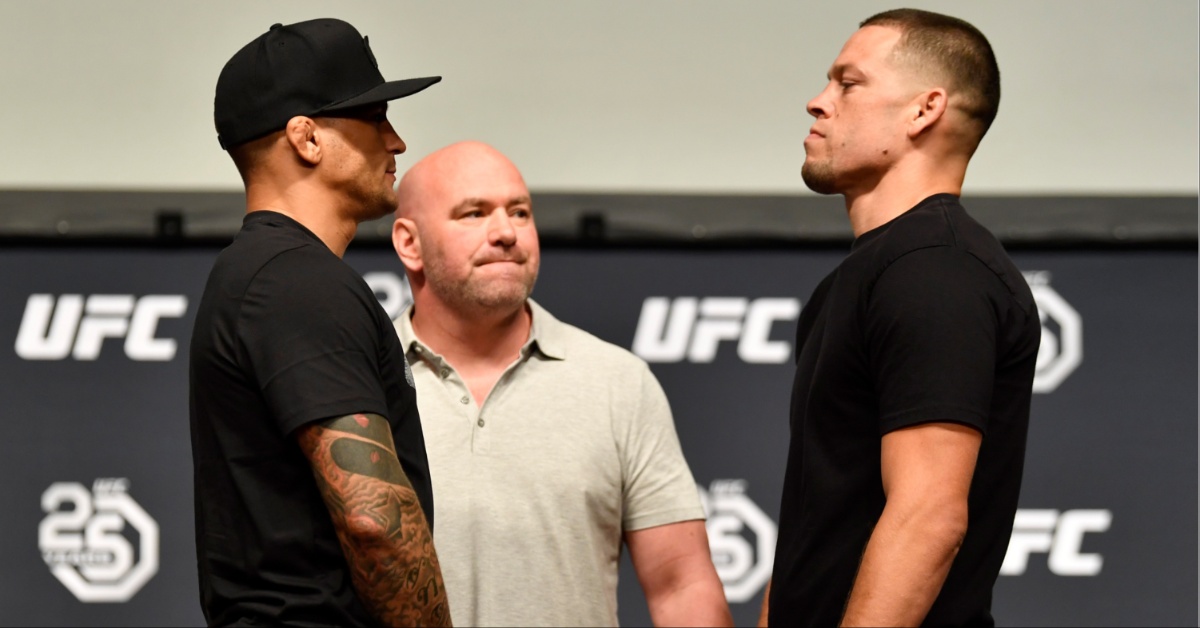 Chomping at the bit for a second Octagon walk this year, former interim UFC lightweight champion, Dustin Poirier has opened as a significant betting favorite to defeat Nate Diaz if they share the cage in the future – amid years of speculation of a potential grudge match between the two.
Most recently headlining UFC 291 back in July in Salt Lake City, Utah, former interim lightweight gold holder, Dustin Poirier suffered a thunderous second round loss to fellow former interim champion, Justin Gaethje in the pair's symbolic BMF title rematch, courtesy of a massive second round high-kick KO.
As for Diaz, the Stockton veteran made his professional boxing debut at the beginning of the month, suffering a unanimous decision loss over the course of 10 rounds against the outspoken and polarizing, Jake Paul – in his first venture into the squared circle.
Linked with a potential return to the Octagon, Diaz has also been floated as a potential opponent for Lafayette native, Poirier – with the former interim champion opening as high as a massive -450 betting favorite to beat the UFC alum, who is sat as a +350 betting underdog. 
Dustin Poirier opens as betting favorite to defeat Nate Diaz in potential fight
If punters are interested further in the odds of a clash between fan-favorite strikers and punchers, Dustin Poirier and Nate Diaz in the future – they can visit https://gryonline2.pl/ for more information, with a host of further prop bets available on the long-awaited showdown of lightweight veterans.
Initially slated to feature at UFC 230 back in November 2018, Poirier was alleged to have withdrawn from the bout with Diaz at Madison Square Garden due to a hip injury, however, insists the Stockton native failed to put pen to paper on an official contract, resulting in him instead pursuing a surgical procedure to address a hip injury – rather than withdrawing from a slated bout because of one. 
Ending his long-standing Octagon stint officially back in November of last year, Diaz, an Ultimate Fighter victor, managed to end his tenure under the Dana White-led banner on a high – defeating former interim lightweight champion in an impromtu welterweight main event in September last at UFC 279.
Linked with a comeback to mixed martial arts competition – which he himself has welcomed, Diaz has been offered the chance also to close out his trilogy with common-foe, former two-weight UFC champion, Conor McGregor – who has been steadfast in his pursuit of a rubber match with the Californian.
Twice sharing the Octagon with the Dubliner, Diaz became the first fighter under the UFC banner to beat eventual two-weight champion, McGregor, submitting the 35-year-old with a stunning upset rear-naked choke win back in 2016.
In August of that year, McGregor avenged that loss to the Stockton native with a close, debated majority decision win in a blood-and-guts welterweight rematch. 
As for a fight with Poirier, the Lousiana native joked that given Diaz rarely utililizes high kick attempts – in relation to his most recent loss, he would definitely welcome a clash. 
"He can't get his leg high, right?" Dustin Poirier said. "Like, a high kick or nothing? Alright, I'll take that fight. Let's f*cking go. I'm not chasing it. It's funny because you're the third person in the last week to bring his name up and he's not even in the organization. That would be a good one."
Would you like to see Dustin Poirier fight Nate Diaz in the future?