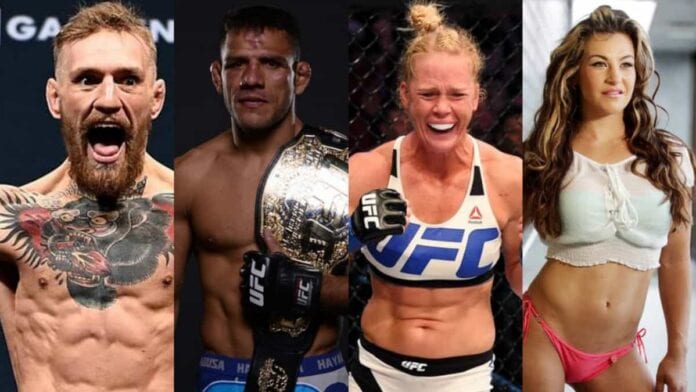 One of the hottest topics in mixed martial arts (MMA) today is the discussion of just whom featherweight champion Conor McGregor will face next.
'The Notorious' is one of the more active fighters on the UFC roster, and even though logic may dictate that he would face surging contender Frankie Edgar for the undisputed 145-pound championship, coach John Kavanagh stated he didn't want McGregor putting his body through the rigorous cut after he knocked out longtime former champion Jose Aldo in the main event of December 12's UFC 194.
That threw lightweight champion Rafael dos Anjos into the mix as a possible next opponent for 'Notorious' after he demolished Donald Cerrone in the main event of UFC on FOX 17, and popular veteran Nate Diaz threw his name into the hat after a surprisingly lopsided upset win over Michael Johnson on the same card.
The money fight seemed to be with dos Anjos, who has been running through top-ranked competition with surprising ease since his UFC on FOX 11 loss to injured top contender Khabib Nurmagomedov, including a dominant decision victory over Diaz and a five-round decimation of former champ Anthony Pettis at UFC 185.
Although it was rumored for March's UFC 198 in Dallas, Texas, news arrived from Bleacher Report this evening that McGregor vs. Dos Anjos is close to being booked for the lightweight title for March 5's UFC 197 from Las Vegas, Nevada. Dana White said last night that former CWFC lightweight champion McGregor wanted to fight for both the 145-pound and 155-pound title twice each this year.
UFC 197 was originally set for Rio de Janeiro, but plans were recently changed by the promotion.
As if that wasn't big enough, the report also stated that Holly Holm will defend her bantamweight championship against former Strikeforce champ Miesha Tate in the co-main event. Holm had been set for a rematch with former champ Ronda Rousey at UFC 200 after she knocked 'Rowdy' out at UFC 193, but White also broke the news that 'The Preacher's Daughter' would be fighting before her second date with Rousey.

The UFC is supposedly set to announce these blockbuster plans soon. Stay tuned to LowKickMMA.com for official confirmation if and when it's announced.