Ex-UFC champion Chris Weidman suffers another fractured leg in Octagon return at UFC 292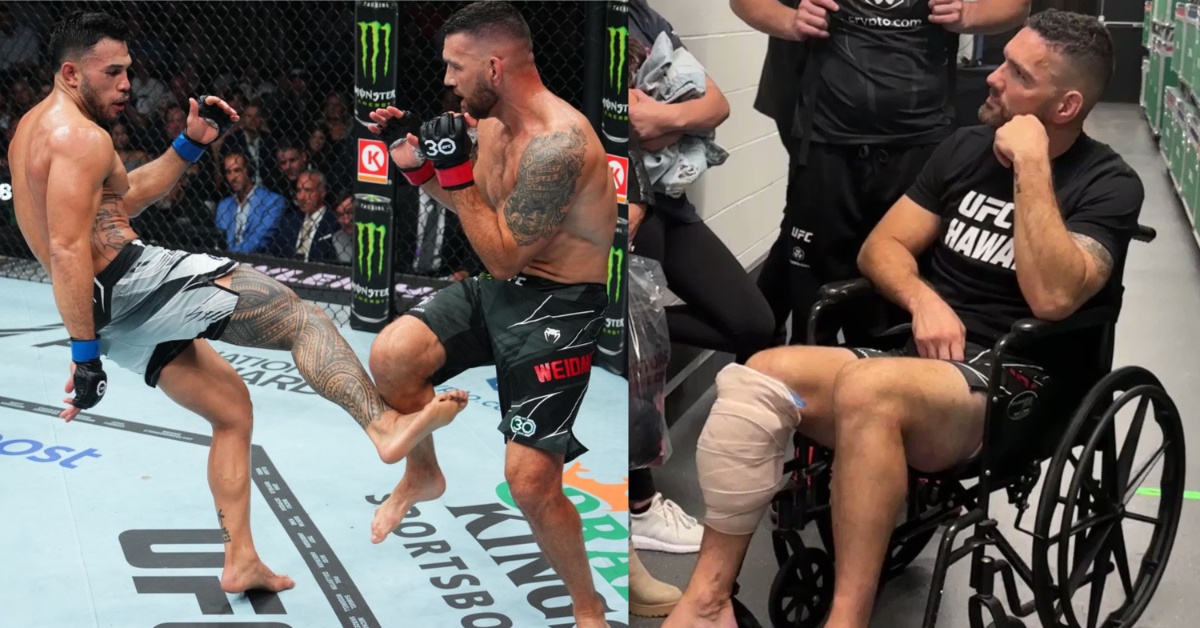 Two years ago, Chris Weidman suffered one of the most brutal injuries in UFC history.
28 months removed from his devastating first-round leg break against Uriah Hall, 'All-American' made his return to the Octagon on August 19, featuring on the UFC 292 prelim card. It was a cause for celebration, but sadly, things did not go Chris Weidman's way that evening. Matched up with Brad Tavares, Weidman suffered a lopsided unanimous decision loss after Tavares targeted Weidman's lead leg for a full 15 minutes.
To his credit, Chris Weidman finished the fight, but as it turns out, the former middleweight world champion suffered yet another devastating leg break.
"There was no ligament tears at all," Weidman revealed on his Sirius XM show. "So ACL, LCL, MCL, PCL, all those 'Ls' that you do not want to tear because that's like six months to a year of recovery. The ligaments are good. What did happen to me though, I have a fracture in my left leg. So he broke my leg with one of those leg kicks.
I ended up switching to southpaw and figuring it out. But I'm pretty sure that's when my leg broke, fractured it. It's on the tibula head, right below my knee is where it broke. Upper tibia bone is what's fractured. Recovery-wise, it's not bad at all. Four weeks. Four-week recovery, that's it" (h/t MMA Mania).
Fortunately, the injury wasn't as severe as the one he endured in 2021, but it will keep Weidman on the shelf for a minute while he recovers.
Will Chris Weidman Take Dana White's Advice?
Whether or not he returns to the Octagon remains to be seen, but UFC President Dana White recently pleaded with the ex-champ to hang up his gloves after being soundly beaten by Tavares in Boston. However, Chris Weidman still has fights left on his contract that the promotion is contractually obligated to honor, should 'All-American' choose to fight again.
Chris Weidman's biggest win came more than a decade ago when he shockingly scored a second-round knockout against Anderson Silva, ending the legend's iconic middleweight title reign at UFC 162. Weidman went on to defend the strap against Lyoto Machida and Vitor Belfort before relinquishing the crown to Luke Rockhold. Weidman would go on to lose six of his last eight fights, including the loss to Brad Tavares in August.
Weidman has already insisted that his career in combat sports is far from over.