First and foremost, a referee's priority in an MMA fight is to ensure the safety of the two combatants. But unfortunately, over the years there has been a disturbingly long list of late stoppages in fights where this simply has not been the case.
In this article, we'll look at 10 of the most shockingly late stoppages in the history of the MMA, in which fighters have had their health, safety and on occasions even their very lives endangered due to referee negligence, incompetence and, lack of judgment.
Pat Curran vs. Joe Warren
Joe Warren had to endure a shocking amount of punishment at the hands of Pat Curran during their featherweight title encounter at Bellator 60 in 2012.
The champion Warren was badly hurt by a big knee to the head early in the third round of the fight and reeled backward half-way across the cage on unsteady legs before Curran unleashed several hard, clean punches that snapped his head back against the cage.
Two more knees then dropped Warren to the mat, and as more punches followed, color commentator Jimmy Smith declared, "this is going to be stopped right now!"
Except it wasn't. Instead, referee Jeff Mallot stood by and watched as the dazed Warren somehow managed to stand, only to be rocked again by another punch that left only the chain-link fence keeping him upright.
The onslaught continued despite Warren turning his back on his opponent, then again falling back against the cage as his legs almost gave out under him, before a flying knee was followed by several brutal uppercuts that delivered the KO finish.
In total almost 20 seconds passed between Smith stating the fight was going to be stopped and it actually ending, while from the moment he was first stunned by the knee, Warren endured the better part of 40 unanswered blows.
Fellow fighter Sean McCorkle admitted to being, "genuinely afraid" for the former champion's health after witnessing him having to be practically carried back to his dressing room, where he reportedly began vomiting, though thankfully he was later given the all-clear at a hospital.
Asha Roka vs Hanna Kampf
Less than 20 seconds into a female flyweight fight between Asha Roka and Hanna Kamfa in the Super Fight League Promotion in 2017, Roka dropped to the mat with a guillotine choke and rolled into mount with it.
Even at that stage the commentator's were frantically shouting that Kamf was out, yet the referee Alan Fernandes was standing idly by, apparently oblivious to what was happening.
At one point Kamf's arm did move involuntarily, which led to some confusion, but then her body started twitching in an alarming fashion, yet the ref still didn't bother to check if she was still conscious or not.
In the end, Kamf's own cornerman, fellow fighter Dennis Hallman had to take matters into his own hands, running into the cage to end the fight himself, at which point it became painfully obvious even to the incompetent official that she was out for the count.
Thankfully, Kamf was deemed to not have sustained permanent damage, but remarkably Fernandes tried to deflect criticism of his performance afterward, telling the MMA India show that, "I think it isn't fair to pick up one fight and [focus on] one negative and not speak about the positives."
James Thompson vs. Don Frye
At PRIDE's last ever event in 2007, battle-worn veteran Don Frye was paired up against the considerably younger James 'The Colossus' Thompson.
Frye's first punch of the fight floored Thompson, but he soon rallied around and had a spell on top landing ground and pound, then hurt 'The Predator' with kicks to the face as he stood back up.
From that point onwards, Frye became a human punching bag as Thompson began teeing off, sending his head snapping back repeatedly as the ropes appeared to be the only thing keeping him upright.
Too tough and stubborn to just sink back down to the canvas, Frye simply stood there with his chin in the air, rocked, exhausted and making no attempt to defend himself as Thompson threw everything but the kitchen sink at him, including multiple clean hooks, uppercuts, and knees to the face.
In total, the referee's complete lack of care and concern for Frye's well-being led to him absorbing over 60 unanswered strikes to the head until he eventually turned his back on Thompson and the fight was declared over.
Silmar Nunes vs. Caio Silva
Last year at a Capanema Fight Combat event in Brazil there were chaotic scenes during the main event between Silmar Nunes and Caio Silva.
Nunes was able to secure a tight guillotine choke from his back and soon began to warn the referee, Jorge Gomes that his opponent was unconscious.
However, on two separate occasions, Gomes told him to keep fighting after checking Silva's foot once and then later his arm.
For an alarming period of at least 20 seconds, Silva appeared to be motionless, which resulted in his panicked brother and fellow fighter Dax Vinicius Silva vaulting over the cage and attempting to stop the fight, though at the time his anger was channeled at Nunes, throwing several punches at him.
However, he would later apologize to Nunes, who even after being assaulted still then proceeded to immediately check on Silva, who was unconscious and twitching on the mat.
It later emerged that Gomes, a fighter himself with only limited experience of officiating fights, had actually been watching the event from the crowd and was only drafted in to referee the fight at the last minute – a decision made all the more questionable by unsubstantiated rumors that he'd been drinking beforehand.
Macquiel Falcao vs. Vladimir Mineev
You know a referee's had a nightmare performance when even his fellow officials are calling him out for it.
Such was the case at Fight Nights Global 63 last year, where Brazil's Macquiel Falcao rematched Russian prospect Vladimir Mineev in the co-main event.
Falcao had won their previous fight by majority decision, but this time around it was Mineev who took the fight by the scruff of the neck midway through the first round, sinking Falcao to the canvas with a nasty body shot.
That should have been the end of the fight there, but despite Falcao essentially being curled up in a ball against the cage, the referee allowed the fight to continue as Mineev blasted his head with a relentless series of punches.
Eventually, Falcao attempted to struggle back to his feet, only to be floored by a single punch, but that still wasn't enough for the referee, and in total, he would suffer over 90 seconds of unnecessary punishment and dozens of unanswered blows before the fight was finally waved off.
"This is SHAMEFUL," respected referee Marc Goddard fumed on Twitter after watching the fight, while 'Big' John McCarthy was also critical, noting that, "A referee's job is to know when a fighter has stopped fighting and is looking for a way out, not to wait for the KO finish."
Even the promotion themselves publicly expressed their dissatisfaction with the referee's failure to save Falcao from a brutally prolonged beatdown.

"We are very disappointed at the referee's performance during the Mineev vs. Falcao fight," FNG stated. "It was obvious the fight should have been stopped long before it actually was stopped."
Gaber Reudiger vs. Olaf Alfonso
Sometimes it isn't immediately clear that a fighter has been rendered unconscious due to a rear-naked choke, but in the case of Olaf Alfonso vs. Gabe Reudiger at WEC 12 in 2004, it was painfully obvious to everyone except referee John Rosenthal.
Reudiger had managed to get his arm in deep under Alfonso's chin and the commentary team quickly declared, "this is over right here," believing he had little chance of escaping.
They were right, and sure enough, just seconds later Alfonso went limp, while somewhat disturbingly his mouth fell open and his tongue protruded out of his mouth.
He momentarily appeared to regain consciousness before again going limp with his tongue out. A couple of seconds later he seemed to regain his senses, briefly tried to fight the choke and then his hands flopped by his sides and he stared lifelessly into the abyss.
Keep in mind that Rosenthal was standing over him at the time, yet he still made no attempt to stop the fight for a further 10 seconds (making for a total of 20 seconds since he'd first appeared to lose consciousness), before the unconscious Alfonso was finally released.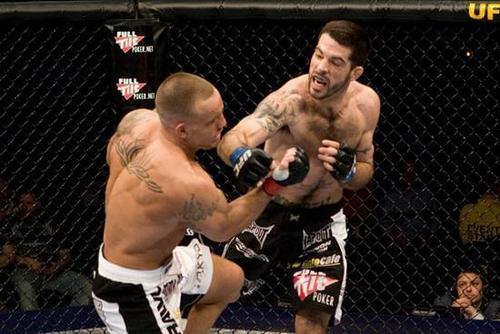 Matt Brown vs. Pete Sell
Referee Yves Lavigne left everyone dumbfounded at the way he handled a hard-hitting clash between Matt Brown and Pete Sell at UFC 96 in 2009.
Brown wasted little time in stamping his authority on the fight, landing a clean Superman punch to the face that stiffened Sell's legs, followed by a head kick and then a right hand that floored him.
At that point Lavigne dived in and put his arms around Brown, signaling that the fight was over, only to then change his mind after spotting Sell woozily getting back to his feet.
It was a dreadful blunder from Lavigne to restart the fight, made worse by the fact that for well over a minute afterward, Sell continued to suffer a completely unnecessary one-sided beatdown.
Sell was quickly dropped again by knees to the body, then ate seven hard, unanswered blows to the side of the head and several hammerfists before desperately driving back up to his feet and into the clinch in survival mode.
Things went from bad to worse for Sell as he lost his mouthpiece due to an elbow, then ate a knee to the head that had him staggering into the cage, yet only when his legs finally gave out from under him soon afterwards and Brown yelled 'Come on!' did Lavigne finally awake from his slumber and end the fight.
"I did let Mr. Sell take maybe — not maybe — I let him take a beating for absolutely nothing," Lavigne confessed later to The Canadian Press.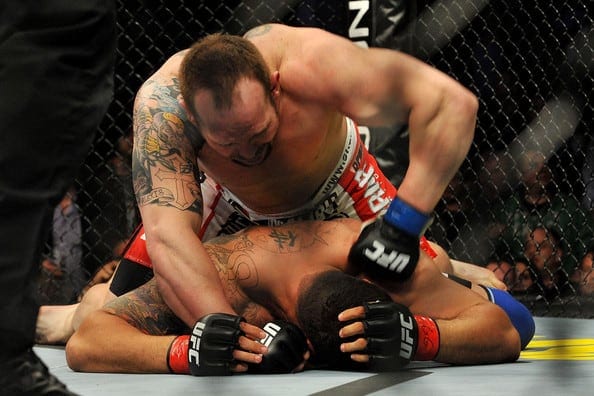 Shane Carwin vs. Frank Mir
A freakishly large and powerful heavyweight, Carwin is one of the hardest punchers ever to step into the Octagon, which made his overdue finish against Frank Mir even more alarming to witness.
Up against the cage with a little over 90 seconds of the first round remaining, Carwin unleashed a clubbing left hook followed by a rapid-fire series of thunderous uppercuts that sunk Mir to the mat.
Turtled up, Mir continued to take huge punches to the head and made little attempt to defend himself, at which point in the commentary booth Joe Rogan declared, "it's over, it's over."
Mir weakly attempted to roll, only to get battered with more giant meathooks from Carwin that left him sprawling face first onto the canvas, motionless.
Bizarrely, despite Rogan stating the obvious, that, "I think he's out," referee 'big' Dan Miragliotta continued to watch on as Carwin delivered another seven left hook blows to his unprotected head until he finally stepped in to put the unconscious Mir out of his misery.
Sheila Bird vs. Kim Couture
It's not every day you see someone getting rendered unconscious by a leg scissor-choke, but that's exactly what happened to Randy Couture's ex-wife Kim Couture during a fight with Shiela Bird at AX Combat in Canada back in 2011.
Unfortunately for Couture, referee Len Koivisto appeared to be the only person watching who didn't seem to realize that she was taking an unplanned nap mid-way through the opening round.
That's hard to imagine given that one of Couture's legs and then the other had flopped to the canvas, while she then lay completely still and stared blankly up at the ceiling right in front of Koivisto, who eventually decided to check one of her arms 10 seconds later and then, at last, waved off the fight.
Couture lay unconscious on the mat for the best part of a minute afterward before thankfully finally coming too.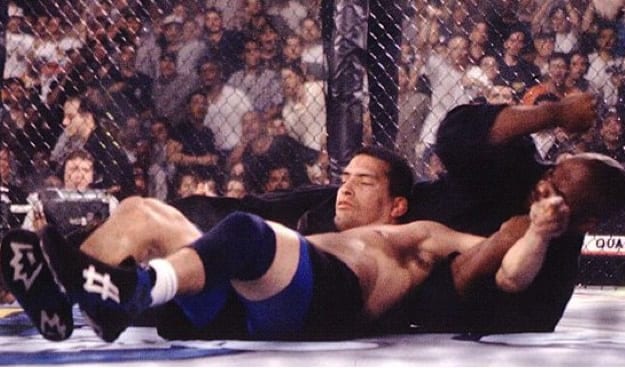 Gary Goodridge vs. Paul Herrera
Gary Goodridge made a jaw-dropping MMA debut at UFC 8 in 1996 when he went up against Paul Herrera in the quarterfinals of the evening's one-night tournament in Puerto Rico.
In fairness to referee 'Big' John McCarthy, the fight was over almost as soon as it started, yet due to what occurred in the 13 seconds the fight lasted, it felt like an eternity.
Right from the opening bell Herrera attempted to duck in for a takedown attempt against the much larger Goodridge, but instead it was his opponent who took him down, trapping him in an unusual position by trapping one arm with his legs and the other with an arm, leaving him outstretched across Goodridge on his back like a human crucifix.
Goodridge then began slamming his other elbow into the temple of Herrera. The first blow appeared to knock him out cold, but Goodridge was able to land a further seven devastating elbows to the same spot on his already unconscious opponent before McCarthy was able to dive in and save him.
Years later McCarthy, who was still learning the trade a the time, admitted that like everyone else he'd been taken by surprise and hadn't been in a good position to stop the action as quickly as he would have liked to save Herrera from taking a large amount of damage that night.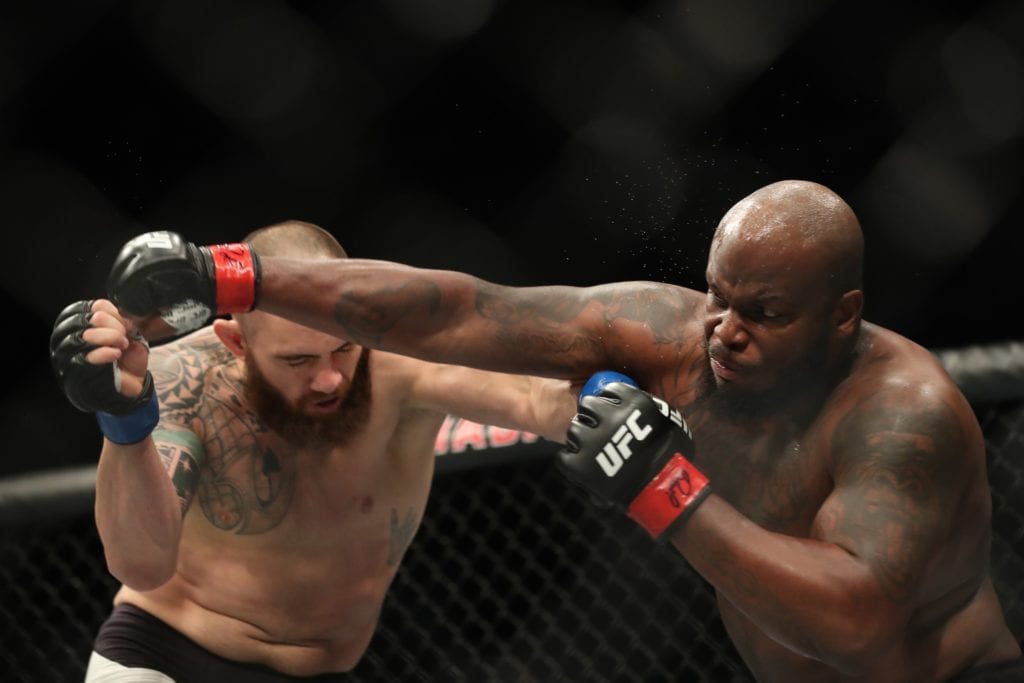 Derrick Lewis vs. Travis Browne
This late stoppage is the first of two recent late stoppages featuring the brutal work of absent-minded and highly-criticized ref Mario Yamasaki.
Back when Travis Browne actually cared about facing the best heavyweights in the UFC, he squared off with 'The Black Beast' in February 2017.
And "Hapa" was looking good early on, stunning Lewis with some stinging kicks to the body. But the slugger reversed course, dropping Browne to the ground and unleashing an onslaught of vicious ground and pound. Everyone could see that Browne was clearly knocked out – except for Yamasaki.
He let the onetime contender take a few more clean shots on the chin from one of MMA's hardest hitters, and Browne has only fought once since.
However, it's still not as bad as Yamasaki's next late stoppage.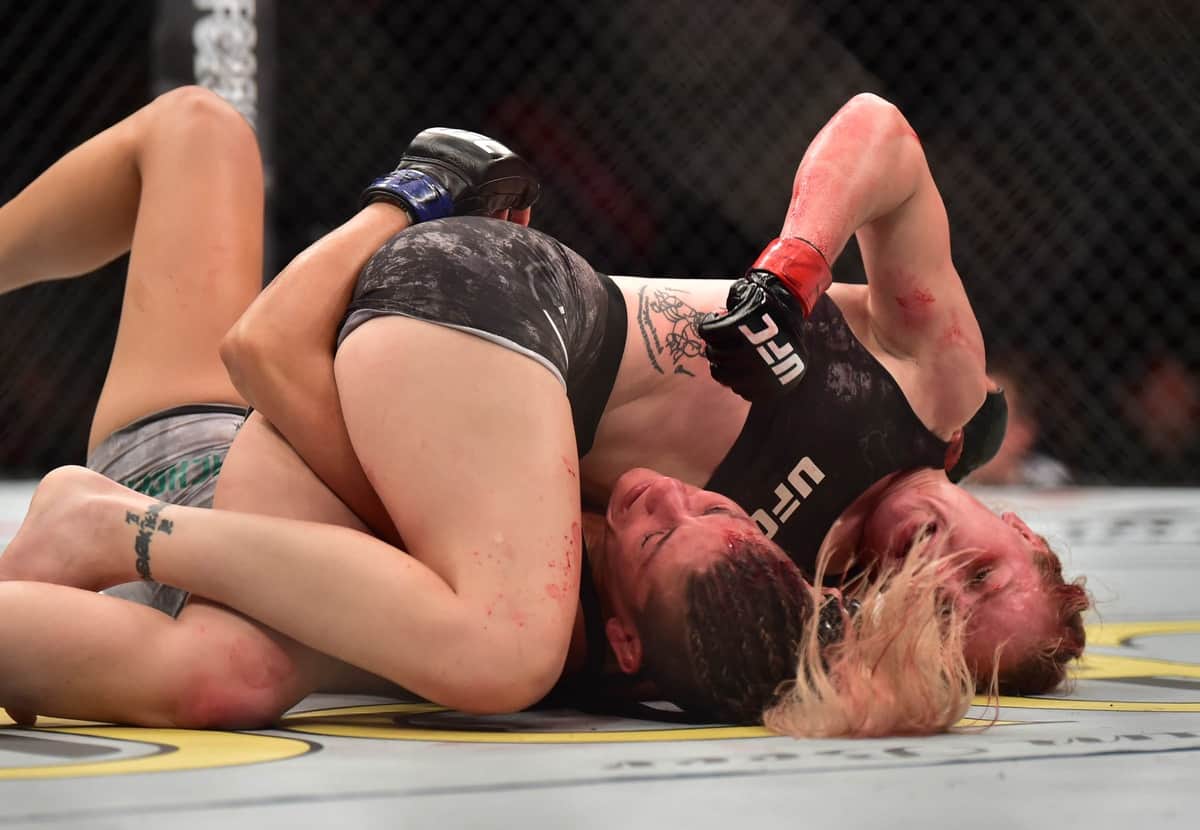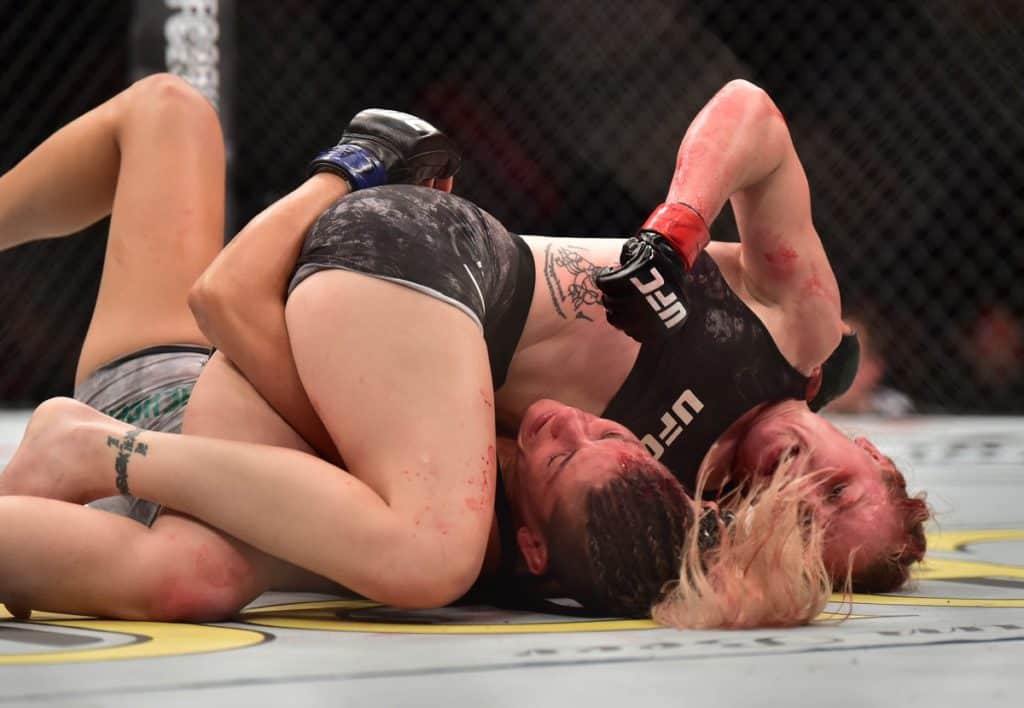 Valentina Shevchenko vs. Priscila Cachoeira
After two losses to UFC women's bantamweight champion Amanda Nunes, top contender Valentina Shevchenko chose to cut down to the newly-created women's 125-pound division.
Already thought to be the best fighter in the division and headed for an inevitable bout against champion Nicco Montano, 'Bullet' took a fight with overmatched UFC debutee Priscila Cachoeira to prove that at February's UFC Fight Night 125 nonetheless.
It was one of the most mismatched fights in UFC history from the outset, with Shevchenko using her world-class kickboxing to blast Cachoeira with clean power shots at will. The matchmaking wasn't referee Yamasaki's fault, but his decision to let the fight going when it hit the ground definitely was.
As violent as Shevchenko was on the feet, it was an all-out bloodbath on the ground, with 'Bullet' unloading a nonstop torrent of vicious blows until she mercifully put an end to the fight with a rear-naked choke that came far too late. Yamasaki had multiple chances to save Cachoeira from needless damage but chose not to. To top it off, she suffered a serious knee injury in the fight as well.
He claimed he wanted to let Cachoeira "be a warrior," but then admitted he would go back to referee school. Yamasaki has been destroyed online ever since and for good reason, as this was one of if not most brutal late stoppages in MMA history.