Yesterday, the mixed martial arts (MMA) world was subject to one of its biggest-ever spectacles with New York City's UFC 229 presser featuring Khabib Nurmagomedov and Conor McGregor.
The first media event for October 6's megafight between the current and former lightweight champions was an odd one to be certain. McGregor came out guns blazing just like he did throughout his promotional World Tour opposite Floyd Mayweather last year. The Irish star unveiled his motivation for coming back to battle 'The Eagle' before blaming his infamous UFC 223 bus attack on the Russian champ.
McGregor was also seen guzzling his brand-new Irish Whiskey Proper Twelve. So much so, in fact, that several onlookers among the wide reactions on social media thought he was overcompensating for perceived fear. The normally stoic Nurmagomedov had his own views of McGregor's alcohol use, predictably choosing to stay focused on the fight. Buoyed at least in part by his own brand of the hard stuff, McGregor went off on a litany of personal topics from making death threats to ripping Khabib's father.
Overall, it was a press event that was called the "darkest he'd ever been to" by UFC President Dana White. That's saying a lot.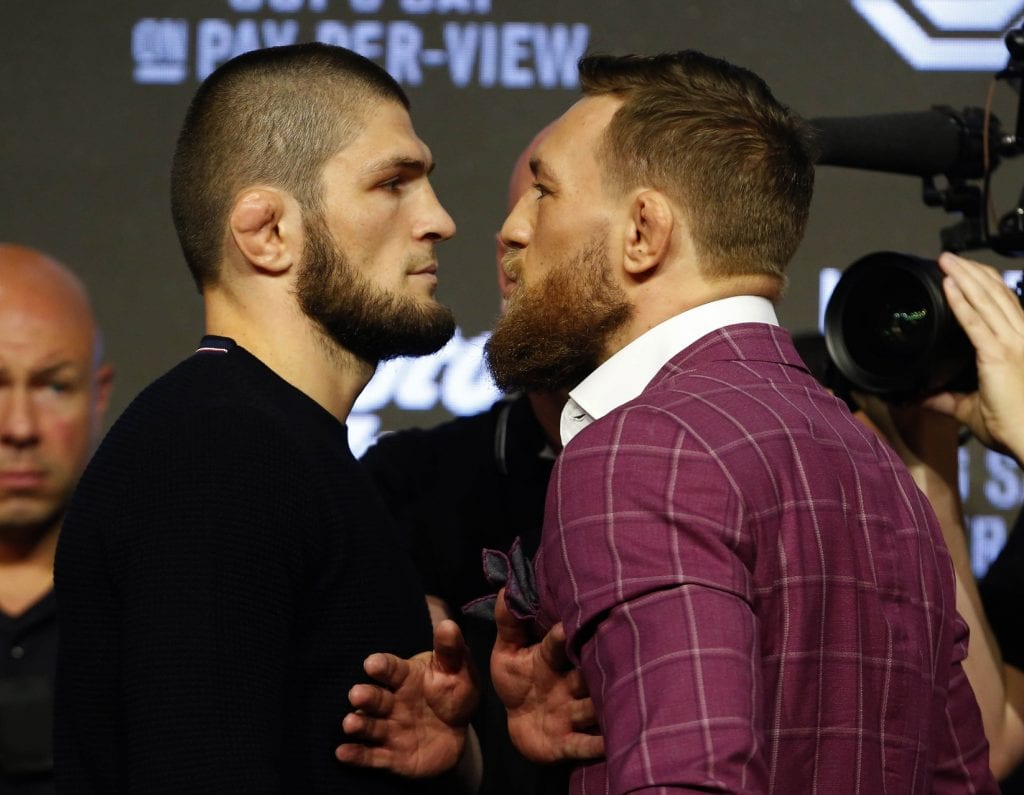 What's In The Staredown?
So after the somber, strange UFC 229 presser, who is actually in whose head?
Fans seem to be torn down the middle on social media. They have their separate claims and justifications why McGregor or Khabib now holds the distinct mental advantage. Khabib and McGregor came face-to-face in the traditional UFC 229 presser staredown. Again Khabib was statuesque while McGregor as animated as always. Again people had polar opposite views on what that meant.
We knew McGregor would be looking to return with a bang. However, it may have seemed like he was trying too hard like he was during the final legs of his World Tour with Mayweather.
True, his whiskey will be one of the official sponsors of UFC 229. It's a fine line to walk between focusing on promoting your new booze and fighting the man who many feel is the most dominant force in MMA right now. There's the school of thought that McGregor is focused after staying out of the media until now.
We also knew Khabib would be as stoic as a rock. Trash talk has never been his forte or focus. He simply stared right through McGregor during the staredown. He's done that with all of his previous opponents. Each opponent went down in a similar fashion, regardless of his perceived deficiencies in the cage. "The Eagle" appeared a bit miffed at McGregor's comments at times; it's true.
That could just serve to galvanize his resolve, however. That, of course, is the last thing McGregor needs. Overall, it just looked like McGregor was trying too hard as he was during the Brooklyn leg of his Mayweather tour.
If that comes back to bite him when they finally throw down, we'll have to wait and see. Who – if anyone – is in whose head after the UFC 229 presser?