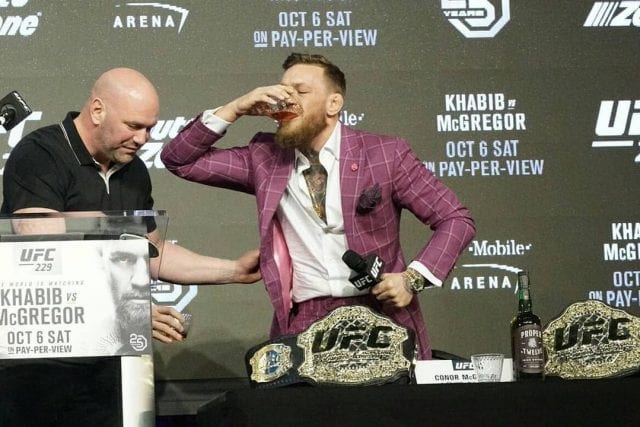 Khabib Nurmagomedov has sounded off on Conor McGregor's drinking habits.
McGregor heavily promoted his new Proper Twelve Irish Whiskey at yesterday's over-the-top UFC 229 press conference from Radio City Music Hall. There, McGregor went off on a litany of topics including blaming Khabib for his infamous bus attack. He also revealed the real reason he's back.
Social media had a mixed bag of reactions to the over-the-top press conference. Many remarked that McGregor was perhaps imbibing too much of his own stash, and undefeated Nurmagomedovc agrees. He refused a drink from McGregor and poised the question what McGregor was doing drinking before the biggest fight of his life (via MMA Fighting):
"I never drink this sh*t. Okay, what are you doing here?

"What are you doing here? Why you come here? Why you come here? Sixth of October what you gonna do? This is not about whiskey — 6th of October I'm going to maul you. You know this, 6th of October I'm going to maul you."
Indeed McGregor will be faced with his toughest test when he meets the undefeated Dagestani at UFC 229 on October 6. He's considered the most dominant force in all of MMA right now, and he knows it. Khabib compared himself to the comparative dominance of McGregor's last opponent – undefeated boxing champ Floyd Mayweather:
"I am the Floyd Mayweather in MMA. Right now, I am most active and dominant UFC champion. This is my third fight in last nine month. 26-0, never lose round. I don't know what this guy is talking about. I don't know what he gonna do 6th ofOctober.

"He thinks whiskey will help him? I no understand."
"The Eagle" has a point. Will he dispatch of McGregor the same way "Money" did on October 6?
If you enjoyed this story, please share it on social media!