Last night (Sat., June 9, 2018), MMA fans were treated to one of the best middleweight title fights in the history of the sport in the main event of UFC 225 from the United Center in Chicago, Illinois.
That's not just hyperbole, either.
The insane, all-out war between champion Robert Whittaker and Yoel Romero (watch full highlights here) was genuinely unlike any other 185-pound fight we've ever seen, a brutalizing battle that tested the fortitude and wills of both top-ranked competitors to the fullest extent of human athleticism.
"The Reaper" controlled the early going of the fight, using his crisp, accurate striking volume to batter a more plodding Romero with a torrent of side and push kicks to his lead knee that appeared both painful and stifling to the already-drained challenger. His left jab was nearly flawless as well, at one point swelling the right eye of Romero shut as it found its mark over and over again. Finally, you couldn't discount Whittaker's trademark left high kick, several of which he landed to sounds similar to a wooden baseball bat hitting a home run.
The fact that he did so with one hand after breaking his right thumb in the first round is a further testament to his growing legend as an ironman.
Not to be outdone, Romero surged back with his all-too-common power shots in the fourth and fifth rounds, blasting Whittaker with strikes so impactful they had the champion implementing dance moves akin to a New Zealander trying his first line dance at a country western bar in Cheyenne, Wyoming. The Cuban 'Soldier of God' had Whittaker nearly finished on multiple occasions, especially in a one-sided fifth round, but somehow the champ weathered the storm no matter how hurt he truly was.
And then, as it always seems to do when Romero is involved, controversy reared its ugly head. Whittaker was declared the winner by split decision, a fine enough result but also a somewhat questionable one considering that he certainly could have been handed a 10-8 (or worse) score in that fateful fifth round. A draw could definitely have been an acceptable outcome, it would have been hard to argue Romero had clearly won three rounds outright.
Many chalked it up to the Romero controversy of the previous day when he missed weight by 0.2 pounds, his second straight UFC title fight where he missed the mark. The conspiracy theorists said the judges punished Romero for missing weight and gave the decision to "The Reaper." The Cuban and his team seem to agree, with Romero posting a video claiming he was the champ from a hospital bed earlier today.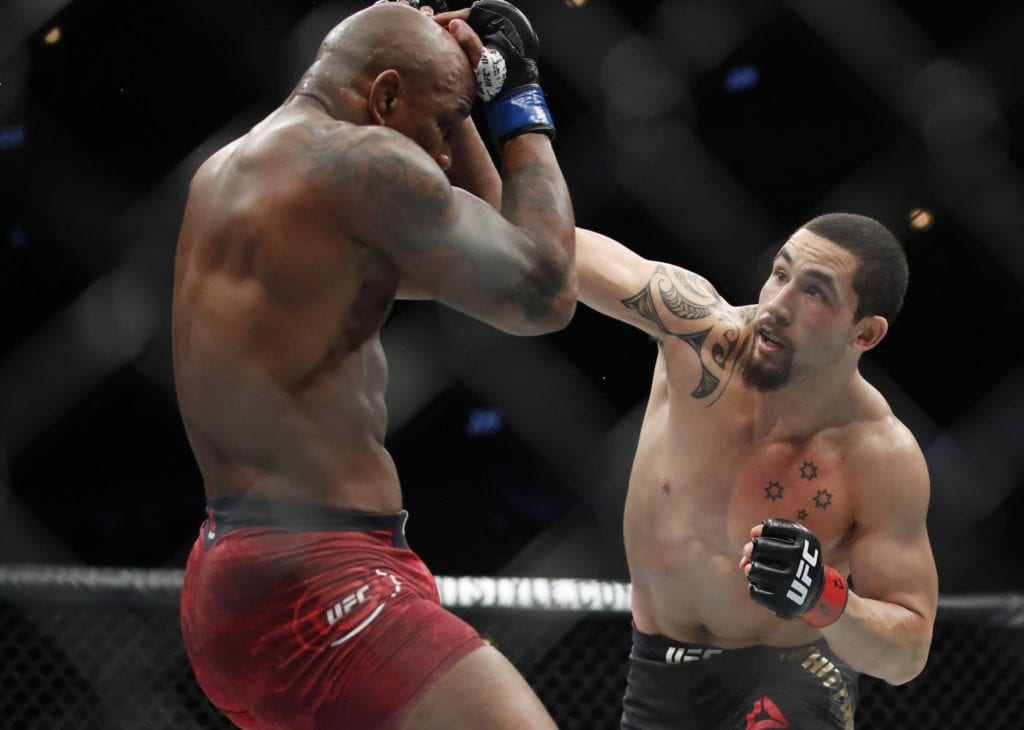 In the video, Romero's manager Abraham Kawa said that Romero was robbed twice, first by the commission who gave him two hours to cut the pound he was over on his first attempt before forcing him to stop cutting weight only one hour into the allotted time, and a second time by the judges after the fight.
In reality, Romero and his team may be feeling a bit sorry for themselves, because if he had made weight on his first attempt, they never would have been in this position in the first place. As for the judges, again, Romero definitely may have deserved a 10-8 score in the fifth and final frame, but that would have just given him a draw in a fight he couldn't win the title in the first place.
Yet there's a more sinister dynamic in play here, and that's the fact that some kind of controversy – whatever it may be – always seems to follow any fight involving Romero. The examples are many, as there was his infamous 'Stoolgate' incident versus Tim Kennedy at UFC 178, his lovely 'No For Gay Jesus' moment after he stopped Lyoto Machida, his failed USADA drug test prior to his close decision win over 'Jacare' Souza that was eventually overturned, and his first weight miss before his scheduled interim title fight with Luke Rockhold at UFC 221 this March, a fight after which he kissed Rockhold to the point of almost molesting him after he had brutally knocked him out.
Phew. It's exhausting to keep track of, and his latest weight miss coupled with the close nature of his decision and the conspiracy theories of just why he lost obviously do nothing to derail the notion of Romero and his never-ending stream of controversy. He's no doubt one of the sport's most exciting fighters, a rare genetic monster who blends true Olympic-level wrestling with some of the most genuinely frightening knockout power MMA has ever seen rolled up into the physique of a Greek God. There's also nothing even close to a real reason to say he deserved to lose because he missed weight, just like there's no proof that was the reason why he did in a close, back-and-forth slugfest.
It just is what it is, and there can't be a Romero fight without some sort of controversy brewing. Perhaps it's what makes his bouts so intriguing. They're certainly must-watch television for anyone resembling a true MMA fan. So even if it's a chore to get to the main event when he's involved, fights like the classic he delivered in Chicago last night make it all worth it.
Romero will most likely be headed up to 205 pounds for his next fight, and the entire MMA world will be waiting to see what happens when he arrives.
They should be.