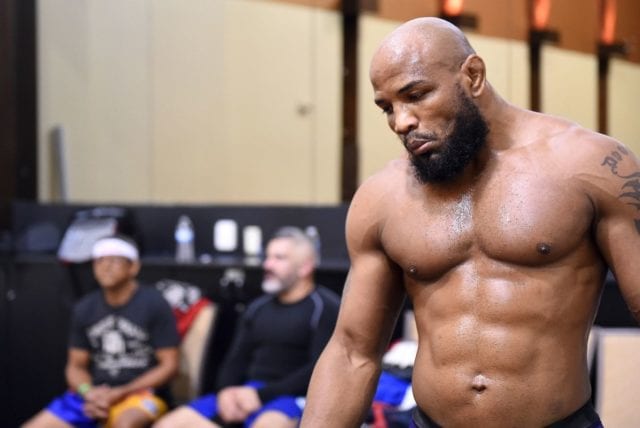 After missing weight for his second straight UFC title fight, hulking contender Yoel Romero threw down with champion Robert Whittaker in a classic war (watch full highlights here) in the main event of last night's (Sat., June 9, 2018) UFC 225 from the United Center in Chicago, Illinois.
After rocking and nearly stopping Whittaker in the fourth and fifth rounds, Romero came up short by split decision in a fight that was deemed close and even controversial on the judges' cards. Using a more high-volume attack, "The Reaper" was able to secure three rounds on two cards, enough for him to best "Soldier of God" for the second time in less than a year.
While Romero was able to drop Whittaker with some absolutely devastating shots that appeared to have "The Reaper" on the verge of being done, he was also battered and bruised by the champ to the point he could barely see out of a badly swollen right eye. It required an immediate trip to the hospital, and that's where Romero offered his assessment of the instant classic fight in a video (via MMAjunkie):
"I love everyone. I love you. I see you soon. Tonight, I no feel like I losing. I am the champ. This is like a movie, like Rocky Marciano. Today, I am Rocky. I am the black Rocky, the people's champ. The people see I am very old, like 41 years old. But God is stay with me everytime. I love you, see you soon guys."
The narrow decision loss culminated a brutal week for Romero, who missed weight by one pound on his first attempt on Friday. He was given two additional hours to lose the weight, but the commission apparently cut him short after one hour due to health concerns, causing him to miss weight by 0.2 pounds.
Controversy arose, as had seemed to follow Romero everywhere he goes, and then a split decision in a fight he nearly finished the champion further complicated things. Some argued that Romero was perhaps punished for missing weight, and his manager Abe Kawa was one person who agreed, adding that his star client was "robbed" two times by Chicago:
"Guys, he got robbed twice," Kawa said. "Two times in Chicago. Commission took it from him. The judges took it from him. But I'll tell you what: As fans, as people who watch the sport for a long time, that may have been one of the greatest fights I've ever seen in my life, and I know a lot of you guys feel the same way.

"Give it up for this man. This man did something impossible based on everything. He had a game plan, he executed the game plan, and he won that fight."
An interesting point of view from an obviously biased source, but Romero now has two losses to the current 185-pound champion nonetheless. After missing weight in two consecutive middleweight title affairs, it's been hinted that Romero will go up to 205 to fight in a class that badly needs new blood.
UFC President Dana White believes that's the best thing for "Solider of God," and his title pursuit at middleweight will be on hold for as long as Whittaker holds the belt regardless.
What do you think? Was Romero "robbed" as his camp says, and does he have any claim at calling himself the champion after not even making the agreed upon weight to win the title?