UFC 205 Preliminary Card Fight Breakdown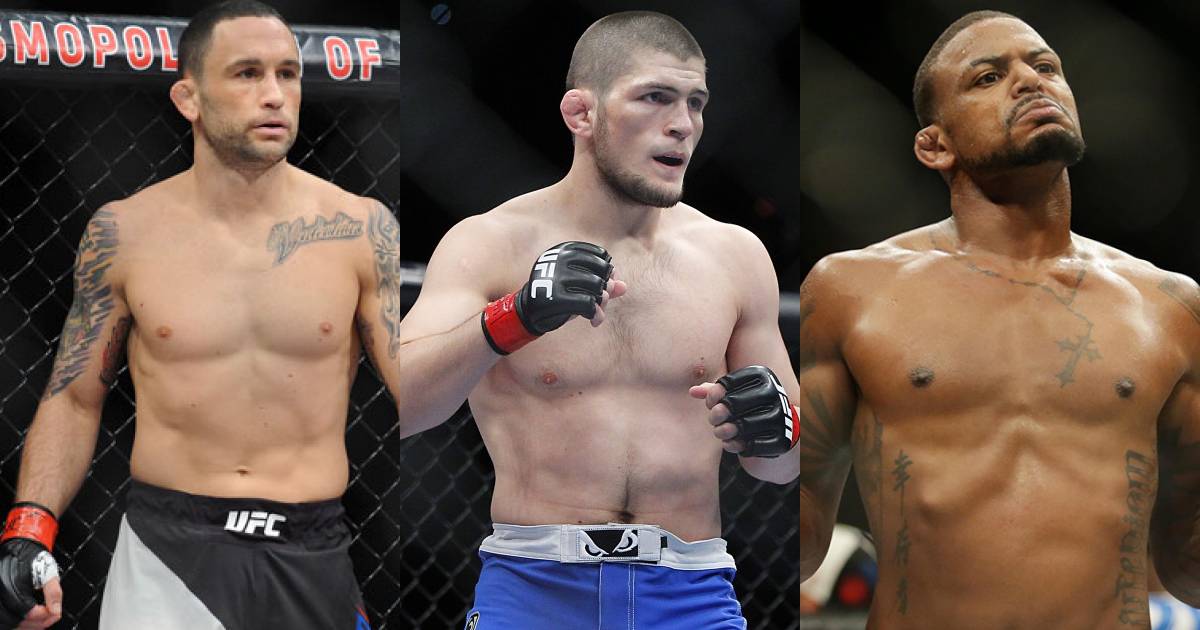 We previewed the main card earlier this week (RIP Cowboy Cerrone vs. Kelvin Gastelum), so check that out if you missed it. The "prelims" put that name to shame, as just about every fight on this slate could headline a Fox Sports 1 card.
Frankie Edgar will look to rebound from his one-sided loss to interim champion Jose Aldo at UFC 200 when he takes on the brick-fisted Jeremy Stephens. Edgar is one of the fighters who has been penciled in for this card since the idea of doing a card at Madison Square Garden was but a distant dream. The Toms River, NJ, native figures to get a big pop when he makes his walk to the Octagon.
Not even making the headliner of the prelims, Khabib Nurmagomedov will attempt to push his record to an unbelievable 24-0 against the talented but enigmatic Michael Johnson. The rest of the slate sees the return of Thiago Alves, a slugfest between bruising and defensively deficient middleweights Rafael Natal and Tim Boetsch, and what is sure to be a wildly fun welterweight banger between Vicente Luque and Belal Muhammad.
Read on for analysis and picks of the preliminary portion of UFC 205.

Featherweights Frankie Edgar vs. Jeremy Stephens
This one should play out primarily on the feet. Both men have solid offensive wrestling but very good defense, so it seems unlikely that these two men will be fighting on the floor much. Stephens has grisly power and the aggression to use it, but he struggles with more mobile opponents, and that's Edgar's MO. 'The Answer' tends to get tagged hard in just about every fight, but his ability to recover has proven to be superhuman. The former lightweight champion also blends his wrestling and his volume punching together seamlessly, and they work together to make his opponent hesitant to throw. Stephens has a puncher's chance, but the more consistent outcome is Edgar frustrating 'Lil Heathen' with footwork and combinations.
The Pick: Edgar by decision.

Lightweights Khabib Nurmagomedov vs. Michael Johnson
Nurmagomedov has never lost an MMA fight, so figuring out what an opponent could do to figure him out can be difficult. The Dagestani's striking isn't particularly smooth or dangerous in its own right, but it's enough of a threat that adversaries have to respect it. But 'The Eagle' uses it more than anything to pressure foes toward the fence, and then cover his takedown entries. His wrestling and grappling are some of the most stifling and demoralizing in the sport. His domination of vaunted jiu-jitsu player and much-improved wrestler Rafael dos Anjos has been well-documented at this point.
Johnson presents an interesting stylistic clash for Nurmagomedov because he is a dangerous stick-and-move outfighter with solid takedown defense. This seems like a style that, if well-executed, could fluster and flummox Nurmagomedov's pressure game. Johnson could crack the AKA rep coming forward, but when Nurmagomedov gets his hands on someone, things tend to go south in a hurry. You have to figure that happens at some point.
The Pick: Nurmagomedov by decision.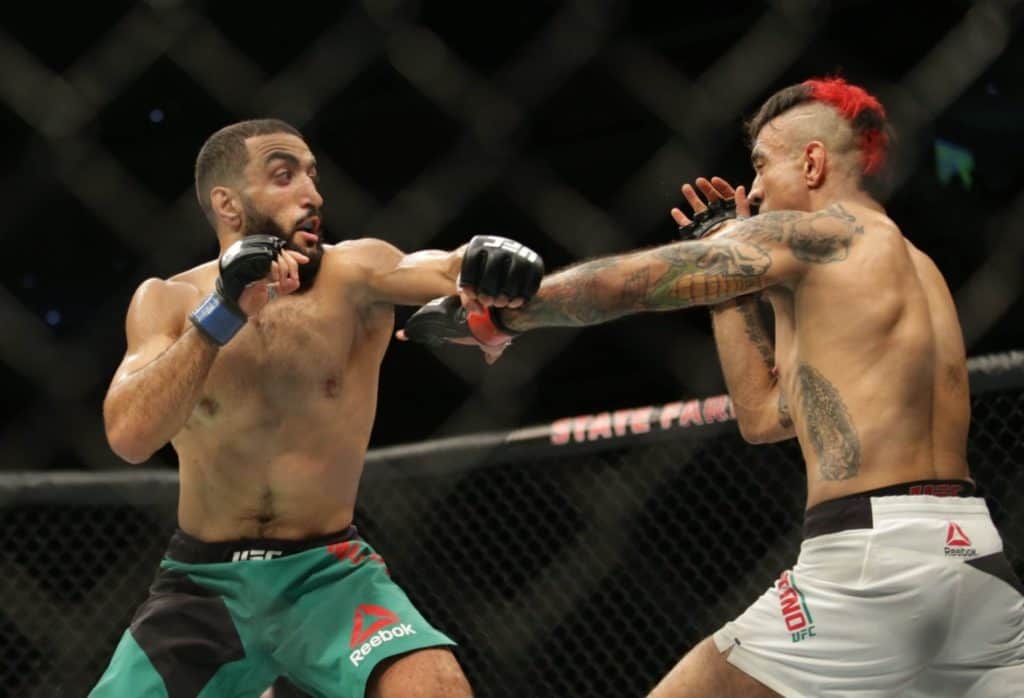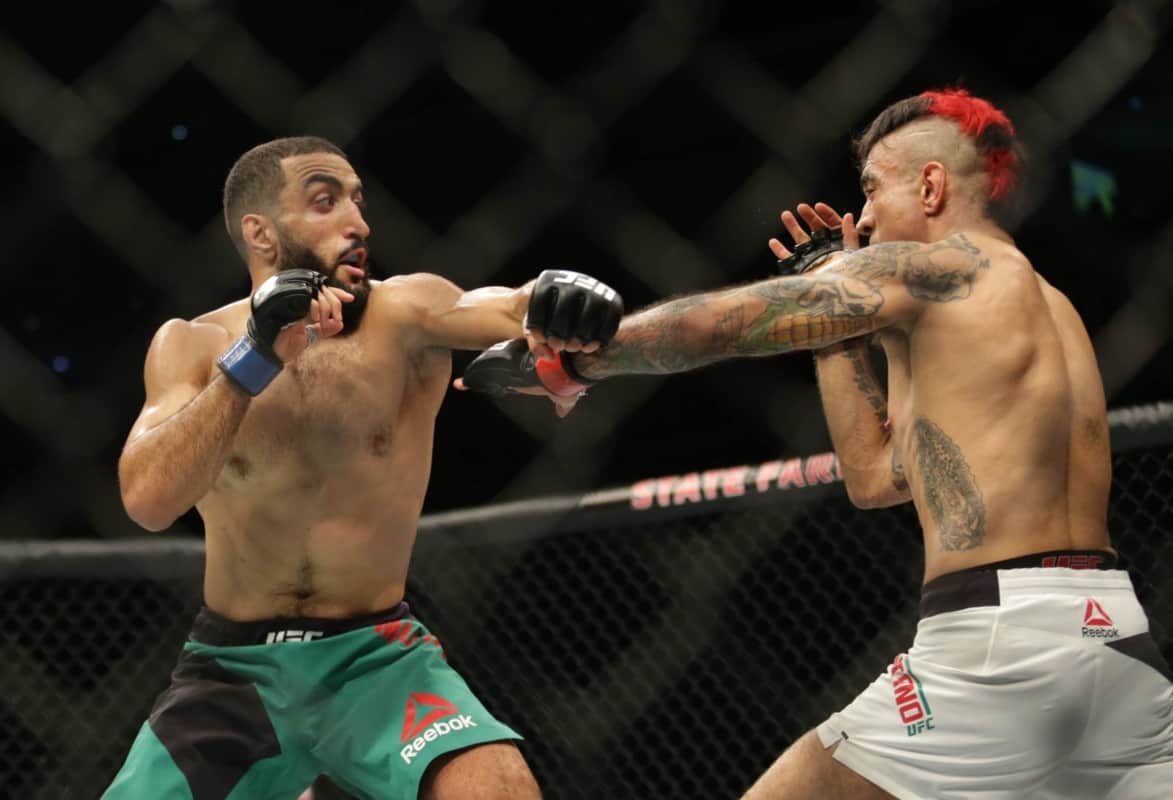 Welterweights Belal Muhammad vs. Vicente Luque
I really like both of these guys. I think they could be relevant at some point in the near-future. Muhammad is the more all-around fighter, with a potent and voluminous kickboxing attack and capable wrestling. He wants to strike, and Luque has no problem throwing down, as the Brazilian packs a punch. The Blackzilians rep also has a BJJ black belt that he knows how to use, but his wrestling hasn't caught up yet.
If this one gets into a pocket exchange brawl, anything can happen. But Muhammad's insane toughness and crisper technique should see him through extended striking battles. If Muhammed can avoid the takedowns of the submission artist, I see him gutting out a decision win.
The Pick: Muhammad by decision.

Middleweights Rafael Natal vs. Tim Boetsch
Boetsch showed that he is still dangerous in his recent win over the late Josh Samman. But the fact remains that he has been declining for some time. He is strong in everything he does. His punches (particularly on the inside), his body kicks, and his takedowns are all powerful. But his athleticism and durability are starting to slip away. In his diminished state, he's going to have problems with Natal. The Brazilian has a quicker and more reliable kickboxing attack, decent wrestling, and venomous ground game. 'Sapo' will have to survive a harrowing moment or two, but he'll consistently wrack up more points and get the better of Boetsch on the mat.
The Pick: Natal by 2nd round submission.

Lightweights Jim Miller vs. Thiago Alves
It's hard to know what we're going to get from Alves. The Brazilian is making his lightweight debut after fighting his whole career at welterweight, where he missed weight twice. He's also been out of action for a year and a half since getting his nose put on upside down by Carlos Condit. Miller's days of being a top-five lightweight are behind him, as exhibited by a clear-cut decision loss to Diego Sanchez. But he's been very active, and is coming off a spirited win over Joe Lauzon.
Both men can wrestle a bit, but Alves' defense is probably stronger. Miller was taken down a few times by Lauzon, not a guy known for his wrestling prowess. The American will have a grappling advantage if the fight hits the floor for extended periods, as he has submitted other black belts in the past. Assuming Alves doesn't look awful at 155, I think he'll have the advantage on the feet, where the majority of the fight should play out. If he doesn't get the super-tough Miller out of there, he'll build himself a lead before fading in the second half.
As long as he doesn't run himself into a guillotine when he gets tired like he did against Kampmann, Alves will hold on.
The Pick: Alves by decision.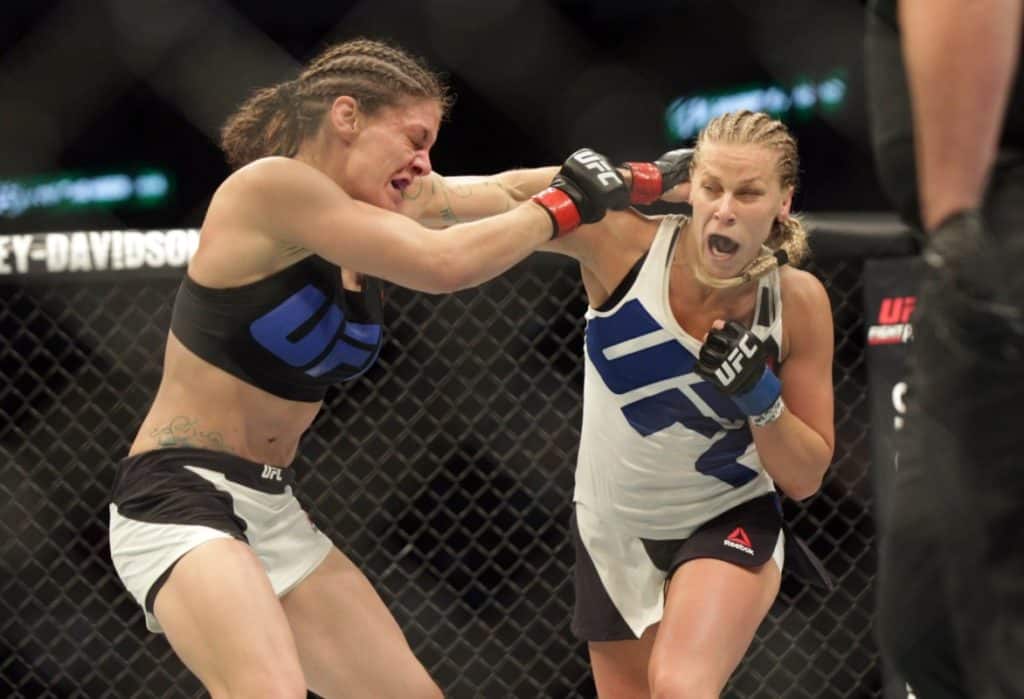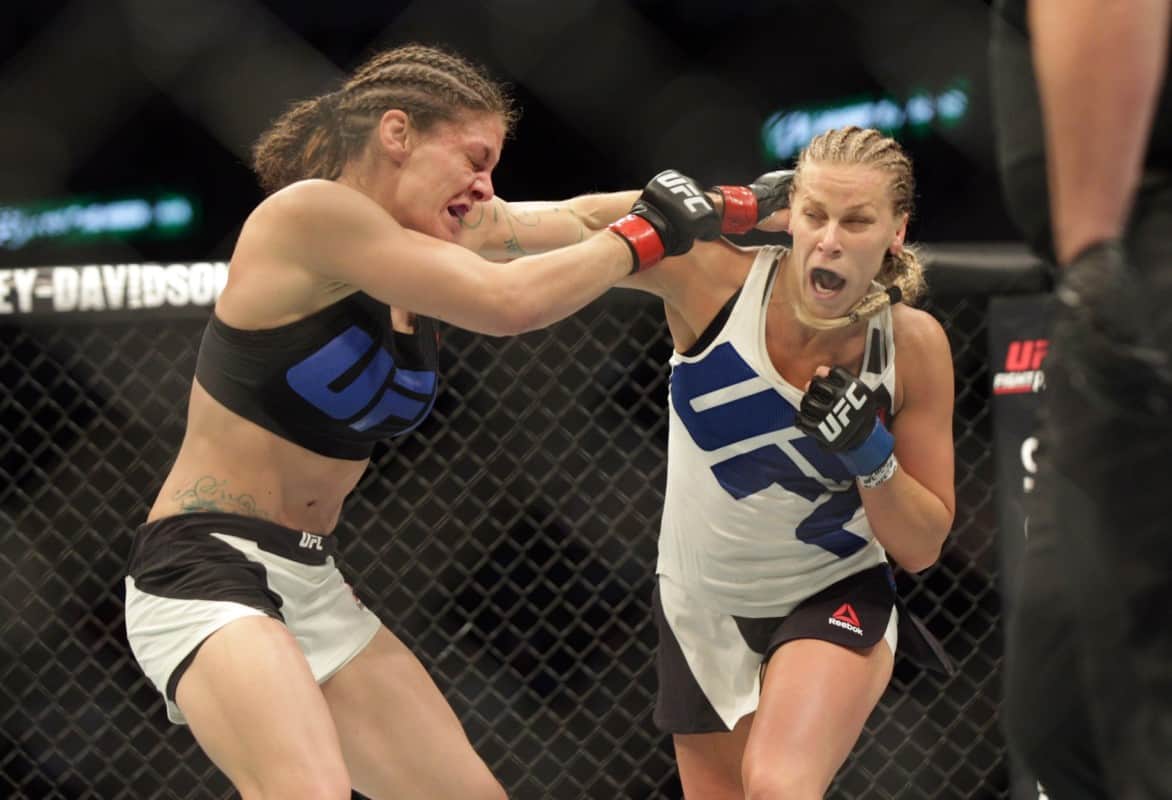 Strawweights Liz Carmouche vs. Katlyn Chookagian
The paths to victory are clear for both women. Chookagian wants to replicate her fight with Lauren Murphy, in which she used lots of movement and her jab to wrack up points and keep Murphy at bay. Chookagian holds a brown belt to Carmouche's purple belt, but wrestling is not the Renzo Gracie protege's strong suit. Carmouche will want to stifle Chookagian against the fence where her strength advantage will come into play.
From there, she can work takedowns and a strong top game. But Carmouche is not a pressure fighter like Murphy, who struggled to corral Chookagian despite moving forward the whole fight. Carmouche will have to resort to rushing forward, where she'll be open to Chookagian's counter hook. If she can get inside consistently, Carmouche will take it, but I favor Chookagian's volume and fleetness of foot.
The Pick: Chookagian by decision.