Mixed martial arts is a very different sport than it was during the 1990's, in many ways. Although it encompasses all the physical aspects of the most practical martial arts on the planet, there's a clear difference between the respect shown in traditional styles, both inside and outside the ring or octagon. This isn't true for every fighter, but there are a select few that really take the cake, often causing massive controversy in the media with their actions.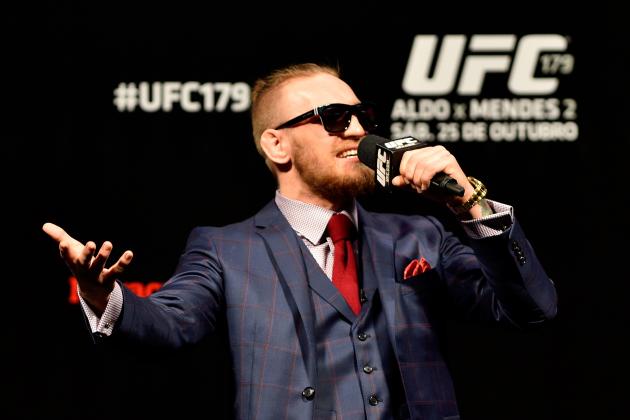 Of course it's great for business, but many argue the overall image of MMA as a sport is damaged by these disrespectful displays. As the sport becomes more mainstream, more casual fans and non fans are exposed to MMA hype, seeing first hand some of the most outrageous, hilarious, crazy and sometimes offensive moments the sport has to offer. For us hardcore fans, it's usually quite easy to take in our stride, but for the first timers it can be a little harder to swallow.
So without further ado, let's take a look at The Top Five Most Disrespectful Fighters In MMA History, and their most outrageous moments.
Click next to start the article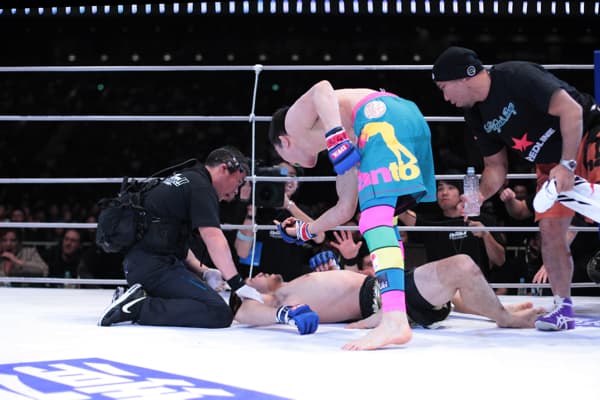 Shinya Aoki
Japanese grappling phenom Shinya Aoi is undoubtedly one of the most dangerous submission experts ever, but he's also a class-A bag of turds. His performance against Mizuto Hirota was masterful, with the fight ending due to a grizzly broken arm from a tight key lock, but his behaviour afterwards was just disgusting.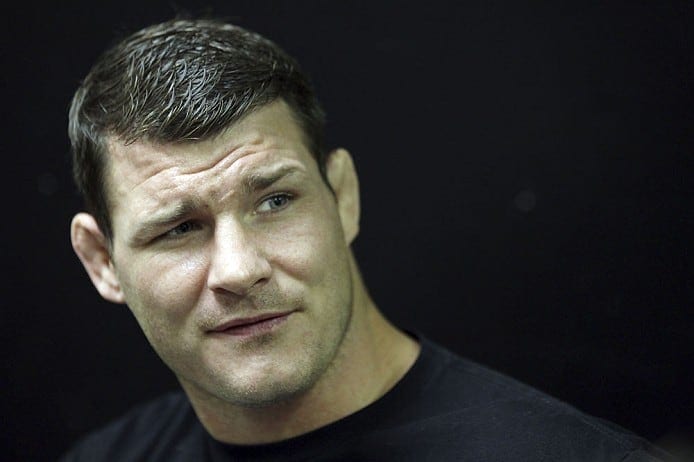 Aoki stood over his fallen foe jeering him and flipping him off, later admitting he'd been paid by the promotion's owners to break Hiroto's limbs. Disgusting all round, Aoki proved why he is the epitome of subhuman scum in MMA:

Michael Bisping
UFC middleweight contender Michael Bisping is one of the most notorious villains in UFC history. His brash trash talking and outrageous antics have made him both very popular, and also highly hated by many sects of fans. The reason he's in today's article? His behaviour against Jorge Rivera at UFC 127.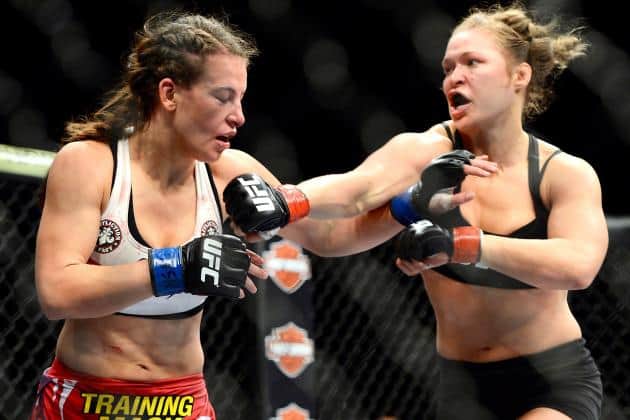 Fence grabbing, spitting at Rivera's corner after the fight, nasty and clearly intentional illegal knee and more was what saw Bisping condemned by the media after his fight with Rivera, all of which are addressed in this hilarious video:

Ronda Rousey
This might not be the most popular decision, but let's break it down a little. Ronda Rousey has become synonymous with trash talking and disrespect, but it's not limited to the pre-fight hype stages of the show. At UFC 168 'Rowdy' faced Miesha Tate for the second time in her career, and was frankly behaving like a spoiled brat for the entire preceding season of The Ultimate Fighter.
She refused to shake hands or acknowledge Tate other than flipping her off at every media obligation, and famously refused to shake Tate's hnd at the end of their UFC 168 fight. She also said she could beat every fighter in the division with one hand, laughed over Bethe Correia's unconscious body, refused to touch gloves with Holly Holm, and then refused to acknowledge Holm's following KO victory.
That said, she's an amazing athlete and pioneer of women's MMA, so swings and roundabouts.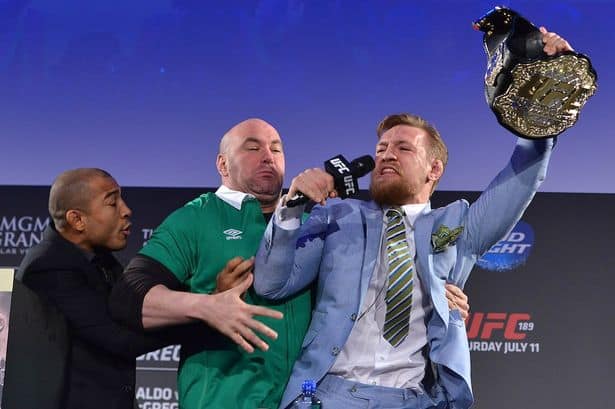 Conor McGregor
UFC featherweight champion Conor McGregor uses his incredibly sharp wit and outrageous antics to sell fights like a master. He's perfected the lingo of modern MMA trash talk to a tee, but he also says and does some of the most disrespectful things imaginable. During his three years in the UFC, he has arguably proved himself as the most popular name in combat sports today, but often at the expense of his fighter's feelings.
Among his craziest moments are snatching Jose Aldo's bet during a media world tour, claiming he would behead Rafael dos Anjos and drag his body through the streets of Brazil, calling Dennis Siver a midget German steroid head (although that's mostly true), telling Chad Mendes he'd rest his balls on the Team Alpha Male wrestler's forehead and countless other incidents.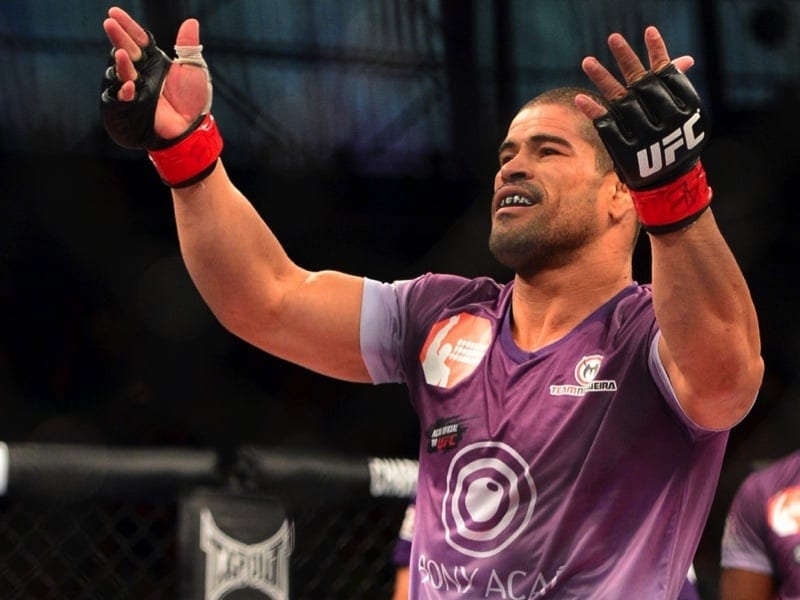 Here's a video round up:

Rousimar Palhares
Dangerous Brazilian grappler Rousimar Palhares is constantly making headlines for the wrong reasons. He started his walk on the road to being a scumbag with a failed drug test for elevated testosterone levels in the UFC, as well as a number of submission holds that were not released quick enough following the tap. Afyter the drug test bust and seriously injuring Mike Pierce's knee with his notorious leg lock, 'Toquinho' was released by Zuffa and joined the World Series of Fighting.
Quickly capturing the WSOF welterweight title, it wasn't long before Paul Harris got himself in sh*t again. This time it was against Jake Shields, and he held the fight ending submission way too long once again. The only difference at WSOF 22 was that he'd gauged Shields' eyes throughout the fight, leaving the Cesar Gracie black belt with horrible scratch marks and a damaged retina. He was later stripped of the belt and banned from fighting for three years, but still won't accept responsibility.
Check out Palhares' handy work on Shields: