Top 10 Funniest UFC Memes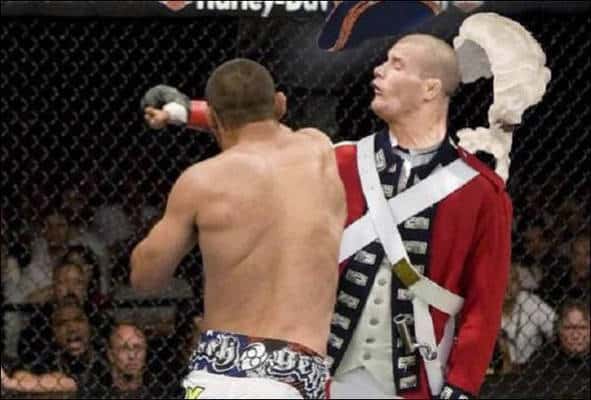 There's too much negativity in the MMA (mixed martial arts) media at the moment, so we here at LowKickMMA have decided to break up the clouds of Anderson Silva's drug test hearing and Jon Jones' New Mexico Hit-And-Run with some humour of the meme kind. If there's one thing that we have learned about MMA, it's that there are both highs and lows, but also some serious funnies, especially in the biggest fight promotion right now, the UFC.
With the explosion of social media in the last few years, very few moments, however awkward or hilarious, can be kept private. With an all-access approach to coverage of fights, training camps, weigh-ins, countdowns and also video logs such as the Embedded series, MMA and UFC fans have been treated to an inside look at their favorite fighters like never before.
There are some that choose to capture classic moments in the UFC with a meme, and the results can often be seriously lol worthy.
Check out the Top 10 Funniest UFC Memes….

10. Don't cry homie
Anderson Silva's first insert on the funniest memes list, and it's a snapshot of his now No-Contest UFC 183 fight with Nick Diaz.
'The Spider' got popped for a cocktail of sleeping pills and steroids, while Diaz got flagged for cannabis.
Bonnar-Jackass coming up…

9. Stephan Bonnar Jackass
This classic Meme surfaced in 2012 after Anderson Silva's last official win at UFC 153. Stephan Bonnar failed massively getting TKTFO in round one, later failing a post fight drug test for steroids.
Next…..

8. Alistair Overeem the magician
This hilarious piece of meme wordplay pays tribute to the man mountain that was Alistair Overeem on the roids. His comically huge physique is a far cry from the lanky light-heavyweight frame he possessed in the Pride FC days, but at least he's clean now.
Tito Ortiz time….

7. Tito Ortiz's medical suspension
Former UFC champion Tito Ortiz made a habit of giving rather pathetic excuses after his last run of losses in the promotion, and this meme highlights that fact.
It's a wonder he is still walking to be honest.
Did anyone see Brock Lesnar's strawberries?
6. Don't eat Brock's fruit
Frank Mir learned a hard lesson at UFC 100, don't piss Brock Lesnar off, at least not back then. Mir submitted Lesnar in the pro wrestler's UFC debut, and the powerhouse returned the favor in the form of a bloody TKO in the promotion's milestone show.
Some genius made the above meme to commemorate a post-fight confrontation of the moment. Thank god for internet nerds!
H-Bomb coming up….

5. Hendo H-Bombs Bisping
Another corker from UFC 100 as Dan Henderson took on fierce rival Michael Bisping in a TUF (The Ultimate Fighter) coaches battle. 'The Count' hasd written multiple checks with his mouth, and when it came time to pay, the brash Brit's ass had only butterflies to offer.
This redcoat remake of Hendo's classic win will be in circulation until the end of time.
Did somebody say Dave Sholler?

4. Dave Sholler's big break
UFC vice president of PR Dave Sholler got a big break at the UFC 178 media day, he was to step in to Dana White's traditional spot in Las Vegas at the pre-fight staredown between bitter enemies Jon Jones and Daniel Cormier.
The two erupted in to a crazy brawl that imploded the interwebs, and the result was this side splitting meme of poor Dave's role in the scrap.
Stanky Leg time!

3. Rashad Evans wants to be a millionaire
Former UFC light-heavyweight champion Rashad Evans relinquished his title in epic fashion against Lyoto Machida at UFC 98, and it was also his first loss as a pro.
'The Dragon' knocked 'Suga' out cold, leaving his leg bent awkwardly behind him and a classic derp expression on his face. What a meme!
It's Friday….

2. Smokey and Craig watch UFC 162
An hilarious mash up of Anderson Silva's shock UFC 162 loss to Chris Weidman, and the classic comedy movie Friday.
Smokey (Chris Tucker) and Craig (Ice Cube) perfectly fit the scene, and represent pretty much the entire MMA world watching that night.
And the funniest UFC meme is….

1. Bones nose
Former UFC light-heavyweight champion went full heel in 2015, and it all stemmed from a failed UFC 182 drug test for cocaine.
'Bones' nose memes exploded across social media, plenty more of which can be found on the honorable mentions page, and this was undoubtedly the best of the bunch.
Thanks for reading, and be sure to check out the honorable mentions page for more funny UFC memes!

Honorable mentions list