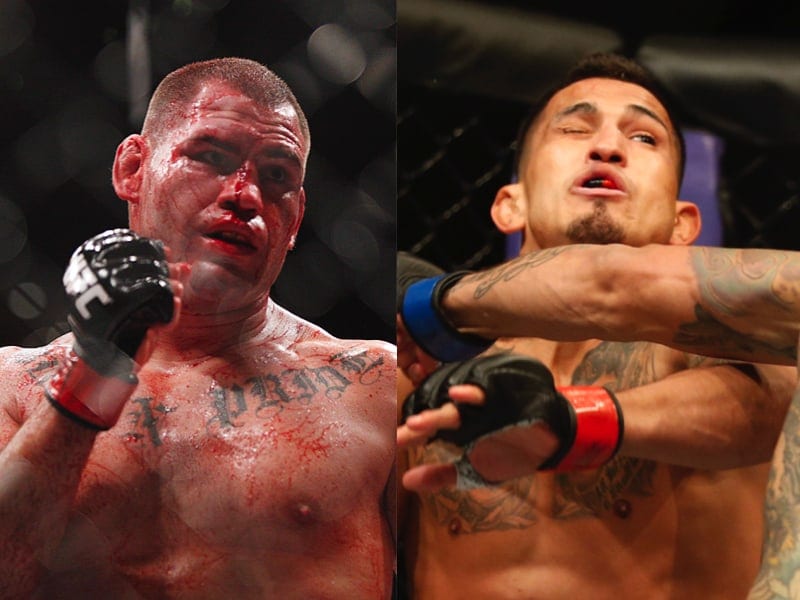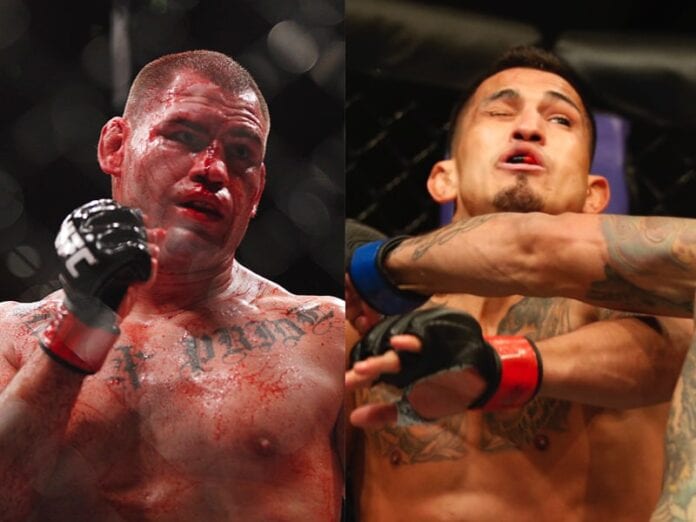 Today the MMA world is still digesting the fallout of this week's unfortunate news that former heavyweight champion Cain Velasquez was forced out of his UFC 196 rematch with Fabricio Werdum due to a back injury, although it shouldn't come as much of a surprise at this point.
Werdum was originally slated to face No. 2-ranked late replacement Stipe Miocic for the interim belt, but that bout also fell apart yesterday afternoon when 'Vai Cavalo' bowed out with another back injury after stating he would have fought through it in order to face Velasquez. Regardless of that tenuous situation, it was obviously the former champ that set this ultimately messy windfall into motion.
Long thought to be the UFC's meal ticket to the largely untapped but fight-crazed Latin American market, Velasquez was forced out of yet another high-profile pay-per-view title fight, calling his career into question while simultaneously doing the same thing for the UFC's insistence to basically let the entire direction of the heavyweight division be dictated by the frequently injured fighter's scant availability.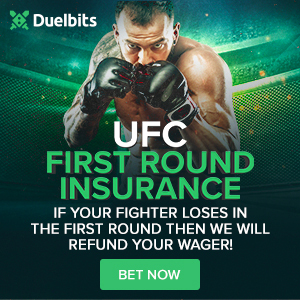 It's also called into question the training practices at Velasquez' heralded American Kickboxing Academy (AKA); at least even more so than the already intense scrutiny they've had to absorb after both Velasquez and absent lightweight contender Khabib Nurmagomedov have missed a huge chunk of their prime due to injuries supposedly suffered because of AKA's rough-and-tumble training methods.
Whatever the reason, the UFC gambled big on Velasquez, and he isn't the first expectedly marketable former champion that they've done this with to devastating results.
The promotion also has egg on its face in the huge hype and promotion of former lightweight champion Anthony Pettis, another oft-injured and unreliable 'superstar' that gained his reputation in no small part thanks to one highlight reel move that will forever be etched into MMA history – his 'Showtime Kick' on Benson Henderson that helped him win the WEC title back in 2010.
While the obviously talented, handsome, articulated, and flashy 'Showtime' undoubtedly had many of the pieces to become a unique superstar in the UFC, ultimately he has, to this point, proved to be both injury prone and ineffective against the smothering wrestlers populating his division, and that's lead to another absence of payoff in another proposed star that just didn't pan out.
And the UFC could have avoided both of those scenarios, but this is what happens when you put too many of your proverbial eggs in one (or two) baskets. Let's take a look at where things went wrong for Dana White and company, starting with the case of Velasquez….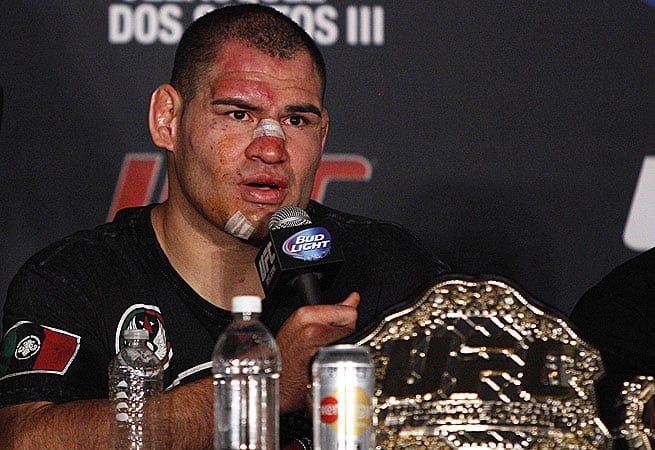 Cain Velasquez certainly had all the talent to become one of, if not the, most dominant heavyweights in MMA history, and he still does. He suffered a relatively early setback when he was knocked out by rival Junior dos Santos at UFC on FOX 1, but it was clear that Velasquez wasn't quite himself after fighting with a knee injury and the ring rust of the shoulder surgery he had following his dominant win over Brock Lesnar that gained him the belt.
He proved that when he returned to absolutely dominate dos Santos in their next two meetings at UFC 155 and UFC 166, respectively; fights that could legitimately be deemed two of the worst beatdowns in UFC history. But while Velasquez dealt out an almost unfathomable amount of punishment in those two fateful bouts, the wear and tear on his body may have aged him far beyond his 33 years, and it can also be asked if the supposedly archaic training practices at AKA have even more to do with his concerning string of injuries.
Velasquez has repeatedly focused on their mantra that 'iron sharpens iron,' and while you can't argue with AKA's results overall, its also apparent that their all-out sparring practices, where he legitimately battles UFC light heavyweight champion Daniel Cormier in a fight-like atmosphere, is sapping Velasquez' ability to make it to the Octagon.
That's costing him millions of dollars in potential earnings, and also costing the UFC much more in lost revenue when his title fights are canceled. Whoever Miocic fights on short notice, that bout just doesn't have the same appeal without Velasquez' luster – which, at this point, has been largely built up in the media considering he hasn't won since late 2013.
To be clear, Velasquez is a supremely talented fighter, and his Mexican-American heritage understandably would have made him a huge star in Latin America. But at some point, you have to wonder how long the UFC is going to allow their heaviest division to absolutely stagnate while they figure out if Velasquez can fight. It's hurt the division as they've allowed top-level contenders like Andrei Arlovski to rise up only to lose one fight and get knocked off the totem pole as everyone waits on Velasquez. It's not fair, and its costing the UFC tons of money, which was the first reason they attached so much of their heavyweight hopes onto Velasquez in the first place.
That's something they just cant allow to happen anymore in a division as shallow and aging as heavyweight, and it was a very similar travesty when the same thing happened in arguably their most stacked division when Pettis was similarly injured after winning the belt….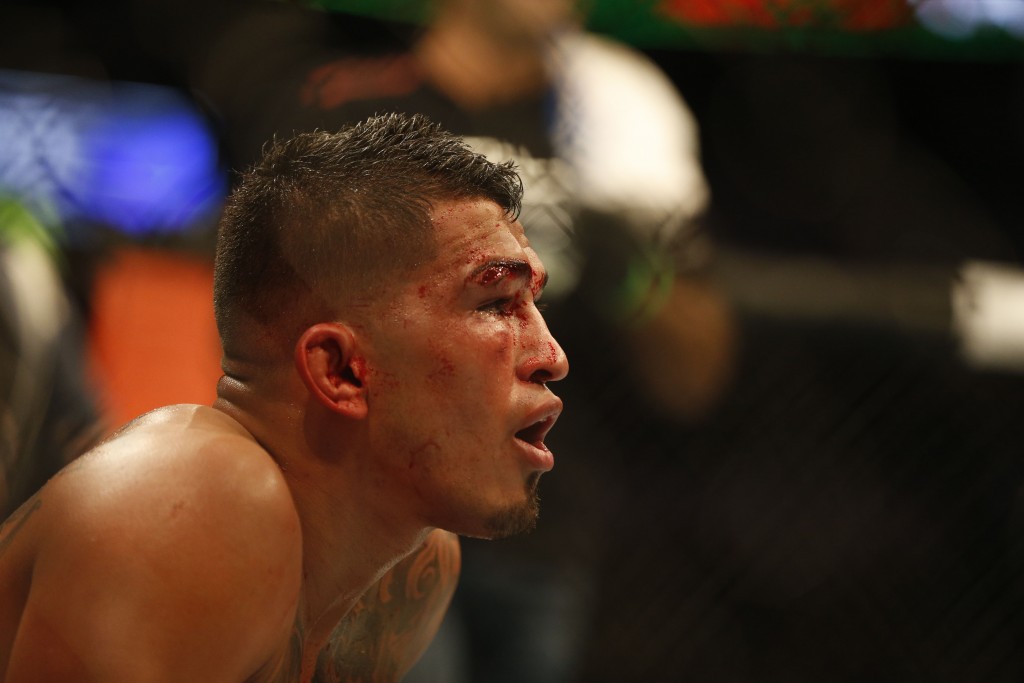 Like Velasquez, Pettis had the full steam of the UFC hype machine behind him after he won the belt from Henderson with a slick first round armbar at UFC 164 in August 2013 (although not necessarily for the same reasons).
And also unfortunately like Velasquez, he was sent to the sidelines with a torn PCL in his knee that cost him 15 months on the sideline, a fact that actually may have worked out in his favor considering he signed an exclusive sponsorship deal with Reebok and became the first MMA fighter to appear on the Wheaties cereal box.
But that hype train soon came crashing to a halt after a title defense versus Gilbert Melendez at UFC 181 in late 2014, as Pettis elected to make a quick turnaround and face surging veteran Rafael dos Anjos at UFC 185 last March. What happens there could only be deemed a destruction by 'RDA,' who broke Pettis' orbital bone with a first round straight left and proceeded to brutalize 'Showtime' with endless takedowns, kicks, and ground control to win the belt.
Pettis immediately went back to camp in order to patch the hole that was always supposedly his Achilles' heel, his wrestling. He brought in a team of accomplished wrestlers to his Roufusport Gym in Milwaukee, yet it backfired when he injured his elbow defending a takedown, requiring surgery and leaving him out of action until he met Eddie Alvarez in the co-main event of January 17's UFC on FOX 17.
While he had supposedly shored up his takedown defense thanks to the teachings of famed wrestling coach Izzy Martinez, Pettis was again ground into the mat by a grueling effort from Alvarez, who pushed the flashy former champ up against the cage with another streak of endless takedown attempts. While not nearly as dominant as his loss to dos Anjos, it was a loss in a similar fashion that lead to the first two-fight skid in his career. The blueprint to beat Pettis is out there, and in a division as populated full of elite wrestlers as lightweight, that isn't going to fly.
We didn't see the old and jaw-dropping "Showtime" that everyone has come to expect from Pettis, and unless he adds a serious wrinkle to his all-around skillset, we may not ever again. Still only 28, he has time to get better and win the championship once again. But it's clear that the media machine the UFC put behind him didn't pan out even close to as well as was hoped, so like Velasquez, the UFC gambled on Pettis and lost big.
Now, time hasn't run out on either fighter, and both have the skills and talent to rebound big if they can get in the cage relatively frequently. However, there are some serious question marks about whether or not Velasquez and Pettis will be able to stay healthy consistently enough to win back their titles. It's clear that both fighters just won't be the marketable champions the UFC was planning to have for many years.
The promotion has been able to potentially replace Pettis with the much louder and to this point, effective, McGregor, but the same thing can't be said for Velasquez' star power-starved heavyweight landscape.
Overall, just like the UFC's Las Vegas roots, when you gamble big, sometimes you lose big. The UFC will be just fine at the end of the day, however. Let's hope the same thing can be said about Velasquez and Pettis.