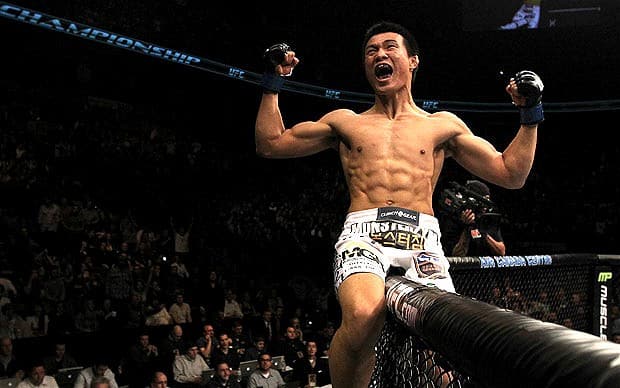 If you're a relatively new MMA fan, you can be forgiven if you're not familiar with Chan Sung Jung. After all, the man hasn't fought since August 2013. But if you've been following the sport for more than five years and you don't remember "The Korean Zombie", you are most definitely NOT forgiven. You're reading my article, which is cool and all, but we can't be friends. Sorry.
Seriously, how could you forget what the most famous Korean mixed martial artist – apologies to "The Stun Gun" and "The Korean Superboy" – did before mandatory military service tore him away from us?
In just six fights under the Zuffa banner between April 2010 and August 2013, Jung was involved in two "Fights of the Year" and produced a "Submission of the Year" that has yet to be replicated. If you need a refresher course in the kind of violence "The Korean Zombie" brings to the cage, look no further.
https://twitter.com/_ScottBond_/status/826832442241716229
5. The 'Fight Of The Year'
Jung exploded into the American MMA consciousness in his very first fight on this side of the Pacific. He was put in a prominent spot in his initial WEC foray, as he made up half of the featured prelim leading into the WEC's lone pay-per-view event, WEC 48 (headlined by Urijah Faber and Jose Aldo). Jung was an 11-1 prospect who had already won a one-night, 16-man featherweight tournament with three submissions in Japan (I couldn't find a highlight video for it, unfortunately). He would take on Leonard Garcia, a UFC veteran with a penchant for foregoing technique and strategy in favor getting into exciting brawls.
And did they brawl. If Jung hadn't already earned "The Korean Zombie" moniker, he certainly would have been dubbed such after the jaw-dropping, whiplash-inducing, holy-sh*t-did-you-just-see-that inferno of a fight.
Defense was a foreign concept. Head kicks, vicious clinch knees, and salvo after salvo of wild haymakers were all on the menu. Commentator Mike Goldberg mispronounced Jung's name on multiple occasions, but the Korean scrapper ensured that would never happen again.
Jung started the fight beautifully, knocking Garcia down in round one and blasting him with ground and pound. "Bad Boy" stormed back in the second, rocking Jung out of the gate. But, true to his name, "The Korean Zombie" was undeterred. He jumped on Garcia's back and rolled him to the floor after a failed takedown, but couldn't capitalize. Back on the feet, the two traded blistering combinations that would have blown away lesser men. The final round was nip and tuck as well, but Jung generally looked to get the better of the action.

In the end, though, Garcia escaped with a split decision win. The verdict was disputed, but no one was upset with Garcia. The action he and Jung produced was utterly above reproach.