If you're a relatively new MMA fan, you can be forgiven if you're not familiar with Chan Sung Jung. After all, the man hasn't fought since August 2013. But if you've been following the sport for more than five years and you don't remember "The Korean Zombie", you are most definitely NOT forgiven. You're reading my article, which is cool and all, but we can't be friends. Sorry.
Seriously, how could you forget what the most famous Korean mixed martial artist – apologies to "The Stun Gun" and "The Korean Superboy" – did before mandatory military service tore him away from us?
In just six fights under the Zuffa banner between April 2010 and August 2013, Jung was involved in two "Fights of the Year" and produced a "Submission of the Year" that has yet to be replicated. If you need a refresher course in the kind of violence "The Korean Zombie" brings to the cage, look no further.
5. The 'Fight Of The Year'
Jung exploded into the American MMA consciousness in his very first fight on this side of the Pacific. He was put in a prominent spot in his initial WEC foray, as he made up half of the featured prelim leading into the WEC's lone pay-per-view event, WEC 48 (headlined by Urijah Faber and Jose Aldo). Jung was an 11-1 prospect who had already won a one-night, 16-man featherweight tournament with three submissions in Japan (I couldn't find a highlight video for it, unfortunately). He would take on Leonard Garcia, a UFC veteran with a penchant for foregoing technique and strategy in favor getting into exciting brawls.
And did they brawl. If Jung hadn't already earned "The Korean Zombie" moniker, he certainly would have been dubbed such after the jaw-dropping, whiplash-inducing, holy-sh*t-did-you-just-see-that inferno of a fight.
Defense was a foreign concept. Head kicks, vicious clinch knees, and salvo after salvo of wild haymakers were all on the menu. Commentator Mike Goldberg mispronounced Jung's name on multiple occasions, but the Korean scrapper ensured that would never happen again.
Jung started the fight beautifully, knocking Garcia down in round one and blasting him with ground and pound. "Bad Boy" stormed back in the second, rocking Jung out of the gate. But, true to his name, "The Korean Zombie" was undeterred. He jumped on Garcia's back and rolled him to the floor after a failed takedown, but couldn't capitalize. Back on the feet, the two traded blistering combinations that would have blown away lesser men. The final round was nip and tuck as well, but Jung generally looked to get the better of the action.
In the end, though, Garcia escaped with a split decision win. The verdict was disputed, but no one was upset with Garcia. The action he and Jung produced was utterly above reproach.

4. The Twister
Despite his reputation-making donnybrook with Garcia, Jung suffered another setback at the hands – and shinbone – of George Roop and entered the UFC with two losses in two American appearances. He was paired once again with Garcia, as the UFC attempted to replicate the action of the first go-round and expose their fans to the new sub-155 weight classes.
The rematch was more measured, as Garcia elected to remain much more composed and technical rather than wing "fastballs" at Jung's head. Still, there was plenty of action to go around in an exciting fight that seemed destined to be good but wouldn't live up to the impossible expectations set by the first.
Things changed late in round two, and instead of being a once-a-year-type of classic, it produced a once-in-ever moment.
When the two men exchanged high kicks simultaneously, Garcia lost his footing and landed on his back in front of Jung. The Korean pounced into guard, and would take a scrambling Garcia's back soon after.
Jung gave up one hook to latch both his legs around one of Leonard's, with his upper body now at an angle to Garcia instead of being belly-to-back. He grabbed Garcia's right hand and wrapped it around his own head. At this point, commentator Joe Rogan started to catch on and said that "The Korean Zombie" was setting up a twister. With one of Garcia's arms pinned back at and awkward angle, Jung wrapped both of his own around his adversary's head and extended his hips. Garcia immediately looked distressed by the wrenching his spine was enduring. A moment later the tap came, just one second before the bell to end the round.
It remains the only twister submission in UFC history.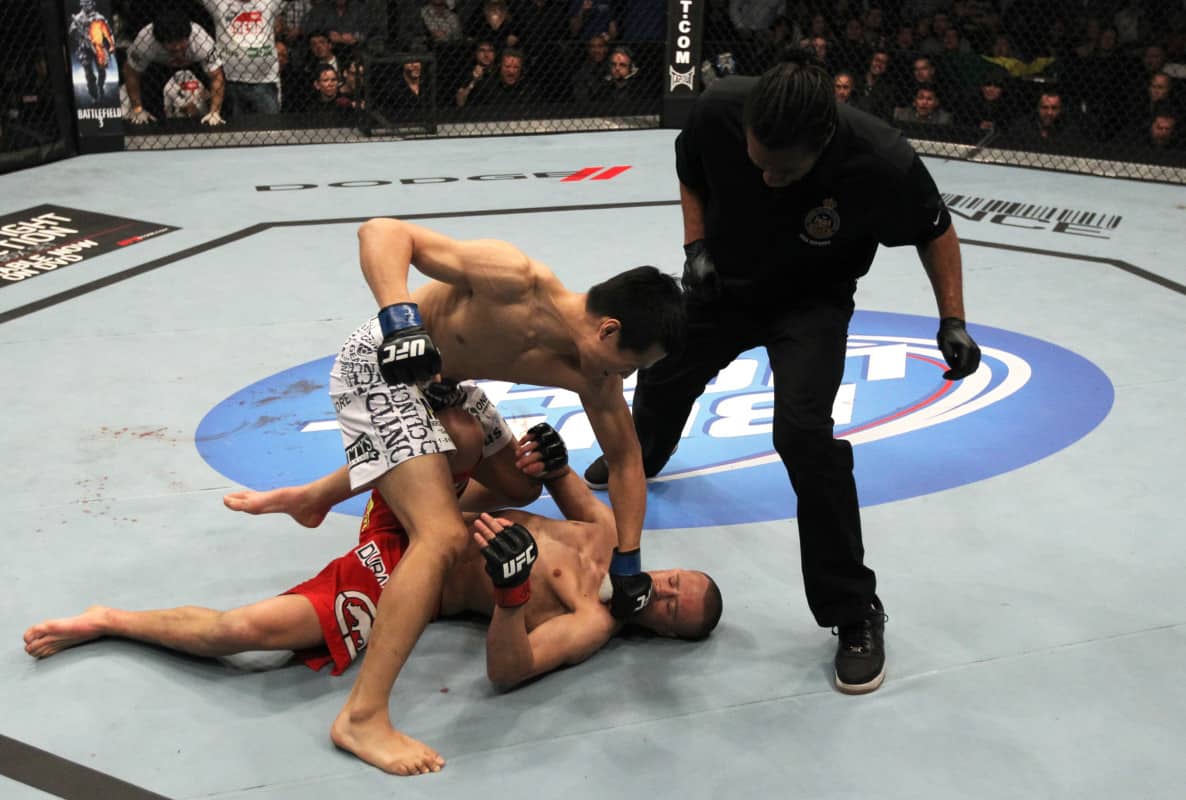 3. Knocking Out Mark Hominick – In Seven Seconds
It was the shortest fight of Chan Sung Jung's career, and it nearly tied the record for the fastest knockout in UFC history.
At UFC 140 in December 2011, "The Korean Zombie" squared off with prolific kickboxer and former title challenger Mark Hominick. "The Machine" was fresh off falling short against Jose Aldo in April, but he acquitted himself well. He decisively took the last round off the exhausted champion despite sporting a grotesque hematoma on his forehead. There would be no late-round magic against Jung.
As the two engaged for the first time, Hominick whiffed on a wide left hook and was immediately countered by a straight right that dropped him. "The Korean Zombie" swarmed with rapid-fire ground and pound, and just seven seconds after it began, referee Herb Dean was waving it off.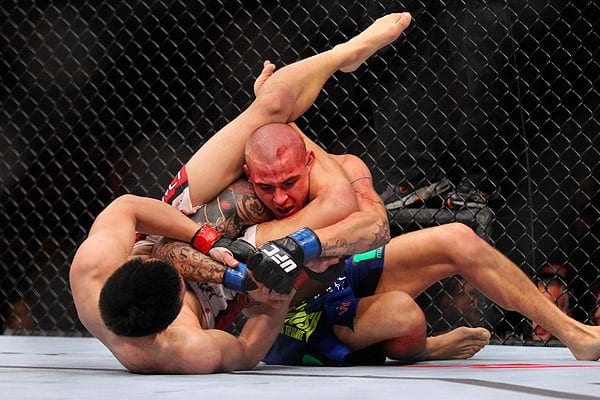 2. The Second 'Fight Of The Year'
With two spectacular victories and a Fight of the Year to his name, Jung thoroughly erased the memory of his head kick-knockout loss to George Roop and his two-fight losing streak. His next pairing would be against the streaking and always-exciting Dustin Poirier in a UFC on FuelTV headliner, one of the first non-title five-round main events. We were lucky it didn't end after three, because we would have missed out on a gorgeous finshing sequence.
The first round saw Poirier have success in close quarters with his striking, but his takedown attempts were thwarted and countered by "The Korean Zombie". In Poirier's guard, Jung unleashed a barrage of elbows that broke open a cut on top of "The Diamond's" head that would bleed freely the rest of the fight.
The second was an absolutely wild round, but again, the Korean got the better of it. He caught a Poirier kick and dumped him to the mat inside the first 20 seconds, following the takedown with ground and pound from guard. When Poirier returned to his feet, Jung met him soon after with a flying knee that backed the Louisianan to the fence.
From there, Jung absolutely teed off with uppercuts and knees from the single collar tie. When Poirier ducked under for what looked like an easy takedown, Jung rolled him straight backward to land directly into mount. Ground and pound and armbar and triangle attempts would follow, but Poirier would escape and end up on top. With just seconds left, Jung locked on yet another triangle, this time from bottom, but Poirier was saved by the bell.
Poirier rallied in the third to box up his opponent, but the round was not without adversity for "The Diamond". "The Korean Zombie", unflappable as ever, scored with flurries when he could back Poirier to the fence and hit a gorgeous body-lock takedown. This time, though, he couldn't hold Poirier down. The fight would go to the championship rounds, but not for long.
A minute into the round, Jung sent Poirier crashing back into the fence with a lead uppercut that caught him clean. Jung followed immediately with a flying knee that had the American shooting for a desperation takedown. Poirier found himself ensnared in his own signature choke, the D'Arce. Jung wrapped it up, and in so doing wrapped up the most important win of his career.
I was hoping the UFC would release this as a free fight on YouTube to help hype UFC Fight Night 104, but they haven't as yet. Find this fight, or get UFC Fight Pass, and watch it.

1. The Title Shot
Jung's UFC run culminated in a title fight against the greatest featherweight of all time, Jose Aldo, at UFC 163. Jung had been out of action for 15 months nursing an injury, but he was set to return a month earlier against Ricardo Lamas. When Anthony Pettis pulled out of his scheduled bout with Aldo, Jung stepped in to take his place.
Jung had a hard time getting much going against Aldo, whose ridiculous athleticism and well-rounded skills proved too much for the dynamic Korean. Aldo's straight punches beat the looping hooks Jung favored to the mark, his strength allowed him to take Jung down with ease, and his ground skills kept him out of trouble against the notoriously crafty Zombie.
Jung would dislocate his shoulder off a combination in the fourth round, ending his night. Mandatory military service in his native South Korea has kept him out of action ever since.
Do not miss his fight this Saturday (February 4, 2017) in the main event of UFC Fight Night 104 against Dennis Bermudez. His iron chin, indomitable will, and well-rounded skills – particularly his venomous ground game – make him must-see TV. Look no further for proof than the fact he is headlining a card after three-plus years on the sidelines. I can not wait to see what "The Korean Zombie" looks like these days. I suspect he'll help author another bloodletting new fans won't soon forget.