Mark Hunt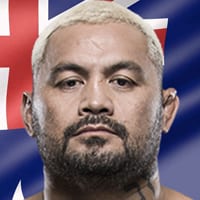 DOB: March 23rd, 1974
Birthplace: South Auckland, New Zealand
Nickname: The Super Samoan
Gym: AKA Thailand
Style: Kickboxing
Weight Class: Heavyweight
Championship: 2001 K1 Grand Prix Heavyweight Champion
Hunt's troubled beginnings
Mark Hunt used to get in a lot of trouble when he was younger. He went to jail twice for fighting. 
The thought of fighting professionally didn't cross his mind until after one particular bar brawl. After knocking out multiple people in the incident, the bouncer approached him about kickboxing.
Hunt's early kickboxing career
A week after taking up kickboxing training, Hunt had his first fight by 1st round knockout. He also won a case of beer from his trainer for winning.
At first, Australian kickboxing promoters just used Hunt as a stepping stone for fighters they promoted. Even though he wasn't really taking fighting seriously at first, Hunt still gained a record of 15-4.
Then Hunt was invited to compete in the K-1 Oceania tournament. Knocking out all 3 of his opponents in 1 night to win the title.
Winning the K-1 Oceania got Hunt invited to the K-1 qualifiers at the Tokyodome in Japan. He'd lose his first fight to veteran Jerome Le Banner
K-1 Grand Prix
He'd win the Oceania tournament again and fight in the 2001 New Zealand Grand Prix that was being held in Melbourne.
Hunt would win his first fight and then lose a close decision against returning champ Ernesto Hoost. Even though he lost, Hunt was granted a wildcard spot in the world grand prix case someone got hurt.
Mark would fight fellow countryman Ray Sefo. They had a phenomenal fight, where both men dropped their hands and traded shots. Unfortunately he'd lose a decision.
Although Sefo injured his eye and Hunt took his place in the qualifier final. Knocking out  Adam Watt to get to the final tournament.
Hunt would choose to rematch Jerome Le Banner and knock out the Frenchman to get to the finals. In the finals he would win a decision against Stefan Leko to win the K1 Grand Prix.
Hunt's early MMA career
With Hunt's kickboxing experience, he would immediately start fight elite MMA fighters. He had never trained grappling and lost his first MMA match in Pride by kneebar to Judo master Hidehiko Yoshida.
Mark would however bounce back and  win his next 5 fights in Pride. Including wins over champions Wanderlei Silva and Mirko Cro Cop.
Although the glaring hole in his ground game would continue to be his achilles heel. Losing his next 5 fights with 4 of them by submission.
Hunt in the UFC
After Pride closed, the UFC bought all of the fighter's contracts. One of them was Hunt's and they reluctantly signed him just to finish it.
Again he would lose by submission and drop his record to 5-7. At 5-7, he had the worst record in the UFC.
But late in his career, Hunt had an incredible run. He'd win his next 4 fights and became a huge fan favorite in the promotions. Even fighting for an intern title.
He would go 8-7 in his UFC run with 7 KO wins. Unfortunately, Hunt was at odds with the last part of his UFC run and really just fought to finish his contract. 
Hunt then took the UFC to court claiming they knew Lesnar was taking steroids before their bout at UFC 200.