Colby Covington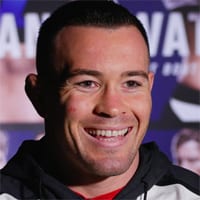 DOB: February 22nd, 1988
Birthplace: Clovis, California
Nickname: Chaos
Gym: MMA Masters
Style: Wrestling
Weight Class: Welterweight
Championships: N/A
Covington's amateur wrestling career
Colby grew up in Springfield, Oregon and wrestled at Thurston High School. Covington's father was a high level college wrestler and his son followed in his footsteps.
In high school, Colby lettered and made the varsity team all 4 years he was in school. Winning the state championship his senior year at 171lbs.
He then got an offer to wrestle at junior college Iowa Central. There he went undefeated as a freshman and won the national junior college championship.
Covington then transferred to Iowa University, but got into some trouble drinking and driving. After this incident, Colby was suspended from the team for a year and only wrestled briefly the next year.
With his troubles behind him, Covington got a fresh start and a chance to wrestle again at Oregon State University. Under the guidance of his former head coach, Colby became a 2 time Pac-10 conference champion.
Covington entry into MMA
After college, Colby was contacted by the owner of American Top Team. They wanted to improve their wrestling program and wanted to hire Colby as an instructor.
While working at ATT, Colby quickly got an interest to compete in MMA. He would go 5-0 in his first 5 fights before getting the call to fight for the UFC.
Colby in the UFC
Covington made his UFC debut in 2014 fighting on the Bisping vs Le undercard. He would dominate his opponent winning by TKO in the first round.
Colby would go on to win his next 2 fights before taking his first pro loss by guillotine against Warlley Alves.
Colby's new persona
Around the time Donald Trump got into office in early 2017, Colby realized he needed to get more publicity. He donned a persona as a Trump MAGA supporter making brash statements and insulting top welterweight fighters.
Colby would wear cheap suits and a MAGA hat with a cocky smirk saying how he would beat his opponents. This quickly made him one of the most hated fighters and got him the attention he wanted.
Colby becomes a top fighter
With his new persona getting him more attention, Colby began putting his money where his mouth is. Winning fights against multiple top 10 fighters in the welterweight division.
He would be title contender Demian Maia, former lightweight champ RDJ, and former welterweight champ Robbie Lawler. Making it look easy when he beat these tough opponents.
All while winning fights, Colby would repeatedly call out Tyron Woodley and Kamaru Usman.
Covington vs Usman
Covington got his wish and met Usman for the welterweight title at UFC 245. It was a back and forth fight that went into championships rounds.
The fight ended after Kamaru dropped Colby in the 5th and finished him with punches. Breaking his jaw in the process.
Covington vs Woodley
Not deterred by the loss and continued talking, Covington got his wish to fight former champion Tyron Woodley. It would be a fight he would dominate for 5 rounds before Woodley had to submit due to a rib injury.