MMA's 12 Best Heavyweights Of All-Time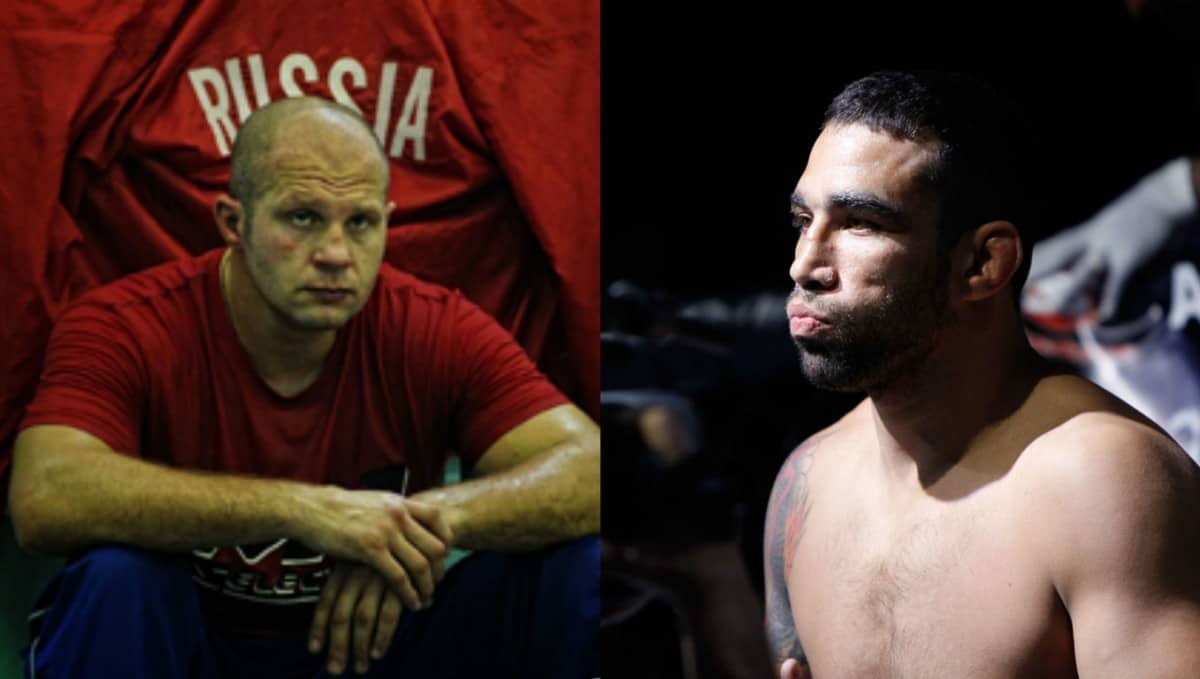 The heavyweight division has long been the bright spot in combat sports.
From boxing legends like Muhammad Ali and "Iron" Mike Tyson, to MMA greats Fedor Emelianenko and Fabricio Werdum, fans have always been drawn to heavyweights.
From their towering structures, to their bone crushing knockout power, heavyweights have never had trouble drawing fans to seats, or eyes to televisions.
Currently in MMA, the UFC's heavyweight division is at an interesting stage.
With injuries running rampant throughout the upper echelon of the division over the last few years, a new champion has recently rose to prominence, as well as a wealth of new contenders who have made the division quite cloudy, yet exciting at the same time.
With that being said, it's interesting to take a dive deep into the rich history of MMA's most prolific division, and not only within the UFC, but within the sport as a whole.
Read on to see the 12 best heavyweights of all-time:

12. Mark Coleman
Mark "The Hammer" Coleman was an insanely powerful fighter, and arguably one of the best wrestlers to have ever competed in the heavyweight division.
One of the pioneers of "ground and pound" in mixed martial arts, Coleman implemented this tactic quite often, compiling a 16-10 career record with 12 finishes. Key wins over Don Frye (2x), Dan Severn, and Mauricio "Shogun" Rua stand out on his record.
"The Hammer" will also be remembered as the inaugural heavyweight champion, and as a UFC Hall of Famer.
It's safe to say that the heavyweight division was strongly impacted by "The Godfather of Ground and Pound".

11. Bas Rutten
An old school heavyweight competitor from the UFC's glory days, Bas Rutten is a former UFC heavyweight champion, and a UFC Hall of Famer.
With black belts in Karate, Judo, Taekwondo, Kickboxing, and Krav Maga, Rutten is a martial artist in the truest of sense, and he often showed that inside of the cage.
Throughout his career, Rutten put together a 28-4-1 record including 15 finishes, showing the well-roundedness that he possessed. His biggest wins came over Frank Shamrock (2x), and Kevin Randleman.
A pioneer of the sport, Rutten has been a pivotal influence on the sport of mixed martial arts as well as the heavyweight division.

10. Josh Barnett
Josh Barnett may be one of the most unique heavyweights of all-time in terms of personality, but his skills and track record speak for themselves.
A former UFC heavyweight champion from what seems like a different era, "The Warmaster" ranks amongst the best grapplers, and best finishers in divisional history, and is actually the youngest heavyweight champion in UFC history.
Boasting an incredible career record of 34-8, Barnett also holds an ultra-impressive 20 submission victories, along with eight knockout wins.
With wins over legends like Dan Severn, Randy Couture, Mark Hunt, Antonio Rodrigo Nogueira, Frank Mir, and Roy Nelson, Barnett has certainly challenged himself throughout his career.
Still competing, "The Warmaster" recently dropped a submission loss to Ben Rothwell, but clearly has the opportunity to continue to pad his already proven record.

9. Andrei Arlovski
Like Barnett, many seem to forget that Andrei "The Pit Bull" Arlovski previously held the UFC heavyweight title, but the Belarusian knockout artist has indeed made a sounding impact on the division over the years.
Possessing the second most wins in UFC history (13), and being tied for the most knockout victories in UFC heavyweight history (9), Arlovski owns a 25-11-1 career record. 17 of those 25 wins have come by way of knockout.
With a lengthy tenure under his belt, "The Pit Bull" has beaten the likes of Tim Sylvia, Fabricio Werdum, Ben Rothwell, Roy Nelson, and Frank Mir.
A string of four-straight losses between 2009 and 2011 caused a sudden downfall for Arlovski, but he returned to the UFC in 2014, winning his first four bouts back in the Octagon. Unfortunately he was recently mauled by Stipe Miocic, halting his resurgence.
Although he has had his ups and downs, Arlovski has faced off with some of the toughest heavyweights of all-time, beating a solid amount of them, and placing himself on this list.

8. Junior Dos Santos
Former UFC heavyweight champion Junior "Cigano" Dos Santos has been one of the most feared men in the division over the past few years.
A heavy handed slugger, the Brazilian has a professional record of 17-4 with 12 of those wins coming by way of knockout.
Knockout wins over Fabricio Werdum, Cain Velasquez, and Mark Hunt along with impressive victories over Roy Nelson, Shane Carwin, and Stipe Miocic highlight "Cigano's" lengthy resume.
Unfortunately, Dos Santos was also on the wrong side of two absolute thrashings from Velasquez, and he was recently knocked out by Alistair Overeem as well.
Undoubtedly one of the best knockout artists in divisional history, JDS will be remembered forever, but it appears as if he has begun to decline rather quickly after some memorable brawls which is why he slid down this list a bit.

7. Frank Mir
Two-time heavyweight champion Frank Mir is a legend of the UFC's heavyweight division. Currently holding the record for most fights, most victories, and most submissions in UFC heavyweight history, Mir has certainly made his mark.
Mir has fought a who's who of heavyweight greats, possessing victories over Tim Sylvia, Brock Lesnar, Antonio Rodrigo Nogueira (2x), Mirko Filipovic, Roy Nelson, and Antonio Silva. He also happens to be the very first man to both submit, and knockout Nogueira.
Arguably the best submission artist in UFC heavyweight history, Mir, in my opinion, could very well be higher up on this list, but he has also suffered multiple losses to the division's elite.
With losses to Shane Carwin, Lesnar, Junior Dos Santos, Daniel Cormier, Josh Barnett, Alistair Overeem, and Andrei Arlovski, Mir has undoubtedly had his fair share of setbacks, but he also has proved himself as one of the best to ever do it.

6. Cain Velasquez
In terms of pure athleticism, and fighting ability, I feel as if former champion Cain Velasquez without question has the potential to be the very best heavyweight of all-time.
We've seen what he's been able to do inside of the cage, as he uses relentless pressure and cardio, along with strong wrestling to batter opponents.
The only problem, however, is that we just don't see him too often.
A two-time UFC title holder, Velasquez has only loss to the likes of Junior Dos Santos and Fabricio Werdum in his last six fights, but he's also only competed four times over the last few years, constantly having to deal with a plethora of injuries.
He recently had to pull out of his scheduled rematch with Werdum due to a back injury.
Aside from his injuries, Velasquez does indeed own some huge wins over Antonio Rodrigo Nogueira, Brock Lesnar, Dos Santos (2x), and Antonio "Big Foot" Silva (2x), destroying most of these men in brutal fashion.
For me, Velasquez just hasn't competed enough at this point, missing many opportunities to climb this list. If he can get healthy, and remain healthy, expect the former divisional kingpin to continue his rise to supremacy.

5. Mirko Filipovic
Better known as Mirko Cro Cop, Filipovic is one of the most brutal and lethal finishers in the history of the heavyweight division.
Possessing an absolutely devastating left high kick, the Croatian holds a professional record of 31-11-3, with 23 of those wins coming by way of knockout.
Cro Cop is tied for the most finishes in PRIDE history (16), as well as the PRIDE leader in first round finishes (15). Along with that, he owns the most finishes in Zuffa history (21), as well as the most first round finishes in Zuffa history (17).
Despite never holding the PRIDE or UFC heavyweight title, the Croatian striker owns victories over Josh Barnet (3x), Kevin Randleman, Mark Coleman, and Wanderlei Silva.
Although the tail end of his career was recently tainted by drug test controversy, Cro Cop remains as not only of the best strikers the heavyweight division has ever seen, but simply one of the best big men of all-time.

4. Randy Couture
Just to fully display how successful he was inside of the cage, despite reigning as the UFC light heavyweight champion twice, Randy "The Natural" Couture is a five-time UFC champion, with three being at heavyweight, which is a company record.
Couture has competed in the most championship bouts in UFC history, and was also the first man to hold a title in two different weight classes, something that has only been done one more time since.
Although his record, which stands at 19-11, may not be as appealing as that of others, his championship accomplishments speak for themselves.
With an Olympic wrestling pedigree, and a rounded skill set, "The Natural" owns victories over the likes of Vitor Belfort (2x), Chuck Liddell, Kevin Randleman, Tito Ortiz, Tim Sylvia, and Mark Coleman.
It also must be noted that Couture was usually noticeably smaller than his opponents at heavyweight. For example, "The Natural" weighed in at 222.5 lbs. at UFC 68 as opposed to Sylvia who hit the scales near the heavyweight limit at 263 lbs.
Needless to say, Couture went on to dominate that fight, winning the heavyweight title in the process, a factor that illuminates his skills and accomplishments tremendously.

3. Antonio Rodrigo Nogueira
Serving as one half of the legendary Nogueira brothers, a vicious tandem with world class submission skills, now retired Antonio Rodrigo "Minotauro" Nogueira made his mark competing and succeeding against the best heavyweights in the world.
A fourth degree black belt in Brazilian Jiu-Jitsu, "Big Nog" holds a professional record of 34-10 with 21 career submission victories. The Brazilian is also a former PRIDE heavyweight champion, as well as a former interim UFC champion.
Dropping losses to greats like Fedor Emelianenko, Josh Barnett, Frank Mir, Cain Velasquez, and Fabricio Werdum certainly have hurt his stock, but that doesn't mean that the Brazilian hasn't racked up his fair share of impressive victories as well.
Some of these key wins have come over Mark Coleman, Dan Henderson, Mirko Filopovic, Werdum, Tim Sylvia, and Randy Couture.
Simply a warrior of the sport, and a terrific finisher, it's nearly impossible to talk about the best heavyweights of all-time without mentioning "Minotauro" Nogueira.

2. Fedor Emelianenko
I debated back and forth whether or not I was going to place the legendary Fedor "The Last Emperor" Emelianenko at No. 1 or No. 2, and while there's no denying his historic resume, I do believe he has been surpassed in recent years.
With that said, Emelianenko is an iconic figure nonetheless. Possessing a career record of 35-4-1 including 11 knockouts and 18 submissions, "The Last Emperor" was the last PRIDE heavyweight champion.
From April 2001 to November 2009, Emelianenko didn't surrender a single loss, going 28 straight bouts with 27 victories and one No Contest.
Notable victories include wins over legends like Antonio Rodrigo Nogueira (2x), Mark Coleman (2x), Kevin Randleman, Mirko Filipovic, Mark Hunt, and Andrei Arlovski. "The Last Emperor" even recently came out of retirement after a three year hiatus to submit a relative unknown in Jaideep Singh.
While I admit that the former PRIDE boss may arguably have the best resume on this list, he did suffer three straight stoppage losses in Strikeforce during 2010-11 to Dan Henderson (usually a middleweight), Antonio "Big Foot" Silva, and the man that tops this list.
I would completely understand one ranking "The Last Emperor" as the best of all-time, but I just felt as if there was one man who's done it just a bit better…

1. Fabricio Werdum
While many may have put Fedor Emelianenko as the top dog, I had to go with my gut here, and I feel as if reigning UFC champion Fabricio "Vai Cavalo" Werdum has solidified himself as the best heavyweight of all-time.
With a professional record of 20-5, Werdum has indeed dropped loses to some of the sport's best in Antonio Rodrigo Nogueira, Andrei Arlovski, Alistair Overeem, and Junior Dos Santos.
With that being said, "Vai Cavalo" has also not only beaten Nogueira and Emelianenko, and former champion Cain Velasquez last June, but he finished all three by way of submission, a simply phenomenal achievement.
As a 2nd degree black belt in Brazilian Jiu-Jitsu, Werdum ranks amongst the best submission grapplers to have ever competed in MMA. That along with his drastic improvement in striking under Rafael Cordeiro has made him a force to be reckoned with even late in his career at age 38 years old.
With six-straight victories over Roy Nelson, Mike Russow, Nogueira, Travis Browne, Mark Hunt, and Velasquez, Werdum seems to just be hitting his stride which is a scary, scary thought given his already decorated pedigree.
Although some, like myself, may already put Werdum at No. 1, the Brazilian has just started his UFC title reign, meaning he may be just be starting another chapter of his illustrious career.