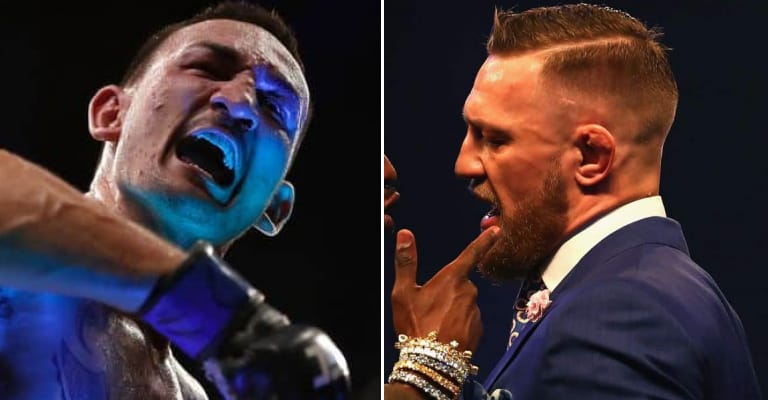 Max Holloway is back with another jab at absent UFC lightweight champion Conor McGregor.
Last week "The Notorious" posted on Instagram that he was definitely returning to MMA, and had even offered to replace Holloway and fight Frankie Edgar in the main event of this weekend's (Sat., March 3, 2018) UFC 222 from the T-Mobile Arena in Las Vegas, Nevada.
However, the bout never materialized due to the UFC supposedly not having enough time to promote the event, and that left Edgar's manager Ali Abdel-Aziz and coach Mark Henry blasting the claims in their own respective social media tirades.
Andel-Aziz claimed McGregor did truly offer to fight at UFC 222 but only if he could compete for a newly-created 165-pound belt, a division that has never been in the UFC.
Edgar soon revealed that McGregor's post was the first he had heard about it, offering his own doubts that it was ever a realistic possibility considering he hadn't heard from his employers about the potentially massive fight. But McGregor's longtime training partner and friend Artem Lobov insisted that their camp was preparing to train and that the fight was "very, very close."
""The Russian Hammer" reiterated that stance on The MMA Hour with Ariel Helwani on Monday, but the featherweight champ isn't buying it whatsoever. After recently trolling McGregor with a photo of him being stopped by Floyd Mayweather after "The Notorious" had posted a photo of their 2013 match-up where he defeated a young Holloway, "Blessed" fired back with another comedic response.
Although he's injured and unable to compete this weekend, Holloway blasted McGregor's claims that he would fill in on the card by offering a laughable scenario where he would amputate his leg in order to fight 125-pound champion Demetrious 'Mighty Mouse' Johnson for a newly-created 115-pound belt:
One more update @arielhelwani. After I was pulled from 222, I offered to amputate my leg and fight for a 115lb belt against DJ. It was very very close. Plans were in place. But I was told there wasn't enough time.
Stay blessed,
The DEFENDING Champ (no need TM what he can't claim) https://t.co/iFCB2NcHFA

— Max Holloway (@BlessedMMA) February 27, 2018
Solid work from "Blessed," who was many fans and media members' pick for 2017's "Fighter of the Year" after two impressive third-round stoppages of all-time great Jose Aldo.
He no doubt wants a rematch with McGregor, and with stinging social media barbs like this, he could have an outside shot at getting one.
Of course, the infamous Irishman will have to commit to returning first, and even though he appeared to do just that on social media, nothing is close to confirmed.
UFC 222, meanwhile, will go forward with a short-notice women's featherweight title fight between Cris Cyborg and Yana Kunitskaya from Las Vegas this weekend.