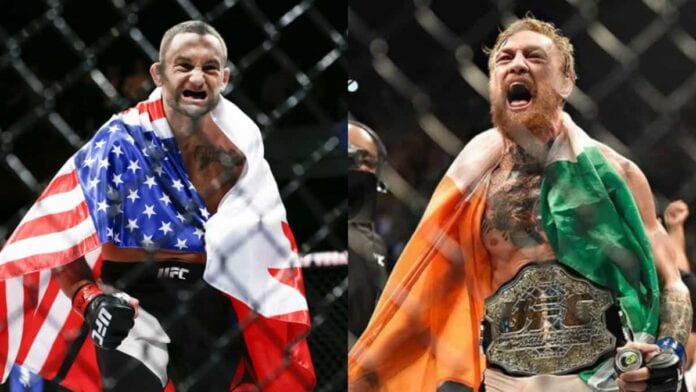 Earlier today, Conor McGregor took to social media to not only confirm that he would be returning to mixed martial arts, but he also revealed that he attempted to replace Max Holloway at March 3's UFC 222 and take on Frankie Edgar.
Edgar's manager, Ali Abdel-Aziz, however, then responded to these claims, disputing them and calling the Irishman a 'prostitute':
"Let me tell you about Conor McGregor," Abdel-Aziz told TMZ. "He's like a prostitute, used to make high-dollar money, but she got old and nobody wanted her anymore. This f*cking guy. For three years, he did everything he can not to fight Frankie Edgar.

"He had so many opportunities. Now he wants to fight Frankie? That's funny."
Continuing on, Abdel-Aziz claimed that Edgar would 'beat the s*it' out of McGregor and 'the whole entire nation of Ireland':
"I don't care if Frankie is 50 years old," Abdel-Aziz said. "Frankie could be 50 years old and beat the shit out of him and the whole entire nation of Ireland. He'd beat everyone in Ireland hands down.

"He can't beat Frankie. He can wait until Frankie is 60 — Frankie would still beat his ass."
And not only did Abdel-Aziz go after McGregor, but Edgar's longtime head coach Mark Henry also took to social media to blast the "Notorious" one:
When you bring up @frankieedgar name that's the perfect picture for you @thenotoriousmma. You ducked him 3 times in the past, FE and his manager @aliabdelaziz000 asked for Conors name specifically when Max went down ( but we knew you only take stylistically what is a good match for you and you ducked him 3x already) it's bad enough of crappy posts putting people down when you have never defended a title cut lines to titles and 90 % of the time fight people in your comfort zone. I agree Connor is an AMAZING AMAZING fighter and has transcended the game with his accent, personality, wit, incredible fighting style and power ( which beat a great and one of my own guys) intelligence and don't forget trashing people some of the BEST standup I've ever seen in mma and I really thought had a chance first 2 rds to bear mayweather. But to constantly sit on the sideline and talk about a man who always wants to fight and always and only the BEST guys, a man the UFC always trys to side track FE weather Mendes ( they were trying to protect you) or Yair or another young killer. A fighter who should be at 35 but fights his whole career heavier and doesn't cry about someone being bigger like you constantly did with a 55er. A fighter who doesn't make excuses when he losses like size or cheesecake he just takes it like a man and gives credit when is due. A fighter who even though gives up height range weight his entire career has never quit or been stopped. Last time I checked that's 4 for you now buddy. You will NEVER EVER have the heart of Frankie or integrity. It's soo soo simple if your dog crap post is true fight Frankie next. Weather it be mma or boxing. ( And I promise you he won't hammer fist on top your head he knows the rules). But YOU WON'T! @thenotoriousmma with @get_repost ・・・ I am fighting again. Period. I am the best at this. I put my name forward to step in at UFC 222 to face Frankie Edgar when Max Holloway pulled out, but I was told there wasn't enough time to generate the money that the UFC would need. I was excited about bouncing in last minute and taking out the final featherweight, without all the rest of the stuff that comes with this game. Please respe

Edgar is currently scheduled to take on Brian Ortega at UFC 222, but would you still be interested in seeing "The Answer" take on McGregor?