Joe Rogan has faith in Conor McGregor's ability to return from devastating leg break: 'If anybody can do it…'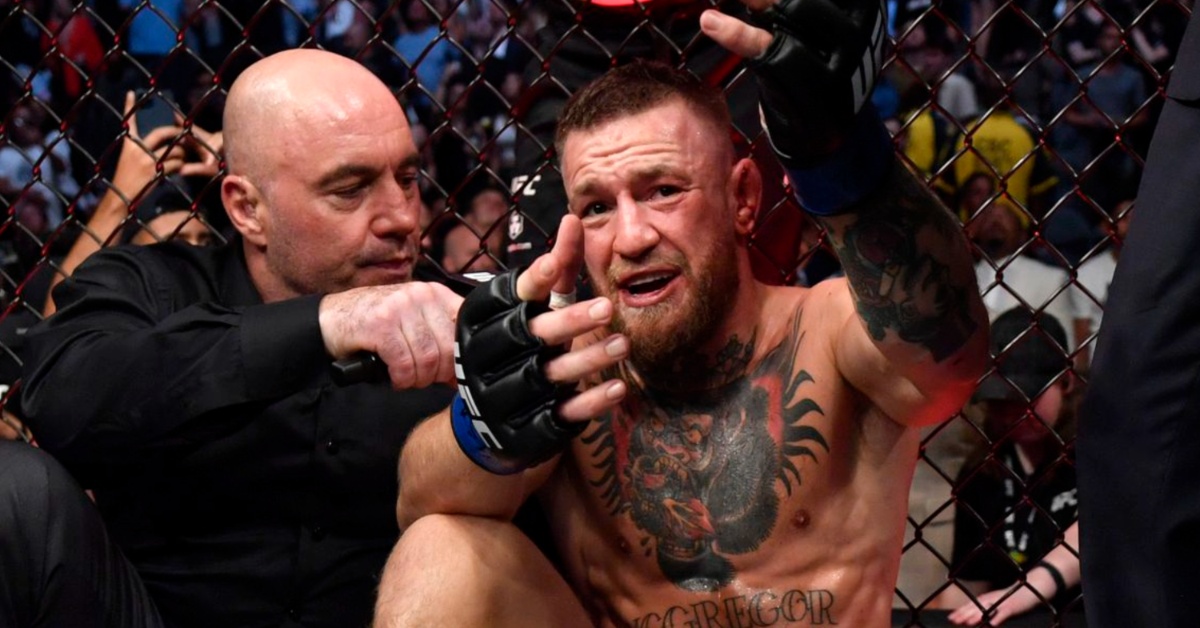 Joe Rogan believes if anyone can come back from a devastating leg injury, it's Conor McGregor.
In July 2021, the Irishman suffered a horrific leg break in the opening round of his trilogy bout with Dustin Poirier at UFC 257. More than two years removed, McGregor is fully recovered by all accounts but is yet to make his return to the Octagon despite being heavily rumored for a clash with lightweight fan favorite 'Iron' Michael Chandler in December.
Unfortunately, that bout has seemingly been pushed into 2024, but many are still questioning whether or not McGregor will even make his long-awaited return. Speaking about the Irishman's anticipated comeback, Joe Rogan discussed how incredibly difficult it is for a fighter to step back into the Octagon after sustaining such a horrendous injury. But the popular podcaster does believe that if anyone can do it, it's Conor McGregor.
"If it wasn't for his leg snap, he's still in the prime of his career. But that leg snap is a real problem," Rogan said on an episode of his podcast, The Joe Rogan Experience. "I mean, if he does (come back from that), he'll be the first. And if anybody does, maybe he can do it. If anybody can do it, maybe it's him. Because he snapped his leg in the prime of his career. Anderson was a little older, I believe he was 36 or 37… Chris Weidman was a little older.
"It's a hard one to come back from. Nobody really comes back from that one," Rogan continued. "You have to have plates in there. Also, you've gotta think the differences to your kicking, taking kicks… nerve damage, all the above… I don't know the extent of how much damage was done, but it's been two years… I just think that if anybody can do it, it's gonna be Conor" (h/t MMA News).
Can Conor McGregor Do What Anderson Silva and Chris Weidman Could Not?
Former middleweight world champion Anderson 'The Spider' Silva suffered an absolutely brutal leg break during his rematch with Chris Weidman at UFC 168 more than a decade ago. Silva returned just over a year later, but was never quite the same, dropping five of his last six before exiting the promotion.
In an ironic twist of fate, Chris Weidman would go on to endure a very similar injury just seconds into his UFC 261 scrap with Uriah Hall. More than two years later, 'All-American' would make his own comeback, but unfortunately dropped a lopsided loss to Brad Tavares in his return this August.
Being a few years younger than both Silva and Weidman at the time of their individual injuries, Conor McGregor could potentially come back and compete at the highest level, but with a net worth estimated at over $200 million, many have questioned whether or not the Irishman even has the motivation to make a comeback. But that's a different conversation altogether.