Jake Paul confident he can smash Nate Diaz in MMA with a year of training: 'I've done the calculations'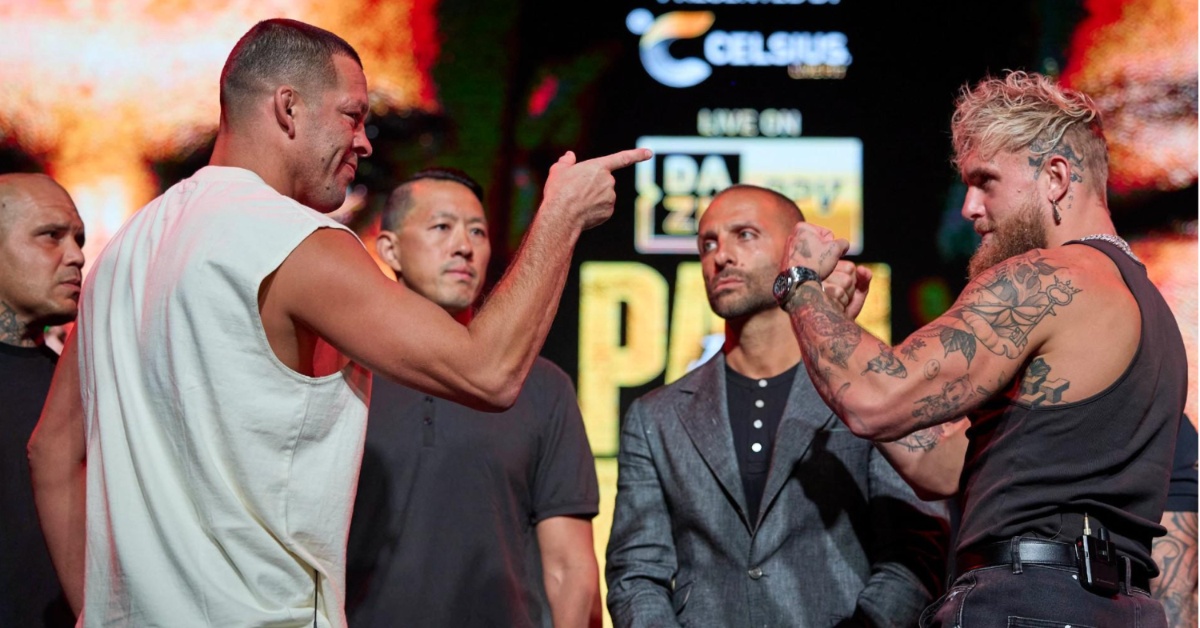 Jake Paul believes that with enough time, he can hand Nate Diaz a defeat in the world of mixed martial arts.
'The Problem Child' scored his seventh career win earlier this month, landing a unanimous decision victory over Diaz after 10 entertaining rounds of action in the Lone Star State. Immediately following the bout, Jake Paul doubled down on his $10 million MMA challenge to Diaz, suggesting they run it back inside the PFL Smart Cage next year. Diaz seemingly accepted the offer during his own post-fight interview, but no official announcement has been made.
Of course, fans and fellow fighters were quick to pick Diaz in the potential rematch, and understandably so. The 'Stockton Samurai' has more than 15 years of experience in MMA while Jake Paul is yet to step foot inside a cage. But that hasn't stopped 'The Problem Child' from suggesting that with enough prep time, he'll add another win over the TUF alumnus to his resume.
"Not right now, but in a year maybe," Paul said with a laugh on his brother Logan's Impaulsive podcast. "Honestly, I will will it into existence and I will work so f*cking hard that I can do it. The best part about is that MMA matches obviously start standing up like a boxing match. He can't hurt me with punches, if his punches aren't strong how are his kicks going to be. Of course, you can get a guillotine on someone when they're not expecting it in a f*cking boxing match, duh.
In the 10th round of their boxing class, Jake Paul attempted to clinch up, allowing Diaz to grab his neck and cinch in a guillotine choke before being broken up by the ref.
Jake Paul on How Things Will Play Out Against Nate Diaz in MMA
Diaz will undoubtedly go into a mixed martial arts matchup with 'The Problem Child' carrying a decided advantage, but it appears that Paul has already convinced himself that the very wide gap in MMA experience won't matter.
"If I can prepare for it, the crazy thing about it, I've done the calculations in my head," Paul said. "We start standing up. I learn kicks, I learn how to defend kicks. I'm beating his ass standing up clear as day in boxing. He tries to get close to me, I can just stick and move. He tries to take me down, my takedown defense and takedowns are better than his. I have way higher wrestling experience than his. He's not going to be able to take me down. He's slow, so I'm going to see the shots coming. Boom, block the shots.
"He can't take me down to submit me. It becomes a standing match. Three five-minute rounds, easy. I just fought for 30 minutes, that's only 15 minutes. I can work twice as hard in half the amount of time, expend twice as much energy to keep him away from me, while punching, not letting him take me down, and I will just simply have to watch out for his guillotine" (h/t MMA Fighting).
It's possible that Jake Paul could ultimately opt to take another boxing match before making his proposed MMA debut. 'The Problem Child' has long been tied to a rumored bout with fellow social media star KSI. Currently, KSI is scheduled to headline a Misfits boxing event in October, taking on the only man to hand Paul a loss inside the squared circle, Tommy Fury.
But no matter which route he chooses to travel from this point, Paul is optimistic that his inevitable MMA debut will be a successful one. If given enough time to prepare, that is.
"Seriously, with eight to nine months of training, I know I can beat Nate Diaz in MMA," Paul said.