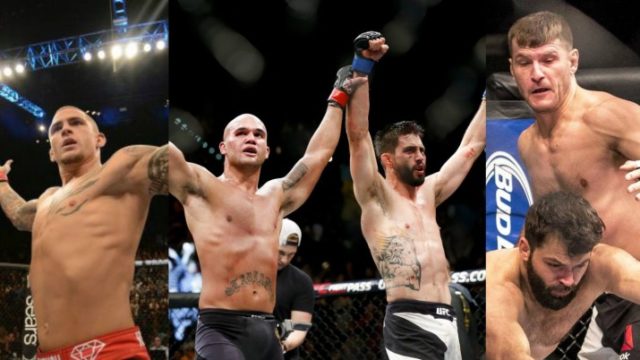 Following on the heels of a red-hot 2015, the UFC wasted no time in keeping the momentum rolling into 2016 with an absolutely amazing event at last night's (January 2, 2016) UFC 195 from the MGM Grand Garden Arena in Las Vegas, Nevada.
The card was immediately a success with the rescheduled Dustin Poirier vs. Joseph Duffy lightweight bout kicking off the night on Fight Pass with a bloody war that will almost certainly stand the test as one of the best bouts of 2016 when it's all said and done.
Then a once-touted bantamweight contender returned on the FOX Sports 1 prelims, and the stage was set for a truly blockbuster card. And the main card delivered on that potential, cashing in on a host of impressive performances leading up to a classic and controversial main event that could be debated for years.
Overall, it was a very fitting beginning to what should be a momentous 2016 for the UFC. Let's take a look back at five of the biggest takeaways from the year's first major MMA event.
If you enjoyed this story, please share it on social media!