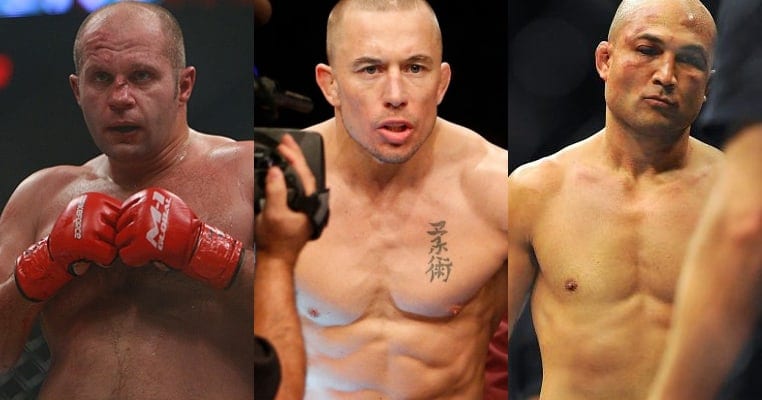 Mixed martial arts is a very unforgiving game. We have seen the fight game treat its legends and older fighters with nothing but brutality time and time again.
As a fighter gets older, his skills and physical attributes obviously begin to diminish, which is why pundits and fight fans typically advise fighters against fighting past their respective primes. However, it is oddly difficult for a fighter to hang up his gloves. Often times, fighting is more to a fighter than simply a career and a sport, as it represents a part of them, and a part that is often hard to let go of.
With that being said, let's take a closer look at five fights who could've reasonably retired, but chose to fight on: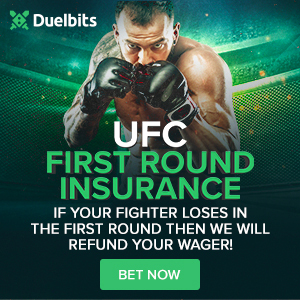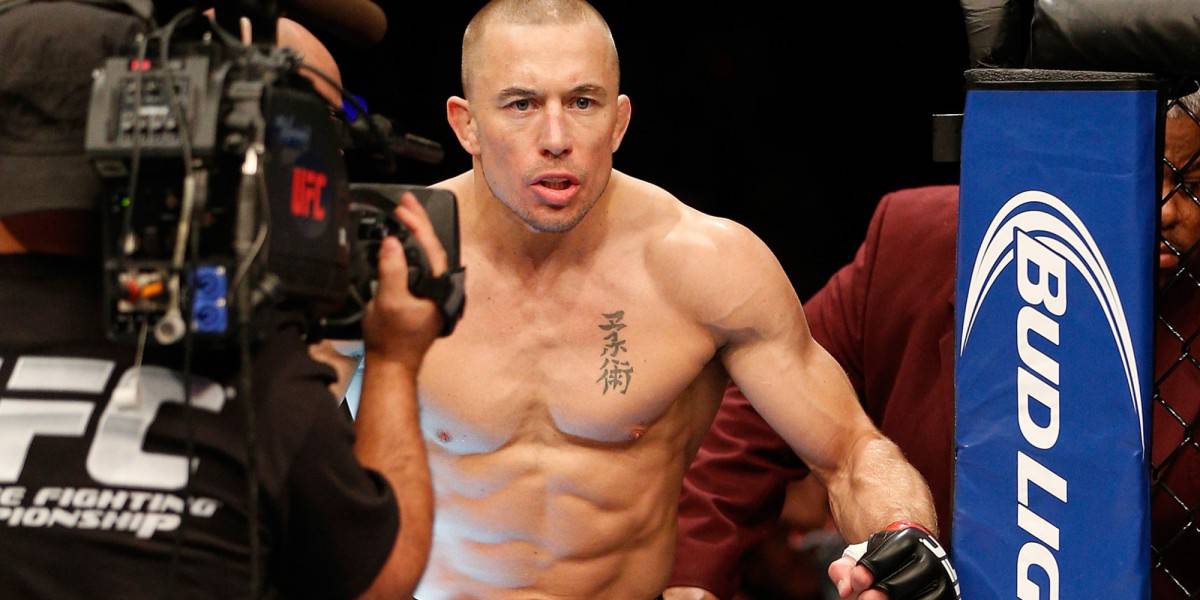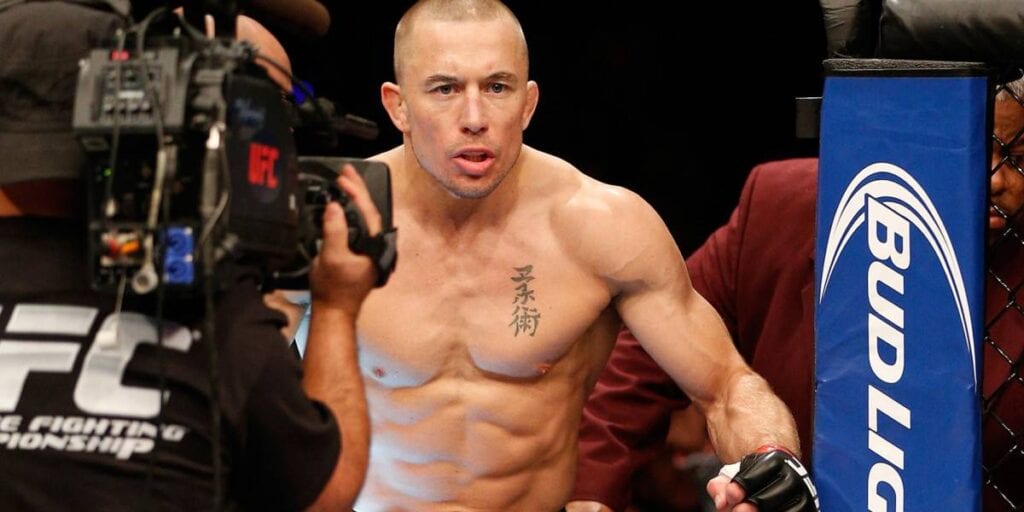 Georges St. Pierre
Late last week, it was announced that longtime former UFC welterweight champion Georges St. Pierre, the best 170 pounder to ever grace the Octagon and a man many consider to be one of the best fighters of al-time period, had signed a new deal with the promotion, making his long awaited return official.
"Rush" hasn't competed since 2013 when he scored a highly controversial decision victory over Johny Hendricks. He vacated his title soon thereafter and went into a semi-retirement as it was viewed as at the time. Just 32 years of age when he vacated his title, St. Pierre did what many before him had failed to do: leave the fight game on top. The Canadian was a winner of 12 straight when he stepped away from the sport.
While St. Pierre may still be in strong fighting shape at 35-years-old, there's simply no reason for him to return to action. Outside of the cage, GSP, who is one of the biggest pay-per-view draws in UFC history, is financially well-off, and inside of the cage, he has nothing left to prove.
His comeback fight will certainly be massive, but very few would argue with the fact that St. Pierre could have reasonably stayed retired.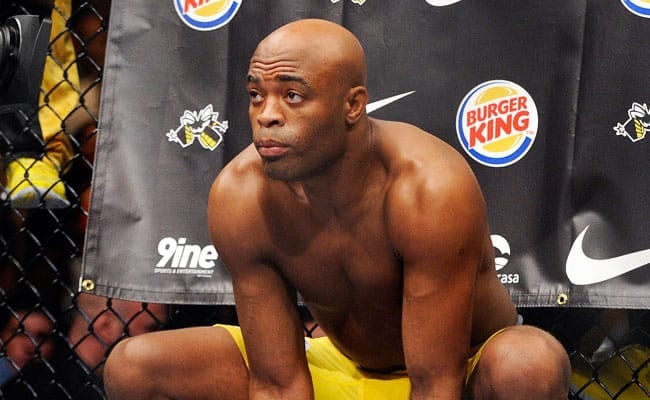 Anderson Silva
Once the pound-for-pound king, former longtime UFC middleweight champion Anderson "The Spider" Silva is still considered by many to be the greatest fighter of all-time. He held the middleweight title from 2006-2013, defending it a record setting 10 straight times, while also winning his first 16 fights in the Octagon.
Since losing his title to Chris Weidman in 2013, however, the Brazilian has gone just 1-3-1, losing to Weidman again as well as to Michael Bisping and Daniel Cormier. Silva also served out a suspension in that time after testing positive for multiple banned substances in 2015.
"The Spider's" chin has clearly diminished, and even his most recent win, a decision victory over Derek Brunson at UFC 208 was a controversial one. What Silva has done inside the Octagon can never be forgotten, and some have even called for his retirement, but as of now he appears to be set on fighting on.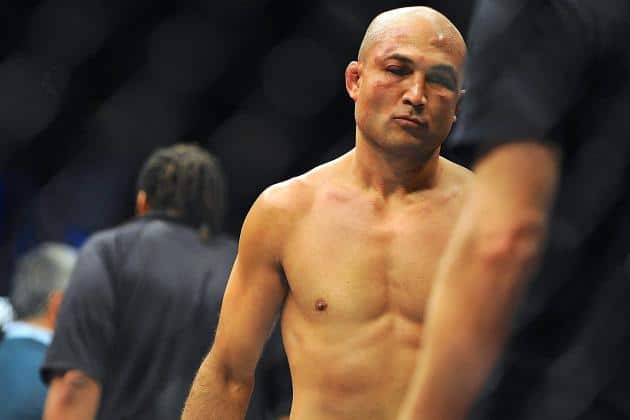 BJ Penn
BJ "The Prodigy" Penn is widely considered to be one of the best fighters of all-time, as he has previously held both the UFC's lightweight and welterweight titles. The Hawaiian scrapper hasn't won a fight since 2010, however.
Penn capped off an 0-3-1 stretch with a brutal and one-sided loss to Frankie Edgar in 2014, and announced his retirement in the aftermath of the bout. At age 38, however, Penn was drawn back to the Octagon, as he made his return this past January only to be viciously finished in the main event of UFC Fight Night 103 by rising prospect Yair Rodriguez.
That loss made it four straight for Penn, but there have been rumors indicating that he will fight on. Clearly not the fighter he once was, it would be reasonable, and likely preferred by many, for "The Prodigy" to hang up his gloves for good.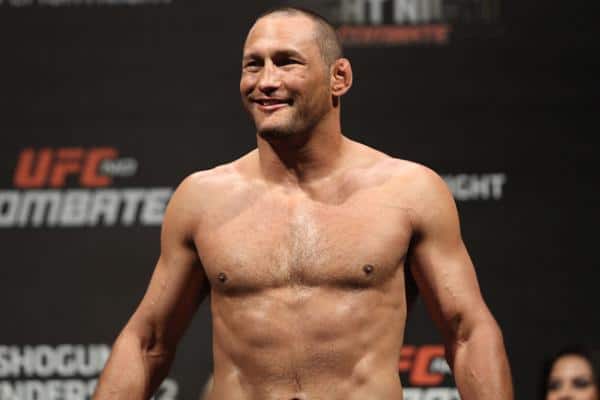 Dan Henderson 
Former Pride and Strikeforce champion Dan "Hendo" Henderson is now retired, but he fought longer than most, as he was 46 years of age when he called it a career after 47 fights this past October.
Henderson proved that he still had some fight left in him, as he had champion Michael Bisping badly hurt in their bout at UFC 204, a bout some felt as if he had won. Prior to that, however, "Hendo" had gone just 3-6 in his last nine fights, with four of those losses coming by way of stoppage.
It's a string of losses like that which leads many to question the current state of a fighter, and many began to call for Henderson's retirement. He was a champion in multiple organizations, an Olympian, and a pioneer of mixed martial arts. Clearly he had nothing left to prove, which is why it would have been reasonable for him to hang up his gloves a few years back, but he continued to fight on.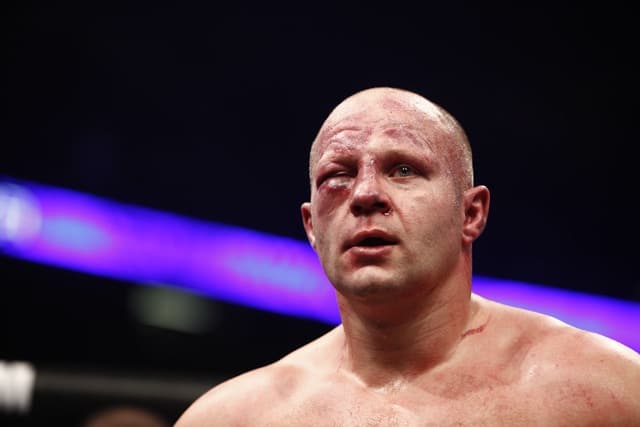 Fedor Emelianenko
Although he has never fought in the UFC, former Pride champion Fedor Emelianenko is widely considered to be amongst the best heavyweights of all-time.
His run between 2001 and 2010, which consisted of no losses, was unprecedented and will be remembered forever, but "The Last Emperor" hit a rough patch when he made the jump over to Strikeforce, as he lost three consecutive bouts to Fabricio Werdum, Antonio Silva and Dan Henderson, with all three losses coming by way of stoppage. He then bounced back with three victories in Japan and Russia before announcing his retirement in 2012.
After a three year hiatus, however, the Russian made his return to action in 2015, scoring a stoppage victory over a relative unknown in Jaideep Singh at a Rizin event. He followed that up with an extremely controversial decision victory over Fabio Maldonado last June in a bout in which he was badly hurt in the first round.
"The Last Emperor" was recently set to fight Matt Mitrione in the main event of Bellator 172 this past weekend, but the bout was scrapped just hours prior when Mitrione fell ill.
Although his star power is still strong, many feel as if Emelianenko isn't the fighter he once was, and it would've been completely understandable for him to stay retired after leaving the sport in 2012.