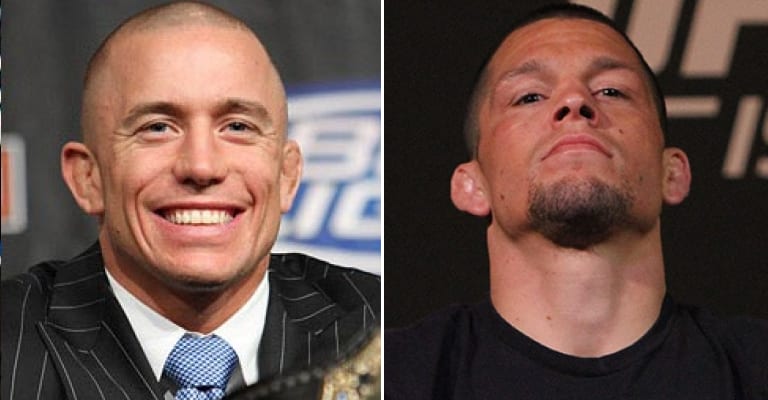 Yesterday the MMA world was bombarded with the news that former two-division champion Georges St-Pierre was rumored to be fighting fan favorite Nate Diaz at August's UFC 227.
The bout is yet to be finalized, and it seems like somewhat of a far-off possibility based on the fact that the fight will supposedly be contested at 155 pounds, a weight class GSP has never participated in and one Diaz essentially left in 2015.
There are a whole list of reasons the fight doesn't make sense, in fact, yet those probably won't matter much based on UFC owners Endeavor's recent strategy of focusing on the biggest over-the-top spectacle regardless of the future ramifications it may have on the division(s) and fighters involved. We saw that with Mayweather vs. McGregor last year, a fight which, despite producing huge short-term pay-per-view success that was shared with SHOWTIME Sports, essentially put the UFC lightweight arena in a logjam that it's still attempting to climb out of.
St-Pierre vs. Diaz, if contested at lightweight, would only further complicate that mess. Don't be surprised to see it go down regardless, however, and if and when it does, the early betting odds may surprise you quite a bit.
According to sports betting site Bovada via MMA Mania, St-Pierre is only a -200 favorite over +160 underdog Diaz, a surprising number considering the dominant St-Pierre handled Nate's older brother Nick with relative ease using his wrestling at UFC 158. The youngest Diaz brother has had trouble with wrestlers like Benson Henderson and even Rafael dos Anjos in the past, so his chances to topple the all-time great St-Pierre, who last fought at middleweight and won the belt from Michael Bisping at last year's UFC 217, would seem a lot less than two to one.
St-Pierre vacated that title shortly after winning it, citing a bout with digestive issues from the diet he used to fight at 185 pounds. He's apparently got over those and is rumored to be cutting down two full weight classes to face Diaz.
Perhaps that huge cut is playing into the seemingly low betting odds, or maybe the faith in Diaz is a bit misplaced considering his track record at welterweight, where he's gone 3-3 since 2010.
What do you think? Is Diaz being given too much of a chance against "Rush," or are the odds right on for this reported 'super fight?'