Dustin Poirier is preparing for war with Justin Gaethje: 'It's a head-on collision and I'm not turning away'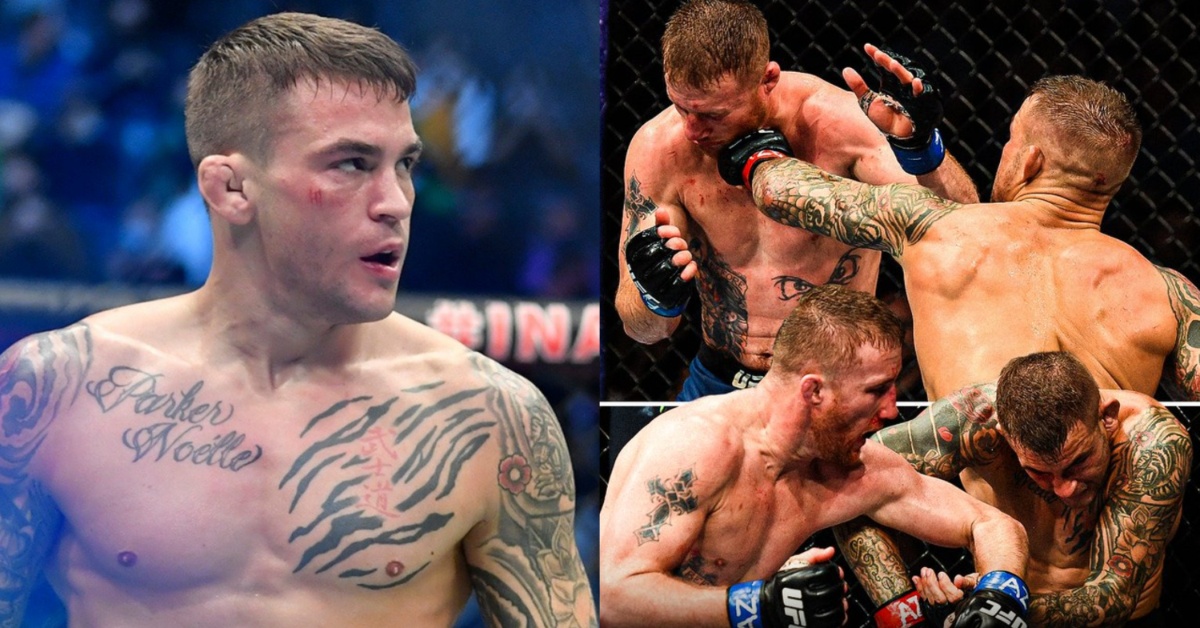 Dustin Poirier is preparing himself for a head-on collision with Justin Gaethje.
Not many fighters would choose to throw themselves into the fiery wreckage of what is sure to be a car crash inside the cage, but those are the moments where men like Dustin Poirier and Justin Gaethje thrive. The two high-octane lightweights are scheduled to square off in a rematch five years in the making as they headline the promotion's return to Salt Lake City on July 29.
With a little more than eight weeks before the cage door closes behind them, Dustin Poirier spoke with Ariel Helwani to explain why he would jump back into the fire with an explosive fighter like Justin Gaethje.
"Because I need it," Poirier said Monday on The MMA Hour. "That's where I do my best. That's where I'm the most motivated. That's where I learn the most about myself and about combat sports. That's where greatness is, man, in that uncomfortable — and that's what I try to do, is put myself in that fire. And this is one of those fights that does it. If this fight doesn't get you excited, you're not a fan of combat sports. Turn off YouTube right now and stop watching this show, because this fight is what I'm going to pick the 'War' hat up for.
"I know what I'm going into — it's a head-on collision and I'm not turning away. That's what this fight is and that's what I want. That excites me, dude. It gets me pumped up right now" (h/t MMA Fighting)
The pair initially faced one another in 2018, before their time as individual interim lightweight champions. Today, Dustin Poirier and Justin Gaethje are two of the most celebrated stars in the 155-pound division, but with no traditional UFC title on the line, Dana White saw a fitting opportunity to dust off the BMF title.
Dustin Poirier on the BMF Title Being Up For Grabs at UFC 291
The BMF title was first introduced in 2019 as "bad motherf*cker" Nate Diaz met "another bad motherf*cker" named Jorge Masvidal in a Madison Square Garden main event. Seeing an opportunity, Dana White introduced the belt as a physical prize for the two men to fight for. 'Gamebred' walked away with the title after securing TKO via a doctor's stoppage. With the Miami native recently retired, the belt is coming out of mothballs for UFC 291's highly anticipated headliner.
"This fight, I think, could headline without a BMF title," Poirier said. "This is an exciting fight. But that just adds more fun to it to me. I would love to have that strap up there in my living room. So it's another accolade.
"I'm not going to walk around like I'm the undisputed champion if I get this belt wrapped around my waist in July, but it's fun. And if you look at our track records of competing for Fights of the Years over the last, for me over the last 10, 11 years, we have a lot of huge fights that have been voted on for Fight of the Year, one was against each other.
"Just look at the bonuses and the Fights of the Night and the carnage that me and him both display in there, it makes sense to have something fun like that. We're always talking about lightweight's most violent fighter. I said I completed the triangle by beating him, beating [Eddie] Alvarez, beating [Michael] Chandler, beating Conor [McGregor]. So we run it back for the most violent, call it the BMF, call it whatever you want."
Dustin Poirier Believes Justin Gaethje is Still the Same Fighter He Was in 2018
In March, Justin Gaethje earned a big win over rising contender Rafale Fiziev at UFC 286. Dustin Poirier acknowledged that 'The Highlight' showed some evolution to his game that night, but 'The Diamond' largely believes that Gaethje is more or less the same man he scrapped with back in 2018.
"I think he looked a little different, right?" Poirier said of the Fiziev fight. "Everybody says his boxing and things are changing — he looked [different], he did. He used the jab a lot better, he used his lateral footwork a lot better. So he did, but I still see Justin Gaethje, the same guy. He's doing a few things better, but I still see me being a matador and touching this guy.
"[He's still the same fighter as 2018,] just now he does it with a seat belt on, you know?"
Following their 2018 instant classic and the reputation both men have built in recent years, Dustin Poirier knows the pressure of delivering on fan expectations and cementing his own legacy inside the Octagon.
"How do I do that better?" Poirier said. "I just need to win. I just need to win. I think our fighting styles, it's going to be an incredible fight. I don't go into into that trying to have an exciting fight. I know. I signed a contract yesterday, so it's done once I signed that — I know what I'm getting into. And I'm a fan of Justin. I've been around him a few times since we fought, he's very respectful, I like the guy. Every time he fights, I'm going to buy the pay-per-view, I'm tuning in. But when I'm standing across from him, it's war. It's war, man.
"I'm very motivated. This is legacy. That's what this is for me. This is just cementing legacy."