Daniel Cormier digs at ex-UFC star Jorge Masvidal, says BMF title will now 'Mean something' amid his retirement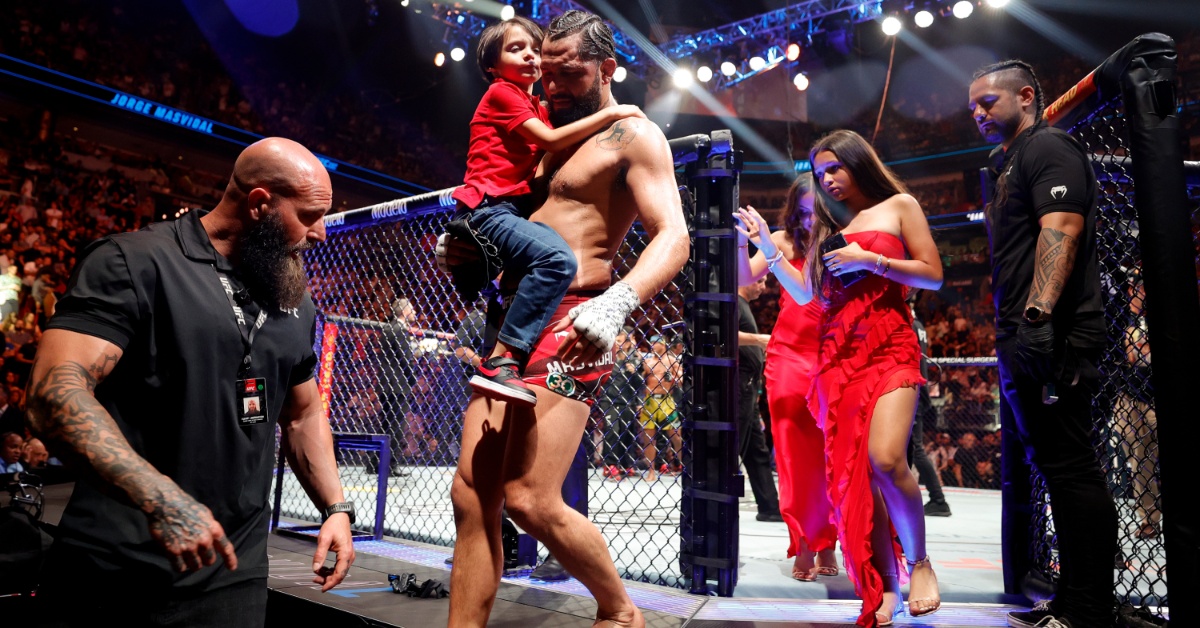 Daniel Cormier says the BMF championship will finally mean something now that Jorge Masvidal doesn't have it.
On July 29, Dustin Poirier and Justin Gaethje will square off in a long-awaited rematch, headlining the promotion's return to Salt Lake City. Adding to the intrigue of the contest, the two leather-slinging lightweights will battle it out for the vacant BMF title.
The BMF championship was first introduced when self-proclaimed "bad motherf*cker" Nate challenged "another bad motherf*cker" named Jorge Masvidal. Shortly after, the two men were booked for a main event clash at UFC 244, but with no legitimate UFC championship on the line, the promotion introduced the BMF title, giving both men something to fight for. 'Gamebred' won the bout via a third-round doctor's stoppage, becoming the inaugural BMF titleholder. Unfortunately, Masvidal never once defended the title. If he had, his reign would have been short-lived as he would go on to drop his next four contests en route to retirement.
With the not-quite-real-but-real-enough title now vacated, the UFC is aiming to crown a new champion next month with Poirier vs. Gaethje 2. Speaking about the history of the title, Daniel Cormier questioned whether or not the new titleholder will actually defend the belt, unlike Jorge Masvidal who simply opted to sit on it and use it as bragging rights for the next four years.
"I ask you this question," Cormier said on his YouTube channel. "Is this new champion going to defend the BMF title? I believe that these two athletes would go up, they would fight at 155, and they would defend that belt. Because if we're gonna keep rolling it out, it has to become a thing that gets put on the line. Especially if these guys aren't fighting for championships."
Jorge Masvidal's Reign as BMF Champion Amounted to Very Little
After becoming the BMF champion, Jorge Masvidal came up short in back-to-back UFC title fights with former champion Kamaru Usman. Nearly a year removed from his second defeat to 'The Nigerian Nightmare', Masvidal returned for another main event scrap with bitter rival Colby Covington at UFC 272. Despite no UFC title being up for grabs, 'Gamebred' opted to leave his BMF title safely at home. He did so once again against Gilbert Burns at UFC 287 in April, losing a unanimous decision to Gilbert Burns.
Speaking about Jorge Masvidal's inactive reign as the BMF champion, Daniel Cormier seemingly delivered a veiled dig at the former welterweight fan favorite, suggesting that with the BMF belt out of his hands, it finally has the chance to mean something.
"Masvidal didn't seem to want to defend that championship even though people called for it many times. Is 'The Rock' gonna be there again and make it feel as important as it did in Madison Square? The winner is going to set themselves up for another crack at the championship with Makhachev being the champ…It's always easier guys, to call for a title fight when you're carrying a belt on your shoulders. And that's exactly what one of these two are gonna do in Salt Lake City. But let's not not defend the BMF championship, because now it means something."
Are you excited to see the BMF title back in the mix? Does it add anything to Poirier vs. Gaethje 2? Let us know what you think in the comments.