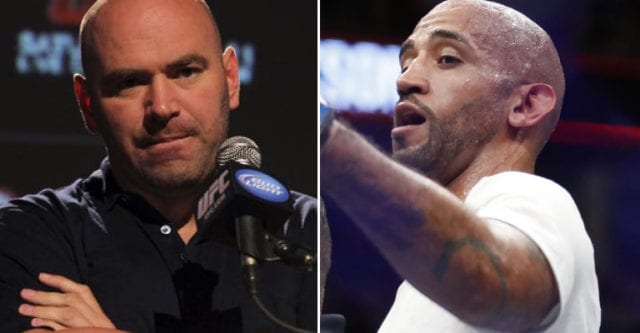 CM Punk's UFC career came to a close in a laughable decision loss to Mike Jackson (highlights here) on the main card of last night's (Sat., June 9, 2018) UFC 225 from the United Center in Chicago, Illinois.
The one-sided affair saw Jackson land a decent volume of stinging, crisp punches on Punk, who mounted precious little offense outside of a first-round takedown.
UFC President Dana White said that at 39, it was time for Punk to step down from the UFC, praising his toughness for following his goals and setting foot in the octagon. He wasn't as kind to Jackson, however, as he blasted the MMA photographer and journalist's inability – or refusal – to finish the match-up at the UFC 225 post-fight presser (via MMA Fighting):
"Michael Jackson, I'm not happy with. This guy was acting like a goofball tonight. You get this opportunity to fight CM Punk and you're doing like bolo punches to the body on top? Never looked like he was trying to finish the fight ever, right? Looked like he could have finished the fight a few times. Never tried. I don't know what that guy did for a living before we gave him this shot, but whatever it was he needs to go back and do that again. He's 0-2 as far as I'm concerned."
A harsh ending for Jackson's strange UFC run, where he was initially brought in to face Mickey Gall in late 2016 for the chance to fight CM Punk. He lost to Gall by rear-naked choke, and then Punk was sent packing in the exact same fashion against the exact same fighter in his octagon debut at UFC 203 in September 2016.
Jackson saw a stroke of luck, however, when Punk returned for his second fight after almost two years off and he got the fight he had to win a shot at in his first UFC bout. But he failed to capitalize on the big opportunity, and because of his clowning around, he wouldn't be back in the UFC:
"That's it for his UFC career," White said. "I wouldn't put that kid in the Contender Series."
Finally, White said he was angry he put the bout anywhere but on Fight Pass as he watched on in horror waiting for the insult to MMA to end:
 I got the sense that he's a complete fucking idiot and I couldn't wait for that fight to end and I regretted not putting it on Fight Pass," White said. "That's how I felt about it."
If you enjoyed this story, please share it on social media!