Conor McGregor heaps praise on Max Holloway after UFC Singapore win: 'What a shot, tremendous stuff'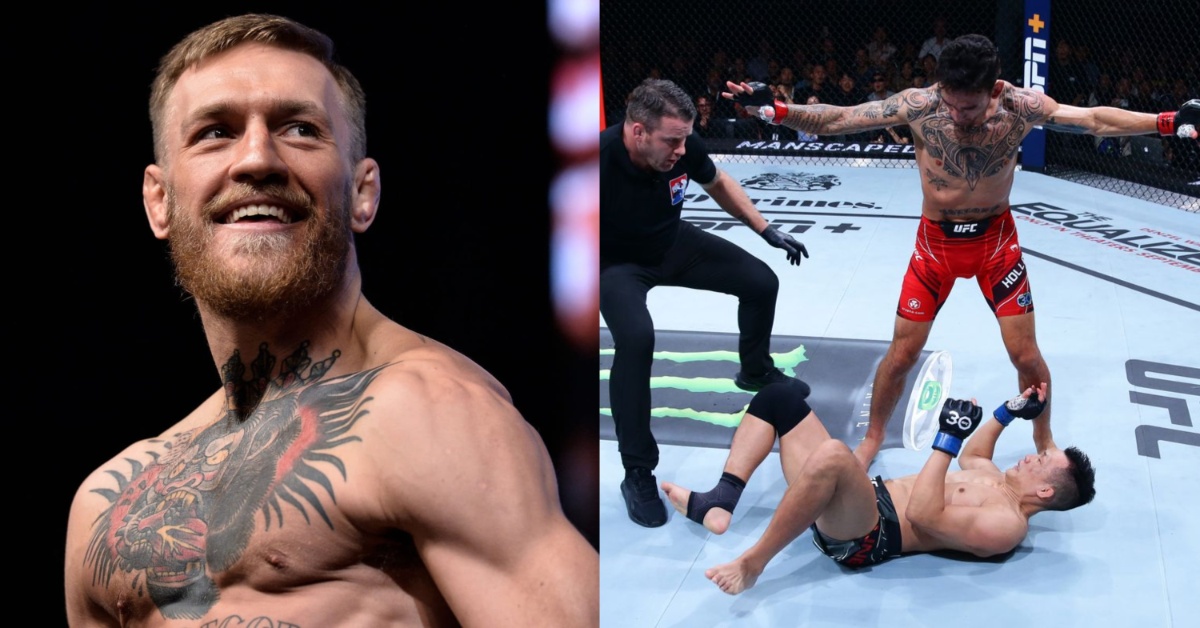 Not even Conor McGregor could find something cynical to say about the action-packed main event clash between Max Holloway and The Korean Zombie at UFC Singapore.
On Saturday, fans inside Singapore Indoor Stadium were treated to a veritable featherweight superfight as South Korean fan favorite The Korean Zombie, real name Chan Sung Jung, made his final stand in the Octagon against one of the greatest strikers in the history of the sport, Max Holloway.
Needless to say, the headliner did not disappoint as both men entered the cage determined to sling leather and put on a show. Zombie and Holloway both had their moments early on, but in the third round, they decided to throw caution to the win and began wildly throwing bombs. Zombie appeared to outstrike Holloway during the onslaught, but 'Blessed' managed to land a looping right hand that caught TKZ on the button, sending him crashing to the canvas.
Immediately following the fight, Irish megastar Conor McGregor took to X (formerly Twitter) and praised both fighters and the promotion for putting on a hell of a show.
"What a shot, what a performance! Classic Zombie, classic Holloway," McGregor wrote. "Tremendous stuff! @ufc, as advertised."
Conor McGregor Gives Some Love to Korean Zombie and Max Holloway
It was an emotional scene following the fight as The Korean Zombie announced his retirement from the sport. Leaving the Octagon for the final time with tears in his eyes and thousands of fans serenading him with their rendition of 'Zombie' by The Cranberries, nobody could hold in their appreciation for what TKZ has meant to the sport, including Conor McGregor who followed up on his initial post.
"Well done Korean Zombie," McGregor added. "What a goer!"
Conor McGregor also showered Max Holloway with praise following his highlight-reel-worthy knockout. "Man!!! Max fuckin' Holloway!"
Max Holloway moved to 21-7 inside the Octagon and is currently riding back-to-back wins, including his third-round knockout against The Korean Zombie on Saturday. Dating back to 2019, the only man that 'Blessed' has lost to is reigning featherweight world champion Alexander Volkanovski.
Korean Zombie walks away from the sport going 17-8 and carrying wins over some of the biggest names in UFC history, including Dustin Poirier, Jose Aldo, and Frankie Edgar.