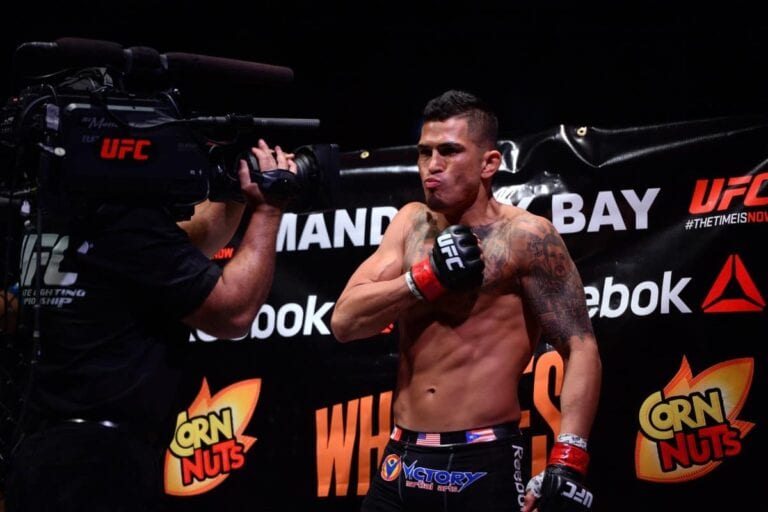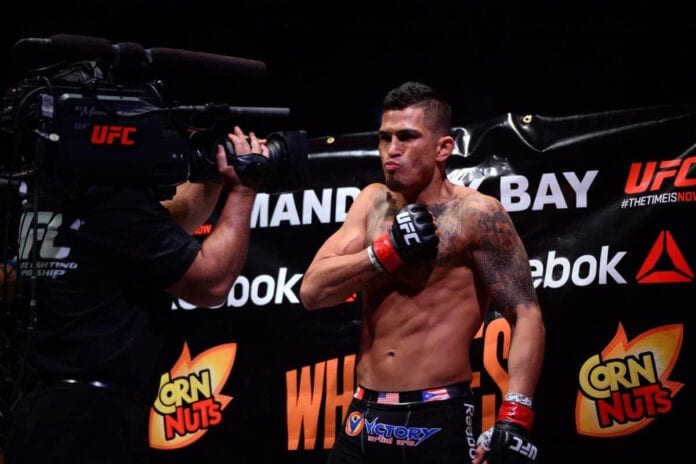 Heading into his lightweight title bout against Anthony Pettis in the main event of this Saturday's (March 14, 2015) UFC 185 from Dallas, Texas, top contender Rafael dos Anjos isn't exactly getting the attention or recognition one would expect for the headliner of a major UFC pay-per-view (PPV) card.
But that doesn't mean that Pettis, the man whose attention matters most, hasn't paid attention to how dangerous the surging dos Anjos truly is. Speaking to MMAJunkie.com at yesterday's UFC 185 open workouts, "Showtime" offered his view that apart from himself and No. 2-ranked Khabib Nurmagomedov, dos Anjos is at the top of the 155-pound food chain.
"Honestly, (dos Anjos) is probably the most dangerous guy I see on the lightweight roster besides Khabib. Khabib beat him, so you've got to say that. But other than that, dos Anjos beat (Donald) Cerrone. Dos Anjos beat (Benson) Henderson. Us three are at the top of the division, so we're going to battle it out and see who's best."
Pettis will head into UFC 185 as quite a substantial favorite over dos Anjos, who's decisively taken out Jason High, Benson Henderson, and Nate Diaz after his lopsided decision loss to Nurmagomedov at last April's UFC on FOX 11. He believes that the main difference between a 'good' fighter like dos Anjos and a 'great' one like him simply comes down to mindset.
"He hasn't fought somebody like me," Pettis said. "Dos Anjos is a good fighter. There's a lot of good fighters in the lightweight division, but I'm a great fighter, and that's the difference between us two. We have the same access to the same training. I just have this mindset and this willpower – this confidence that when I go in there, I'm invincible."
Should Pettis continue delivering on his hype to take out dos Anjos, then his waited match with Nurmagomedov is most likely next; that is, if "The Eagle" can beat Donald Cerrone at May 23's stacked UFC 187. If not, he will most likely be headed for a rematch with "Cowboy," whom he destroyed with a vicious first round body kick back at UFC on FOX 6.
The dynamic champion is hoping for the former, as he's already engaged in a back-and-forth war of words with Cerrone. Nurmagomedov has been ramping up his trash talk by calling Pettis scared the past few months, and according to "Showtime," that's the only reason he knows who Nurmagomedov is. Apparently he's ready to settle that budding animosity in the Octagon.
He's talking a lot. That's why I know who he is. I already beat Cerrone, so I'm looking forward to fighting Khabib," Pettis said. "He's been talking. Cerrone already talked. I settled that beef. Now I've got to settle this one."
Photo Credit: Joe Camporeale-USA TODAY Sports