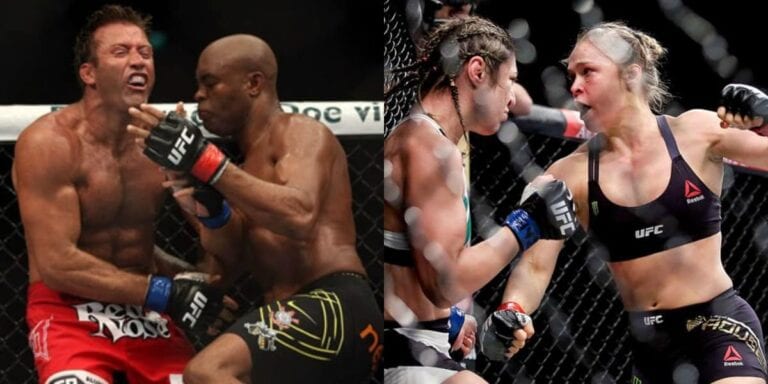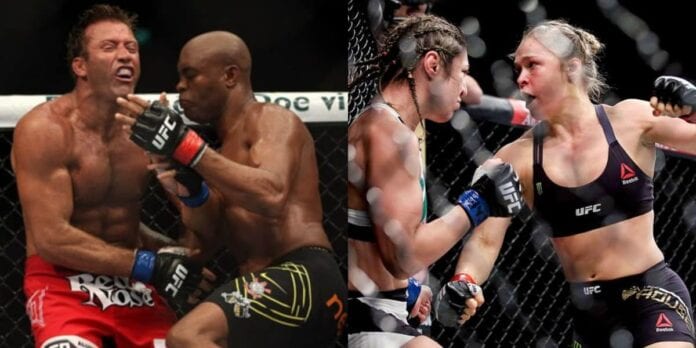 With an endless roster complete with bona fide champions, budding contenders, eager prospects and veterans on the tail end of their careers, the UFC has promoted a vast mix of fights throughout the years.
At times, the promotion has avoided making obvious matchups in favor of more lucrative options. Other times, they've scrambled to find replacement fighters on just a few weeks, or days, notice.
The UFC has juggled this sometimes erratic scheduling fairly well, but has experienced a few hiccups along the way. These ill-advised occurrences certainly come with the territory, but they don't make things easier for a promotion aiming to fuse professional mixed martial arts (MMA) and world-class skill into one beautiful entity.
To understand the ups and down of matchmaking at the highest level, we take a closer look at the mistakes that have been. Here are the top 10 worst fight bookings in UFC history.

10) T.J. Dillashaw vs. Joe Soto
Someone had to fill in for Renan Barao on just one days notice when the Brazilian was admitted to the hospital the night before UFC 177.
Unfortunately for Joe Soto, he was that guy. He was going up against then bantamweight champion T.J. Dillashaw after the former Team Alpha Male standout had previously dismantled Barao (a pound-for-pound candidate) jut a few months before.
Dillashaw ended up out-striking Soto 151 to 62 before finishing him via TKO in the fifth round, suggesting the former Tachi Palace Fights champion should have never been asked to fill in.

9) Daniel Cormier vs. Dan Henderson
Considering where Daniel Cormier and Dan Henderson were in their respective careers in 2014, their light heavyweight tilt at UFC 177 may be on the most ill-advised booking in 205-pound history.
Because even though Henderson still packed a punch two years ago, Cormier was a former heavyweight champion with boundless power and ferocity. At times, he even seemed to cradle "Hendo" like he was a small child before slamming him to the canvas and eventually submitting him in the third and final round.
Consequently, the aging Henderson fled to middleweight and hasn't returned ever since.

8) Anthony Pettis vs. Gilbert Melendez
Nobody doubted Gilbert Melendez's ability in the UFC lightweight division when he entered the promotion as a 155-pound Strikeforce champion.
But after losing his Octagon debut to Benson Henderson at UFC on FOX 7, people began to wonder if "El Nino" could ever regain his gold standard. In one of the more audacious bookings in lightweight memory, Melendez was gifted another title shot opposite Anthony Pettis after a single victory over a declining Diego Sanchez at UFC 166.
While their matchup is revered as one of the best brawls in UFC history, Melendez in no way, shape or form should have been given a shot at Pettis at UFC 181 after narrowly defeating a non-contender through three rounds.

7) Conor McGregor vs. Nate Diaz II
Like it or love it, Conor McGregor leaving the UFC featherweight behind is one of the more selfish acts we've seen in recent MMA memory.
Unfortunately for worthy 145-pound contenders like Jose Aldo, Frankie Edgar, and Max Holloway, the promotion is backing McGregor's endeavors to the bitter end. As if his recent welterweight loss to Nate Diaz via second-round submission at UFC 196 wasn't enough, the Irishman is scheduled yet again to fight the Stockton brawler this July at UFC 200.
It's a blatant money-hungry booking by the UFC and one that pits Aldo vs. Edgar for the interim featherweight title on the same not that the true champion is fighting outside of the division.
6) Ronda Rousey vs. Bethe Correia
While Ronda Rousey's first-round knockout of Bethe Correia at UFC 190 was completely mesmerizing, it shouldn't have happened in the first place.
Entering her 2015 tilt with Rousey, Correia had compiled an undefeated professional MMA record of 9-0, including three victories inside of the Octagon. But when you look at who she defeated, Correia's UFC wins came against opponents who have a combined promotional record of 1-7 (Jessamyn Duke, Shayna Baszler, Julie Kedzie).
That's hardly the well-rounded track record usually needed to challenge a champion, let alone the hottest ticket in the sport at the time. Correia just happened to open her mouth and spit out the perfect amount of words to attract Rousey's interest.

5) Matt Hughes vs Royce Gracie
When Royce Gracie made his return to the Octagon after 11 years, few people believed he could actually compete against the highest level of competition in 2006.
What made things even worse for the Brazilian Jiu-Jitsu guru is the fact that he was facing welterweight champion Matt Hughes in his absolute prime at UFC 60. Gracie didn't stand a chance.
It took Hughes just under five minutes to take the legend's back and beat him about the head with endless strikes in what can be considered one of the most helpless efforts from a former UFC champion/tournament winner of all time.

4) Anderson Silva vs. Stephan Bonnar
As if the UFC was trying to ruin both legacies of The Ultimate Fighter Season 1 duo, Stephan Bonnar was thrown into the lion's den just three years after Forrest Griffin was.
Unfortunately, Bonnar did not fair any better than Griffin did opposite then UFC middleweight champion and pound-for-pound best fighter ever Anderson Silva. In just one round, "The Spider" made the Octagon look like The Matrix.
He dodged, ducked, and defused Bonnar's best offensive attacks. After letting the light heavyweight contender punch him in the face along the cage as if a man was playing with his infant son, Silva decided to launch a flying knee to Bonnar's sternum to end the fight.
It was the first time in Bonnar's career that he was finished outside of doctor's stoppage and a 205-pound clash that was over before it even started.
3) Frankie Edgar vs. B.J. Penn III
The return of MMA legend B.J. Penn in 2014, following a near-two year hiatus from professional competition, was anticipated to say the least.
But with a depleted offensive skill set, slowed movements, and natural strength incapable of handling the athletic superiority of Frankie Edgar at The Ultimate Fighter Season 19 finale, "The Prodigy" seemingly mad a massive mistake in coming back to the Octagon.
Edgar bullied him for almost 15 minutes before the fight was stopped in the third round due to a TKO. There was obviously some money to be made considering the two had fought twice before, but the trilogy fight was more one-sided homicide than epic grudge match.
To think that Penn is making another comeback at UFC 199 nearly two years later is absolutely mind-boggling. I guess he hasn't learned his lesson.

2) Royce Gracie vs Art Jimmerson
Royce Gracie was previously mentioned on this as someone who should have stayed away from the Octagon, but now he finds himself on the other side of the cage.
At UFC 1, the promotion unknowingly pinned Gracie against boxer Art Jimmerson, who awkwardly came to the cage with one glove. Luckily for the unsuspecting Jimmerson, he didn't have to where it for too long, as Gracie submitted him in just over two minutes into Round 1.
This one-sided affair was part of MMA's dark ages as the UFC attempted to submerge itself in mainstream America, but that doesn't take away from the circus-like quality Gracie vs. Jimmerson possessed.
Maybe Bellator is willing to promote the rematch.
1) Randy Couture vs. James Toney
Similar to the aforementioned one-glove showdown between Art Jimmerson and Brazilian Jiu-Jitsu expert Royce Gracie, Randy Couture absolutely obliterated former world boxing champion James Toney at UFC 118.
It took "The Natural" just over three minutes to take the striker down, wrestle him around, gain full mount and humble a cocky boxer to the tune of a nasty arm-triangle choke. The finish proved that Toney literally had nothing for Couture outside of a one-punch knockout finish.
This is probably the biggest example of matchmaking gone wrong of all time, especially considering Toney had zero experience as a professional MMA fighter, but the UFC is doing it again with the ongoing promotional integration of Phil "CM Punk" Brooks.