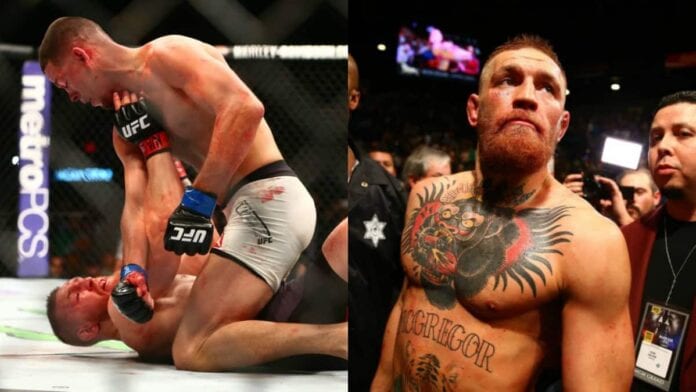 There was a whole bunch of questions being asked in the lead up to UFC 196, as UFC featherweight champion Conor McGregor prepared to take on Rafael dos Anjos, in an attempt to make UFC history. The lightweight belt was on the line, and the Irish superstar was all set to duke it out with his Brazilian rival, until the injury bug struck again. With 'RDA' out, Nate Diaz was drafted in and the welterweight main event was made official on just 11 days notice.
The consensus opinion was that Diaz would be out of shape, and essentially feature as the bitter half of a pay-per-view squash match. How wrong the consensus was, as the Stockton native battered and submitted McGregor in the second round of a thrilling affair. We asked the question before UFC 196, what happens if Nate Diaz beats Conor McGregor? The obvious answer was that 'The Notorious' would be sent packing back to featherweight, to finally defend his belt, once again we were very wrong.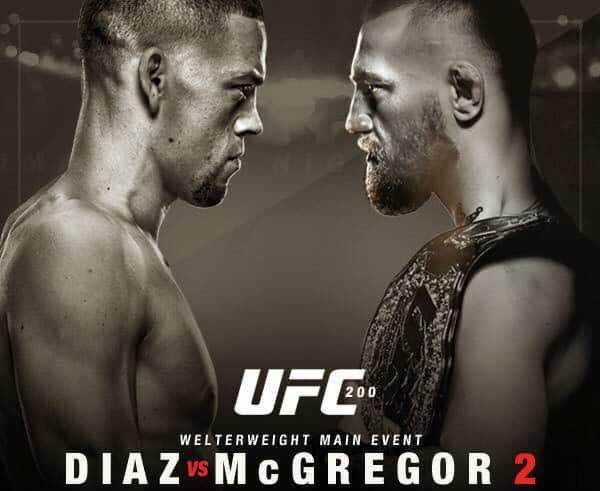 Less than two weeks after their first fight had transpired was the shocking news that the two fierce rivals had agreed to fight again, this time at the milestone UFC 200 card. Again at 170 pounds, the announcement came as both confusing and frustrating to many hardcore fans of mixed martial arts and the UFC. With the featherweight division put on hold yet again, it was clear that the McGregor effect was still a massively controlling factor for the promotion. And yet again, we ask the question, what happens if Nate Diaz destroys Conor McGregor (again)?
Here's our highly speculative outcomes: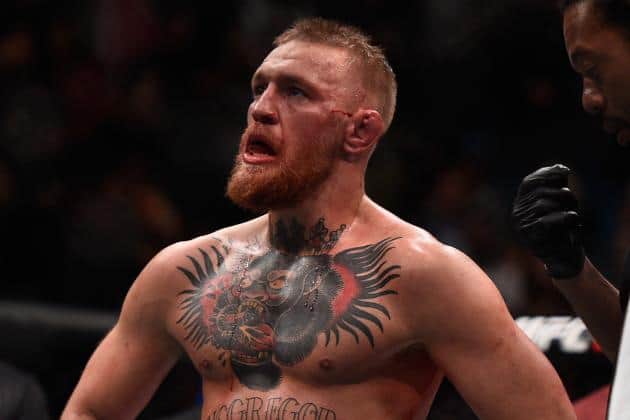 Back to featherweight
So the first and perhaps most obvious outcome of another loss to Nate Diaz would be that Conor McGregor would head back to the 145-pound division to defend his belt. The championship he won from Jose Aldo at UFC 194 is begging to be once again legitimized, but let's not overlook how rarely it was defended back when 'Scarface' was on top. Of course with Aldo now a contender, and also Frankie Edgar screaming for a crack at the whip, it's no wonder some fans are in disarray at the current booking of Diaz vs. McGregor 2.
To illustrate the point on how often Aldo defended the belt, this:
MCGREGOR NEEDS TO DEFEND HIS BELT! HE'S HOLDING AN ENTIRE DIVISION HOSTAGE! pic.twitter.com/JIwXaU50i2

— Justin Golightly (@SecretMovesMMA) March 19, 2016

So things could be a lot worse, and McGregor has not pulled out of a UFC fight yet.
continue

Food for thought
Just a little off the beaten path here, but does anyone think the scenario surrounding McGregor and Diaz feels familiar? Here's the trail of thought; remember when the 'baddest man on the planet' Brock Lesnar was supposed to steamroll ex-champion Frank Mir? The UFC was more than aware of Lesnar's star power, as the ex-WWE champion brought millions of eyeballs over from the pro wrestling game. They booked him in against Mir, but things didn't quite go to plan.
In the first round at UFC 81, Mir submitted Lesnar to throw a spanner in Zuffa's plans, only to get rebooked against Lesnar at the next milestone event, in UFC 100. History repeats itself with the circumstances around Conor and Nate, but will it at UFC 200?
Anyway, back to the outcomes.
continue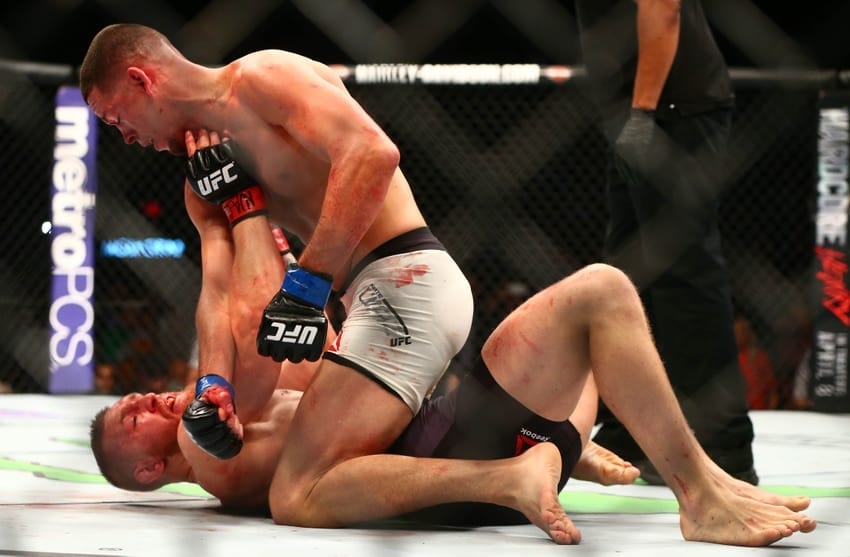 Diaz vs. McGregor 3
I know, but hear me out, this is more of a realistic outcome than it may appear. As long as the rivalry between Nate Diaz and Conor McGregor is putting butts in seats and stacking huge PPV numbers, why wouldn't the promotion give 'The Notorious' another chance at fighting the Stockton bad boy? You might remember that everyone and their mother believed McGregor and Diaz wouldn't be fighting again for a while after UFC 196, and look how that turned out.
The UFC has shown time and time again that they'll spit in the face of the 'legitimate' rankings in favor of some cash, and there's no reason they wouldn't do it here too.
continue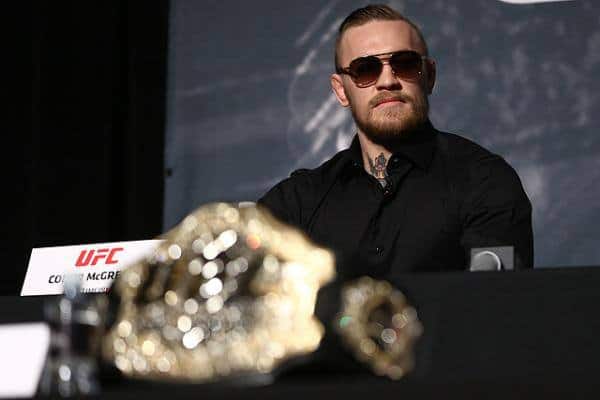 Vacating featherweight and moving up
Does anybody wonder if McGregor could even make featherweight again without IV rehydration? There's also the thought that fighting twice in a row at 170 pounds could seriously impact the Irish boxer's ability to cut down 25 pounds to the featherweight limit. If there's an immediate title shot at lightweight in the form of his original UFC 196 booking of Rafael dos Anjos, then why would McGregor punish his body again like he used to?
There's also the chance that he may become embroiled in a rivalry of some sort outside the 145-pound rankings, and the cash signs will be flashing in the UFC brass' face once again.
And finally.
continue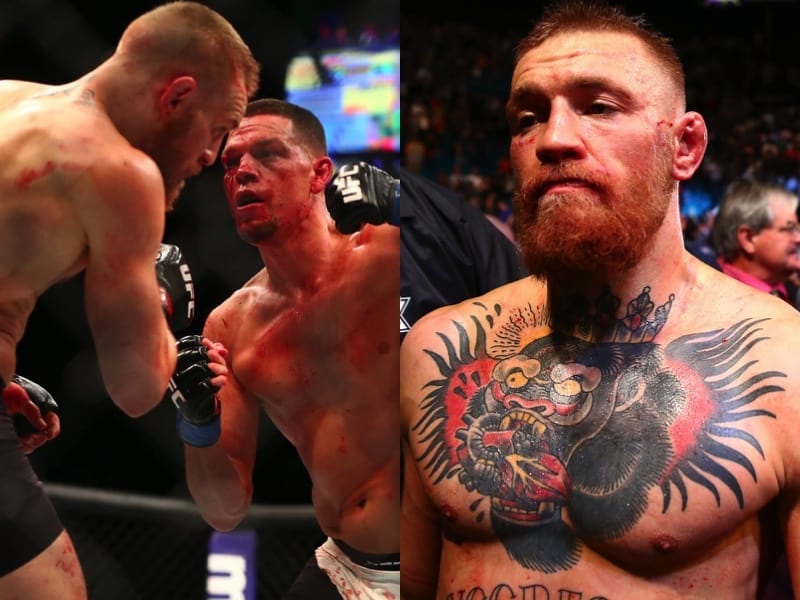 The unknown
As we've seen with Conor McGregor in the past, he has the star power to pretty much demand anything he wants. With rivals in every single weight division, there's always the chance that 'The Notorious' could get drafted in to replace a welterweight title contender if they drop out of a championship slot, or perhaps also at lightweight or even middleweight. He's stated that weight classes mean nothing to him, and his ventures to 170 pounds prove that in abundance.
Maybe he retires, or maintains the featherweight strap but detours to lightweight on the way back down. The truth is, we know even less about the future of Conor McGregor than we did before his first loss.
Watch this space.