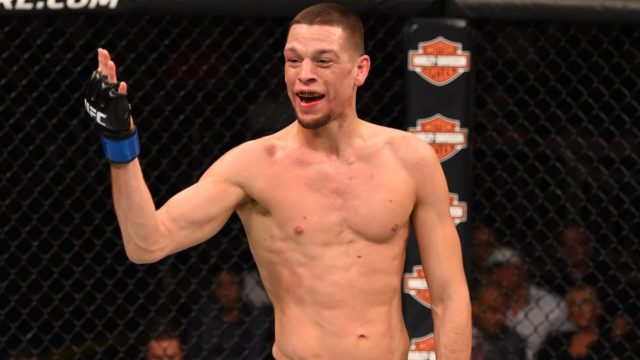 Not so fast, it turns out Nate Diaz might not fight Dustin Poirier at UFC 230 after all.
Stockton's Diaz was none too happy with the way things went down at yesterday's (Aug 3, 2018) UFC's 25th Anniversary press conference in Los Angeles Califonia.
Diaz arrived halfway through the press conference to a chorus of cheers from the fans in attendance. 15 minutes later the Stockton bad boy walked out of the presser as Dana White queued the Conor McGregor Khabib Nurmagomedov promo video.
During the short-lived press conference, Diaz alluded that he had been tied up in a lawsuit and thus unable to fight, a fact White had conveniently left out of the narrative. Couple that with all the Conor talk and Diaz couldn't wait to remove himself from the presser.
Diaz, however, wasn't done talking by any means. As a video has now surfaced of the Stockton bad boy going off on White, the UFC, and Khabib. Diaz went so far as to say he doesn't know if he is even going to fight Dustin Poirier at UFC 230.
"I wasn't able to fight till about a month ago," Diaz explained in the parking lot outside the presser. "But Dana White failed to mention that to the world. When Conor had his lawsuit with Showtime Dana had his back and sh*t. Thats what im saying about under promotion from this company, bad mouthing me saying I'm turning down fights. I've never turned a fight down in my life."
You can view the full video of Nate Diaz going off on the UFC and Dana White right here:
If you enjoyed this story, please share it on social media!