It may be time to say goodbye to the bad guy, unless we can help Nick Diaz get another 23,000 signatures on his White House petition. After allegedly failing a third drug test for Marijuana, Diaz and his very well prepared legal team addressed the NAC (Nevada athletic Commission) last month, and picked holes in the non-WADA (World Anti Doping Agency) accredited test results.
With two WADA approved clean test results to fall back on, many believed that the Stockton bad boy was pretty much free and clear. Then came the abominable verdict; Diaz was banned for five years from fighting, and hit with a hefty fine to boot. The MMA community was in uproar, and well known names like ronda Rousey, Conor McGregor and Daniel Cormier all voiced their support for the stricken fighter.
Pop icon Cher even gave her two cents, but just three days away from the 30-day cut off point in Diaz's White House petition, and there's still 23,000 signatures needed. The former Strikeforce welterweight champion needs our help, or we might never get to see him fight again. If you haven't signed it yet, here's the link to the Nick Diaz White House petition. Share this post too, let's see if we can get those signatures up to the target by the closing date.
Diaz has always fought to entertain and try to win the fight and, whether you're a fan or not, he at least deserves the 2 minutes required from each of us to fill out the petition form. If we can't make this happen, the NAC may well have taken away Diaz's ability to earn money.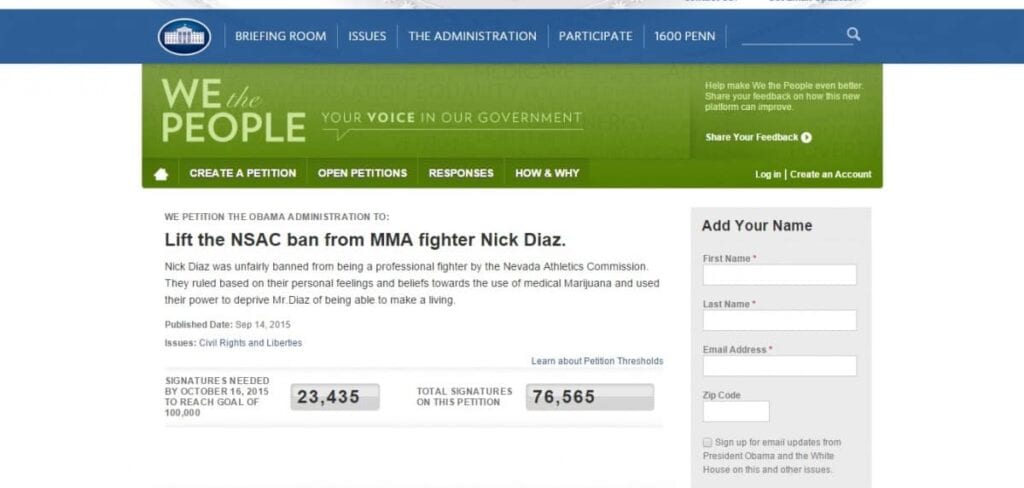 #FreeNickDiaz