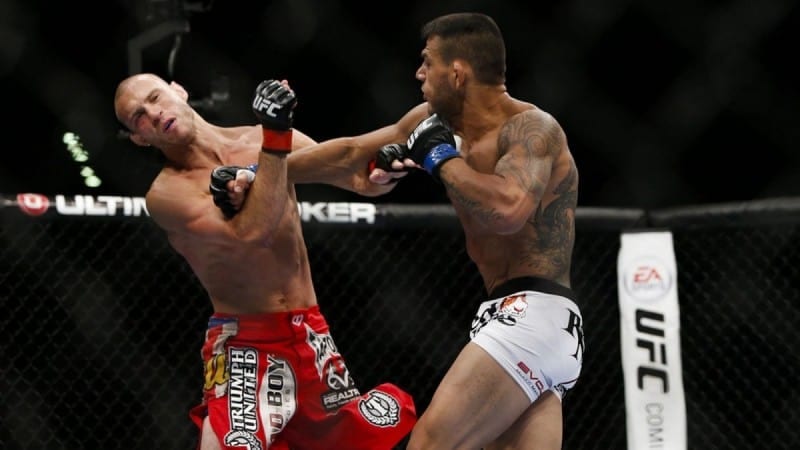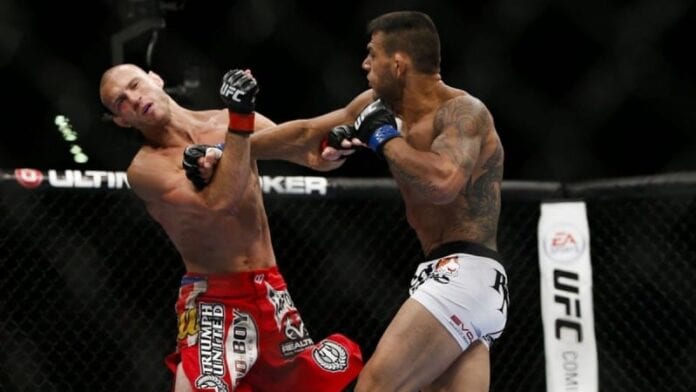 Find out who we picked to win the last UFC fight card of the year when lightweight champion Rafael dos Anjos rematches Donald Cerrone in the main event of tomorrow's UFC on FOX 17 from Orlando, Florida…
Rafael dos Anjos vs. Donald Cerrone:
Mike Drahota:
This lightweight title bout had its stakes amplified greatly when Conor McGregor won the featherweight belt from Jose Aldo at UFC 194 and Dana White announced that 'The Notorious' could be moving up to lightweight to fight the winner of this rematch from Amway Center in Orlando, Florida. It's a battle of streaking destroyers on top of their games, as dos Anjos steamrolled his way to a title shot and did just that to Anthony Pettis early this year, while 'Cowboy' has probably the most overdue title shot in UFC history with eight straight wins.
It's because of that recent track record that I think 'Cowboy' will get revenge for his previous loss to dos Anjos and come out of Florida with the belt tomorrow. Yes, dos Anjos has been dominant in his own right as of late, but he's also taken the last nine months off to recover from a torn MCL and elbow surgery, putting his health status a bit in question. It'll be interesting to see if he can jump right back into the Octagon at full speed, and against Cerrone's world-class Muay Thai, he'll have no other choice. Expect a war. I have to pick Cerrone by unanimous decision after five rounds of back-and-forth action.
Rory Kernaghan:
Donald Cerrone and Rafael dos Anjos crossed paths at very different stages in their careers, and I feel their form was very different to it's current state in their original scrap. 'Cowboy' in my opinion is all about the mental game, or in the past the lack of, and his performances against RDA and Nate Diaz can be put down to his nerves getting the better of him. So what of the rematch? I feel this will be a completely different fight. We know that 'Cowboy' has trouble with fighters who can take the lefty stance, but working with Greg Jackson will make gameplanning a lot easier. I like Cerrone in this fight; this isn't a technical pick. I'm going with my gut; Cerrone by TKO in round one.
Mike Henken:
Champion dos Anjos was able to get the nod over "Cowboy" Cerrone when the two first met back in 2013 and he has looked improved ever since. His pressure-based wrestling style along with his growing striking skillset may be able to get the job done a second time, but I just have a feeling that Cerrone will rise to the occasion in his first UFC title fight. Since losing to RDA, "Cowboy" has rattled off eight straight wins with five finishes, looking tremendous in the process. His vicious Muay Thai and crafty ground is no easy outing, and although I expect it to be close, I have to go with my gut here. "Cowboy" by unanimous decision.
Junior dos Santos vs. Alistair Overeem:
Mike Drahota:
Once and for all, this potential slugfest will finally take place after originally being booked for May 2012's UFC 146. There are several unknowns for each fighter here, dos Santos has only fought once since his viciously brutal five-round loss to Cain Velasquez at UFC 166 in October 2013, narrowly edging Stipe Miocic in another war at last December's UFC on FOX 13. Overeem has retooled his physique and camp recently and could benefit from the tutelage of Greg Jackson.
Although Overeem has massive knockout power and world-class stand-up skills, it might be wise to utilize his underrated grappling skills to possibly neutralize 'Cigano's' own thunderous knockout power. But dos Santos has had plenty of time to recover from the injuries he sustained in beating Miocic, and Overeem's chin has been targeted a few too many times. I have to go with dos Santos by first round KO.
Rory Kernaghan:
Junior Dos Santos has the power and durability to match Alistair Overeem's forceful striking and somewhat exposed chin. I can't lie, this really isn't a difficult pick for me, and I'm surprised the oddsmakers have this one even relatively close. 'Cigano' by knockout, and I'd be shocked to see this one last more than a minute.
Mike Henken:
Despite having only competed once over the last two years, I still consider former champion dos Santos to be amongst the best heavyweights in the world. He may be the very best boxer the division has to offer and possesses brutal knockout power. His opponent Overeem is also a highly touted striker, and a former kickboxing world champion. He has looked rejuvenated and improved as of late, showing a more well rounded skillset, but I see "Cigano" landing a big shot here. Dos Santos by second round knockout.
Michael Johnson vs. Nate Diaz:
Mike Drahota:
Even though he hasn't won a UFC fight since his finish of a quickly fading Gray Maynard in November 2013, Nate Diaz somehow continues to get bouts with top-ranked UFC lightweights once a year. He came back to get absolutely dominated by dos Anjos at this same late-year FOX event last year, and even though he's appeared to be in much better shape this time around, I don't see this one ending up much different.
'The Menace' will being the added motivation of having a victory ripped from his grasp in his last fight against Beneil Dariush, and the top five talent will look to take that anger out on Diaz. Given his crisp, clean stand-up and hand speed, I think he'll be able to accomplish that goal rather easily. Johnson by decision.
Rory Kernaghan:
Nate Diaz has been looking in top shape over the recent weeks, showing a much more shredded physique than we've seen in years. Unfortunately for the popular Stockton slugger, he faces a fired up Michael Johnson who lost a close decision last time out, and has been way more active than Diaz in the last three years. I see 'The Menace' winning this one, and probably by decision, but that's mainly down to the durability of Diaz. Johnson by decision.
Mike Henken:
While Diaz has always been an exciting fighter and a fan favorite, he has been extremely inactive as of late and has lost three out of his last four. At his best, "The Stockton Bad Boy" is a relentless volume puncher with a serious submission game. However, Michael Johnson is a rising contender and may be the better fighter here. I expect the "Menace" to use his speed, power, and wrestling to break Diaz down. Johnson by unanimous decision.