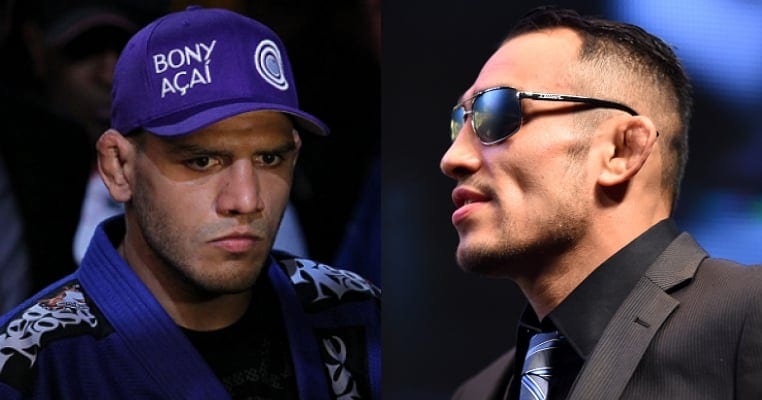 The three-week drought finally comes to an end, as the Ultimate Fighting Championship returns for 'The Ultimate Fighter: Latin America 3' Finale (also called UFC Fight Night 98) at the Arena Ciudad de Mexico in Mexico City, Mexico.
The headliner is one that could have been for a belt a few short months ago. Former champion Rafael dos Anjos makes his first appearance since suffering a surprise first-round knockout at the hands of Eddie Alvarez. Since losing to Khabib Nurmagomedov nearly two-and-a-half years ago, dos Anjos had rattled off wins over Jason High, Benson Henderson, Nate Diaz, Anthony Pettis, and Donald Cerrone.
The last two marked his title-clinching performance and only defense. In a stacked division with no shortage of worthy contenders, RDA does not get the immediate rematch treatment. Some guy named Conor Mc-Something inserted himself into the title picture, and everyone else is left waiting to see how that fight unfolds.
The Brazilian faces Tony Ferguson, a guy with a legitimate claim to number-one contendership status. An eight-fight winning streak in MMA's most cutthroat weight class will do that. The 10th Planet Jiu-Jitsu representative has taken out the likes of Danny Castillo, Abel Trujillo, Gleison Tibau, Josh Thomson, and Edson Barboza during his recent tear. He is coming off a hard-fought second-round submission victory over short-notice replacement Lando Vannata at UFC Fight Night 91 in July. Ferguson was supposed to square off with Nurmagomedov for the next title shot, but the Dagestani fighter pulled out with yet another injury.
The rest of the main card features 'The Ultimate Fighter: Latin America 3' lightweight final, a lightweight tilt between UFC OG Diego Sanchez and Bellator import Marcin Held, a featherweight scrap between Ricardo Lamas and Charles Oliveira, a lightweight battle pitting Beneil Dariush against Rashid Magomedov, and a strawweight clash between Invicta FC veteran Alexa Grasso and Heather Jo Clark.
Read on for a full main card fight analysis.
Lightweight – Rafael dos Anjos vs. Tony Ferguson:
Dos Anjos came into the UFC with great athleticism and top-notch BJJ credentials, but he has morphed into an all-around dynamo. His Muay Thai has become truly vicious under the tutelage of Kings MMA patriarch Rafael Cordeiro, and his wrestling has also become a major asset to his game. The Brazilian's conditioning and the aggression Cordeiro has drilled into him make dos Anjos a scary man with whom to share a cage.
The Brazilian has turned into a pressure fighter, never giving opponents space or room to breathe, the threat of a big shot always there. From his southpaw stance, RDA's left hand and left kick can put a serious hurting on an adversary. The Brazilian's leg kicks cut down Diaz, his body kick gutted Cerrone, and his straight left smashed Pettis's face in. His hand speed is excellent, making it so that he still can connect when he winds up on an overhand. He will rip to the body with equal prejudice, and his clinch knees and elbows are truly something to be feared. But dos Anjos's lack of head movement cost him in his fight with Alvarez. He relies on covering up for defense and his own aggression to keep his man on the back foot.
As already mentioned, the Brazilian's ground game is likely his best facet, and he now has the wrestling to actually employ it. He has good timing on reactive shots, hides his entries behind punches well, and finishes his double leg with authority. Once on top, dos Anjos is utterly stifling. His opponent never has the space to attempt a sweep or submission, and all the while the Kings MMA rep is bashing away with hard ground and pound.
In Ferguson, dos Anjos will find a dance partner whose best assets are his length, power, awkward style, toughness, and volume. And the Michigan native relies heavily on all of them. Ferguson throws hard straight punches, for the most part, mixed in with a heavy dose of leg and body kicks. The 10th Planet rep is not an out-fighter, but his long limbs allow him to hit foes with hard shots when either man tries to close the distance or his opponent is retreating. He works behind a penetrating jab, followed with a nasty cross. Defense is mostly an afterthought for the hard-nosed brawler. He has shown that he can slip and roll in the past, but for the most part, Ferguson is content to throw down. He relies on his chin and his power to carry him through tough spots.
Ferguson has collegiate wrestling credentials, but he uses them mostly for defense, which is solid if not impenetrable. He is most dangerous by far from the front headlock, where he has finished three UFC opponents with brabo chokes. Ferguson will snatch the neck any chance he gets, and he will also happily look to lock it up while standing and fall to his back to finish. On top, his ground and pound is punishing, and his scrambling ability is solid. One issue is that he is too willing to give up position fishing for low-percentage submissions. And if his opponent wants to consolidate top position rather than scramble, Ferguson will resort to striking from the bottom rather than looking for quick get-ups.
The Pick: Ferguson is offensively potent and tough as nails, so he will be dangerous throughout. But the smart money is on dos Anjos. Ferguson is too hittable and too prone to fighting off his back. The fact that he got rocked badly twice by featherweight Lando Vannata in his last fight doesn't bode well for him either. Ferguson has been in plenty of wars, and that inevitably takes a toll. He also likes to initiate unconventional scrambles by rolling for leg locks, and a jiu-jitsu savant like RDA isn't going to fall into a trap like that. Unless his chin has abandoned him – and I find that unlikely given that he never went down under the thunderous barrage from Alvarez – dos Anjos should beat up Ferguson on the feet and on the mat on his way to a third-round TKO.
Next Fight: Martin Bravo vs. Claudio Puelles

Lightweight TUF Latin America 3 Finale – Martin Bravo vs. Claudio Puelles:
This is a weird fight because I think the worse fighter will win. The stylistic matchup is the culprit. Bravo was billed as a wrestling expert on the show, and he's decent, but Puelles is even better. Bravo had to try to drag his opponents down while Puelles consistently hit high amplitude double legs, slamming his foes to the mat. Puelles also demonstrated an opportunistic submission game when he kneebarred an opponent on the show. Bravo, by comparison, would lose top position trying to climb to the back too aggressively.
The Pick: But I think Bravo will pull out a narrow decision victory because he likes to pressure, and Puelles isn't comfortable in that kind of fight. The Peruvian Puelles has a wide variety of hard kicks at his disposal. He's much less effective when his opponent stays in his face, though, and he usually goes to his wrestling. Bravo can get wild, but at his best, he's good at drawing out his adversary's punches, leaning out of the way, and firing back with a combination. He's an effective boxer when he sticks with straight punches, but it doesn't take much for him to flip the switch and start brawling. Staying in Puelles' face favors his boxing over the Peruvian's kick-centric attack.
Next Fight: Marcin Held vs. Diego Sanchez

Lightweight – Marcin Held vs. Diego Sanchez:
Sanchez has been around the UFC forever, almost literally. This man won the inaugural season of 'The Ultimate Fighter' way back in 2005. But he hasn't been good for anything but a brawl that he comes out on the wrong end of for the past few years. And his legendary durability was recently cracked by Joe Lauzon. 'The Nightmare' has always been a willing striker. His greatest assets have been his endless aggression and toughness because Sanchez has never been fluid or powerful. As he keeps moving forward and throwing, that is sometimes enough to steal rounds, even when he's clearly eating the harder shots.
Sanchez's grappling is much better, but it is vastly underutilized. He's gone away from the wrestling that was once one of his best weapons. As with his striking, he is more relentless with takedown attempts than especially skilled. But he is a very good jiu-jitsu player, and that is very much to his detriment. The Jackson-Wink standout has still never been submitted.
Bellator import Marcin Held will look to change that. Grappling is his bread and butter. The Pole is known for his leg attacks, but he's no one-trick pony. He is aggressive from all positions, but not overly so, patiently setting things up. And Held will use the threat of a leg lock to sweep as often as he looks to finish with it.
The BJJ black belt uses his pressure striking game to help set up his takedowns. Both are unorthodox but strangely effective. He can be prown to slugging it out when forced to strike for extended periods, and he has unexpected pop. His takedowns are usually from the clinch and are a little bit funky as well.
The Pick: Held is only 24 but already has a wealth of experience and time yet to continue growing. Sanchez is clearly pretty deep into his downslide. Held only lost to Michael Chandler, Will Brooks, and Dave Jansen in Bellator, and he avenged the Jansen loss. Sanchez isn't on that level at this point. The younger, fresher Held won't put away Sanchez, but he takes a decision.
Next Fight: Ricardo Lamas vs. Charles Oliveira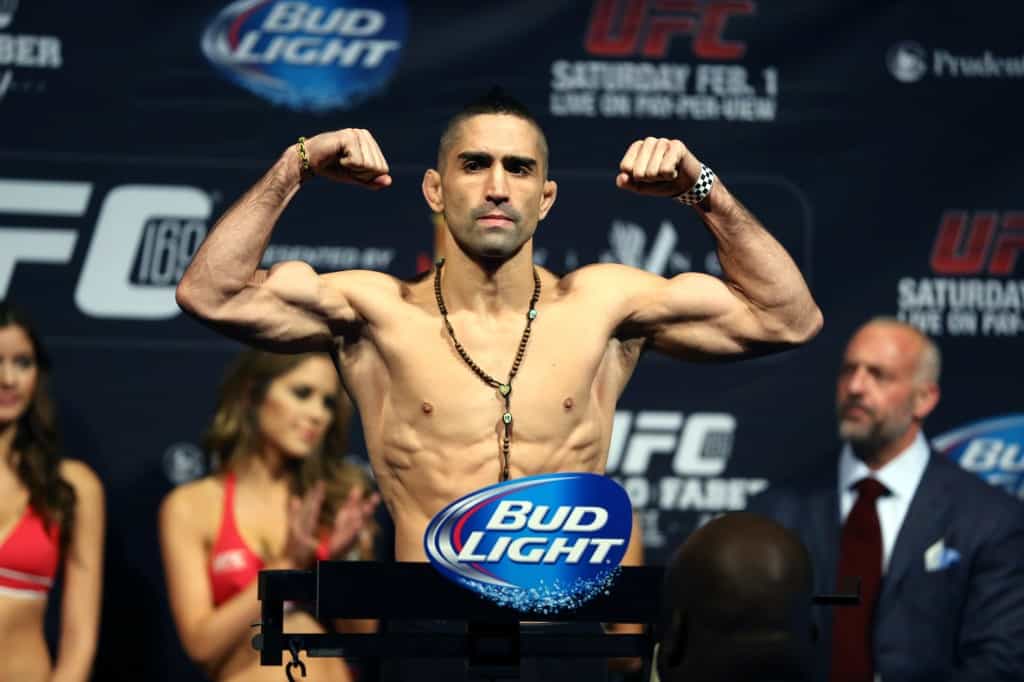 Featherweight – Ricardo Lamas vs. Charles Oliveira:
Lamas figures to get a much stiffer test here than he was initially planning for when he was supposed to be fighting the corpse of BJ Penn. And we're all better off for it. 'The Bully' is coming off a loss in a mostly one-sided battle with Max Holloway. But no one can ever say Lamas wasn't game, as he obliged Holloway in a sensational throw-down after the now legendary "point to the ground and throw bombs" gesture from the Hawaiian.
The Chicago native used to pressure, but seems most comfortable now sticking and moving on the outside. When he's the more physically imposing fighter, which is most of the time and will be the case here, Lamas can return to pressuring. But he is uncomfortable being on the receiving end of that type of fight, as was the case with Holloway, Chad Mendes, and Jose Aldo. He will use his footwork and long-range kicking game to establish a safer distance against such opponents. A former D-III wrestler, Lamas has developed into a solid striker, with good boxing combinations and a variety of kicks at his disposal. He's also very tough and has a great chin.
Lamas attempts to mix things up with that wrestling background, but he is not overwhelming in that area. He completes more than 1.5 takedowns per fight, but is successful with them only 30% of the time. Where he really shines is in transitions and scrambles. He has caught such accomplished grapplers as Dennis Bermudez and Cub Swanson with chokes. Lamas is also absolutely brutal when he can consolidate top position. His elbow-laden stoppage of Eric Koch was truly something to behold.
His new test will come in the form of Charles Oliveira, himself coming off a disappointing loss. 'Do Bronx' tried to follow the anti-Pettis blueprint and couldn't quite pull it off. Rather than suffocating 'Showtime' with top position, Oliveira fished for submissions. Pettis was repeatedly able to reverse and wound up cinching in his own guillotine choke.
Oliveira is supremely aggressive and dangerous on the mat. He has no qualms about pulling guard. He is just as lethal off his back as he is on top, as evidenced by the wicked front headlock series he has used to dispatch Hatsu Hioki, Nik Lentz, and Myles Jury. The Brazilian's wrestling has also come along nicely. He no longer has to rely on pulling guard to get the fight to the floor.
On the feet, 'Do Bronx' has a very upright stance that leaves him extremely vulnerable to body attacks. Like his wrestling, his striking has developed into an above average weapon, but he often eats more than he doles out. His leg kicks and clinch knees are his best tools. Not particularly fleet of foot or adept at cutting off the cage, Oliveira aims to walk his foe down, snap a jab or front kick, and then push his way into the clinch to work takedowns.
The Pick: Normally the pressure fighter will beat the outfighter. By staying in the outfighter's face and not allowing him to work from his preferred range, the pressure fighter frustrates and makes the outfighter uncomfortable. He can lay hands on his opponent while eating less in return as the outfighter tries to work back to distance.
I just don't think Oliveira has the footwork or the speed to pull that off. Lamas is solid in both areas and isn't going to get walked down but any but the best (like Holloway). A lot of Oliveira's pressure is based on his grappling, but I think Lamas will eschew tangling with him in that realm for the most part and pick apart his flat-footed foe from range before circling back out into open space. Oliveira's wrestling is indeed underrated, as is his overall game, in my opinion, but I don't think he can consistently close the distance and win that battle.
Lamas is a BJJ black belt himself, so even in the grappling exchanges, there is no guarantee that Oliveira will come out ahead. With a stalemate in the grappling department, I like the more defensively savvy, quicker Lamas to win the striking. He takes a unanimous decision.
Next Fight: Beneil Dariush vs. Rashid Magomedov

Lightweight – Beneil Dariush vs. Rashid Magomedov:
Top-15 lightweights class in a very interesting battle. The Rafael Cordeiro-trained Dariush portrays the aggression typical of the Kings MMA legend. The long-time BJJ black belt has also become a dangerous striker under Cordeiro's tutelage. Dariush pressures with kicks at all levels from his southpaw stance and has a nasty overhand left as well. When the distance closes, the Iranian-born fighter favors a jumping knee.
As a former no-gi world champion, Dariush is just as comfortable on the mat. He likes to throw an inside low kick just before shooting in. And if his foe has his back near the fence, you can bet that a Dariush takedown attempt isn't far behind. His back-takes are fast and fluid. Once there, that's pretty much a wrap.
Magomedov is well-rounded himself, claiming the title of Master of Sports in three separate disciplines: boxing, hand-to-hand combat, and combat sambo. Russia's Master of Sports title is garnered through winning competitions, not merely demonstrating technique in the gym.
The Dagestani's matchup with Dariush is intriguing because of the disparate styles. Dariush prefers to pressure while Magomedov is a counterstriker. 'Gorets' has excellent footwork and takedown defense too, so corralling him is always a problem. Whether Dariush can succeed where others have failed will be the story of this fight.
The Pick: Dariush's tendency to relentlessly move forward seems to play right into Magomedov's hands, pun intended. After defeating the uber-athletic Gilbert Burns in his last outing, Magomedov takes another step forward with a decision over Dariush.
Next Fight: Alexa Grasso vs. Heather Jo Clark

Women's Strawweight – Alexa Grasso vs. Heather Jo Clark:
The 23-year-old Mexican Grasso is an intriguing talent in the strawweight division, the lightweight of women's MMA in terms of depth and talent. A four-fight Invicta FC veteran, Grasso has only been fighting professionally for about four years. But already it is clear that poise is one of her greatest natural strengths – she has the same calm demeanor wherever the fight takes place. Grasso's background is in boxing, as she is trained by her former pro boxer father at Lobo Gym in Guadelajara, Mexico.
As she pumps her jab, throws in combination to various targets, and moves her head at range, it is easy to see where she is most comfortable. She is light on her feet, and works to take away her opponent's base with inside and outside kicks to the lead leg. She often punctuates punching combinations with them. Grasso will also mix in body and head kicks, and will double up on kicks with the same leg, the second usually to reestablish range.
Keeping that distance is one of her few issues. Grasso can get backed to the cage much too easily. She does not need to fight at long range, as she is comfortable mixing it up on the inside. She hits knees to the body and head, elbows, and dirty boxes well when fighting in a phonebooth. Whether Clark makes her pay for fighting with her back to the fence will be the story of this fight.
The young up-and-comer is no slouch on the ground either, but she could use some polishing there. Against Mizuki Inoue, she consistently countered a single-leg attempt with an armbar-triangle chain. She threatened with it at the end of the first, but in the third Inoue was able to extricate herself and settle into top position. Grasso's takedown defense looked to be an issue, although part of that could be her confidence in her submission skills. She showed improved defense in her last bout with Jodie Esquibel.
The 36-year-old Clark has been fighting two years longer than her counterpart, having fought in XFC and Bellator before joining the cast of TUF 20. She was eliminated in the opening round by Felice Herrig, but won her fight at the finale with Bec Rawlings.
Trained by Robert Follis at Xtreme Couture, Clark is something of an all-rounder. She can strike a bit with power, wrestle some, and grapple reasonably well. Perhaps her greatest flaw is that she does not have one elite, or even great, skill set. She is coming off a loss to current title challenger Karolina Kowalkiewicz in which she failed on all 15 of her takedown attempts and got mauled as a result.
As mentioned, Clark has solid power in her hands. And when she has an obliging opponent and can get into a rhythm, she will throw two and three-punch combinations to the head and body. She does not have good head movement though, and often leans her head forward while she throws, running herself into punches.
In the wrestling and grappling department, she is again serviceable, but not particularly dangerous. She has a decent reactive shot when her foe gets too aggressive moving forward, but she primarily looks for trips in the clinch. She was able to capitalize on Rawlings' ill-advised head-and-arm throw attempts to wind up in top position on several occasions. On the floor she is a BJJ purple belt but has yet to submit an opponent in pro competition.
The Pick: Clark will want to make this ugly. She'll hope to either take and hold Grasso down, or land something big as she enters the clinch against the fence. Grasso can be cracked, and the two women figure to spend a good chunk of time near the cage. But Grasso is too offensively potent, and at such a young age, giant leaps forward between fights are to be expected. Much as Kowalkiewicz did before her, Grasso should fend off the takedowns and piece up Clark on her way to a unanimous decision.