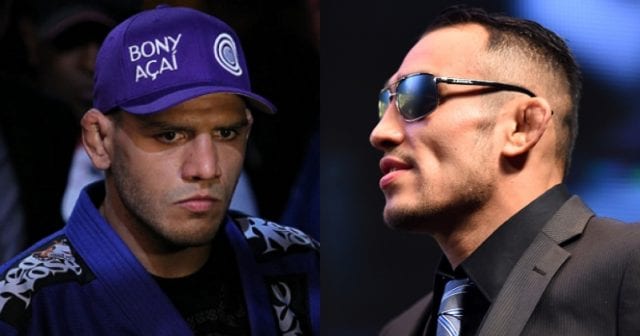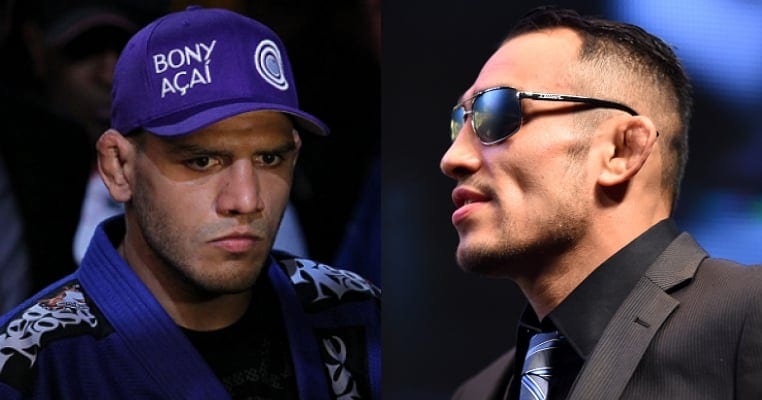 The three-week drought finally comes to an end, as the Ultimate Fighting Championship returns for 'The Ultimate Fighter: Latin America 3' Finale (also called UFC Fight Night 98) at the Arena Ciudad de Mexico in Mexico City, Mexico.
The headliner is one that could have been for a belt a few short months ago. Former champion Rafael dos Anjos makes his first appearance since suffering a surprise first-round knockout at the hands of Eddie Alvarez. Since losing to Khabib Nurmagomedov nearly two-and-a-half years ago, dos Anjos had rattled off wins over Jason High, Benson Henderson, Nate Diaz, Anthony Pettis, and Donald Cerrone.
The last two marked his title-clinching performance and only defense. In a stacked division with no shortage of worthy contenders, RDA does not get the immediate rematch treatment. Some guy named Conor Mc-Something inserted himself into the title picture, and everyone else is left waiting to see how that fight unfolds.
The Brazilian faces Tony Ferguson, a guy with a legitimate claim to number-one contendership status. An eight-fight winning streak in MMA's most cutthroat weight class will do that. The 10th Planet Jiu-Jitsu representative has taken out the likes of Danny Castillo, Abel Trujillo, Gleison Tibau, Josh Thomson, and Edson Barboza during his recent tear. He is coming off a hard-fought second-round submission victory over short-notice replacement Lando Vannata at UFC Fight Night 91 in July. Ferguson was supposed to square off with Nurmagomedov for the next title shot, but the Dagestani fighter pulled out with yet another injury.
The rest of the main card features 'The Ultimate Fighter: Latin America 3' lightweight final, a lightweight tilt between UFC OG Diego Sanchez and Bellator import Marcin Held, a featherweight scrap between Ricardo Lamas and Charles Oliveira, a lightweight battle pitting Beneil Dariush against Rashid Magomedov, and a strawweight clash between Invicta FC veteran Alexa Grasso and Heather Jo Clark.
Read on for a full main card fight analysis.
Lightweight – Rafael dos Anjos vs. Tony Ferguson:
Dos Anjos came into the UFC with great athleticism and top-notch BJJ credentials, but he has morphed into an all-around dynamo. His Muay Thai has become truly vicious under the tutelage of Kings MMA patriarch Rafael Cordeiro, and his wrestling has also become a major asset to his game. The Brazilian's conditioning and the aggression Cordeiro has drilled into him make dos Anjos a scary man with whom to share a cage.
The Brazilian has turned into a pressure fighter, never giving opponents space or room to breathe, the threat of a big shot always there. From his southpaw stance, RDA's left hand and left kick can put a serious hurting on an adversary. The Brazilian's leg kicks cut down Diaz, his body kick gutted Cerrone, and his straight left smashed Pettis's face in. His hand speed is excellent, making it so that he still can connect when he winds up on an overhand. He will rip to the body with equal prejudice, and his clinch knees and elbows are truly something to be feared. But dos Anjos's lack of head movement cost him in his fight with Alvarez. He relies on covering up for defense and his own aggression to keep his man on the back foot.
As already mentioned, the Brazilian's ground game is likely his best facet, and he now has the wrestling to actually employ it. He has good timing on reactive shots, hides his entries behind punches well, and finishes his double leg with authority. Once on top, dos Anjos is utterly stifling. His opponent never has the space to attempt a sweep or submission, and all the while the Kings MMA rep is bashing away with hard ground and pound.
In Ferguson, dos Anjos will find a dance partner whose best assets are his length, power, awkward style, toughness, and volume. And the Michigan native relies heavily on all of them. Ferguson throws hard straight punches, for the most part, mixed in with a heavy dose of leg and body kicks. The 10th Planet rep is not an out-fighter, but his long limbs allow him to hit foes with hard shots when either man tries to close the distance or his opponent is retreating. He works behind a penetrating jab, followed with a nasty cross. Defense is mostly an afterthought for the hard-nosed brawler. He has shown that he can slip and roll in the past, but for the most part, Ferguson is content to throw down. He relies on his chin and his power to carry him through tough spots.
Ferguson has collegiate wrestling credentials, but he uses them mostly for defense, which is solid if not impenetrable. He is most dangerous by far from the front headlock, where he has finished three UFC opponents with brabo chokes. Ferguson will snatch the neck any chance he gets, and he will also happily look to lock it up while standing and fall to his back to finish. On top, his ground and pound is punishing, and his scrambling ability is solid. One issue is that he is too willing to give up position fishing for low-percentage submissions. And if his opponent wants to consolidate top position rather than scramble, Ferguson will resort to striking from the bottom rather than looking for quick get-ups.
The Pick: Ferguson is offensively potent and tough as nails, so he will be dangerous throughout. But the smart money is on dos Anjos. Ferguson is too hittable and too prone to fighting off his back. The fact that he got rocked badly twice by featherweight Lando Vannata in his last fight doesn't bode well for him either. Ferguson has been in plenty of wars, and that inevitably takes a toll. He also likes to initiate unconventional scrambles by rolling for leg locks, and a jiu-jitsu savant like RDA isn't going to fall into a trap like that. Unless his chin has abandoned him – and I find that unlikely given that he never went down under the thunderous barrage from Alvarez – dos Anjos should beat up Ferguson on the feet and on the mat on his way to a third-round TKO.
Next Fight: Martin Bravo vs. Claudio Puelles
If you enjoyed this story, please share it on social media!