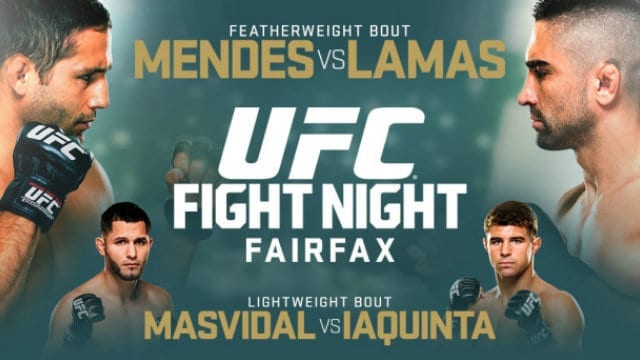 Today's (Saturday, April 4, 2015) UFC Fight Night 63 main card is in the books from the Patriot Center in Fairfax, Virginia.
The headliner featured a high stakes featherweight match-up between recent title contenders Chad Mendes and Ricardo Lamas, with the fight starting with a hard uppercut that wobbled Mends a tiny bit. "The Bully" followed with leg and front kicks, peppering the lead leg of Mendes. But it didn't last long, as Mendes nailed him with a hue shot, dropping him to swarm for the finish. Mendes unleashed a huge knee and Lamas fell. "Money" was on top unloading shots from the top, prompting him to ask the referee if he truly wanted to let the fight go on.
He did not, and Mendes got the emphatic stoppage to remain the clear number one contender at 145 pounds.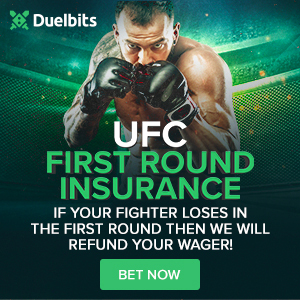 Rising lightweights Jorge Masvidal and Al Iaquinta attempted to to halt the other's momentum in a pivotal and telling co-main event. The bout started a bit slow, with Masvidal avoiding a single leg attempt to land a light knee to the body. He went to work with another knee and a sharp body kick as he stayed out of Iaquinta's range. "Raging" was unleashing a diverse arsenal of kicks and punches, but Masvidal missed a huge spinning kick and landed with a huge jab, straight, left hook combination that dropped Iaquinta. After getting out of a heel hook on the mat, Masvidal ended the frenetic frame with a big flying knee and a hard right that dropped him again, opening a cut with a late round elbow.
Masvidal pumped his jab in the second, and Iaquinta scored with a few light shots. The fighters traded kicks and Iaquinta landed a good low as a lead-in to a couple strong punches. A big body kick followed from Masvidal, who shucked off consecutive takedown attempts from Iaquinta to finish a much slower second round. The final round featured throwing another flying knee and body kick, only to eat a right hand from Iaquinta. "Gamebred" snapped a few left hooks as Iaquinta continued landing repeated leg kicks. Iaquinta snapped a right hand, attempting to coax "Gamebred" into a brawl with a scissor sweep attempt. Masvidal landed some accurate shots and two more body kicks  as Iaquinta nailed him with more low kicks to end the close fight.
In the end, "Raging" won a controversial split decision resulting in a chorus of boos, so he cussed out the raucous Virginia fans in a heated moment.
Michael Chiesa faced Mitch Clarke in another lightweight affair. Chiesa got a nice trip early and followed with a takedown, but Clarke surprisingly got back up both times. ""Maverick" then pushed forward with his strikes, wobbling Clarke to get another takedown and attempt his trademark rear-naked choke. It didn't pan out and Clarke survived the lopsided opening round. Clarke looked to slow down the pace in the second, and a restart resulted in Chiesa taking his back again. Hanging off of Clarke after he got up, Chiesa put a stamp on the round with a few late elbows. Clarke found a home for some punches to start the third, showing some urgency by scoring with a flurry of shots. Chiesa fought back only to eat a head kick before he countered with a flying knee. "Maverick" ended the bout with some crisp punches and two sharp body kicks to take home a clear-cut unanimous decision.
The Ultimate Fighter (TUF) 18 winner Julianna Pena made her long awaited return after over 15 months off against judoka Milana Dudieva. Pena came out looking to make up for lost time with aggression, but was almost caught with a takedown. Dudieva eventually grounded "The Venezuelan Vixen," but Pena was able to reverse with a single leg to get the mount. She rained down with powerful ground and pound shots and elbows to earn an emphatic comeback win in the first round.
Longtime vet Clay Guida squared off with Robbie Peralta at featherweight. "Problems" scored with a good punch/low kick combo early, but Guida picked him up for a huge double leg slam before clinching to lift him up for another high crotch single leg slam. Guida ground out the remainder of the round on Peralta's back. He landed a hard overhand right to start the second, leading it into another double leg takedown. A restart saw Peralta land, yet Guida countered and most likely took the second round.
Peralta scored with a left at the start of the third, only to see Guida snap a few punches and a head kick. "The Carpenter" rushed forward for a double leg, picking up Peralta for a second big lift immediately after. Guida got the mount and locked on a tight arm triangle choke, but Peralta escaped only to get taken down again, locking up a one-sided unanimous decision for fan favorite Guida.
Dustin Poirier returned to lightweight to kick off the main card against touted Brazilian prospect Diego Ferreira. The bout turned into fireworks early, with Poirier landing before Ferreira went for an arm drag. Both landed some good punches in a couple exchanges and traded body kicks. But then Poirier dropped Ferreira with a big punch, following up with an elbow and unleashing a barrage of shots to drop Ferreira again and finish the bout with an onslaught of power punches with just under a minute-and-a-half left in the first round.
UFC Fight Night 63 Main Card Results (FOX Sports 1, 1 p.m. ET):
Chad Mendes def. Ricardo Lamas via R1 TKO (strikes, 2:45)
Al Iaquinta def. Jorge Masvidal via split decision (29-28, 27-30, 29-28)
Michael Chiesa def. Mitch Clarke via unanimous decision (29-26, 29-26, 29-28)
Julianna Pena def. Milana Dudieva via R1 TKO (ground strikes, 3:59)
Clay Guida def. Robbie Peralta via unanimous decision (30-27 x 3)
Dustin Poirier def. Diego Ferreira via R1 KO (punches, 3:45)