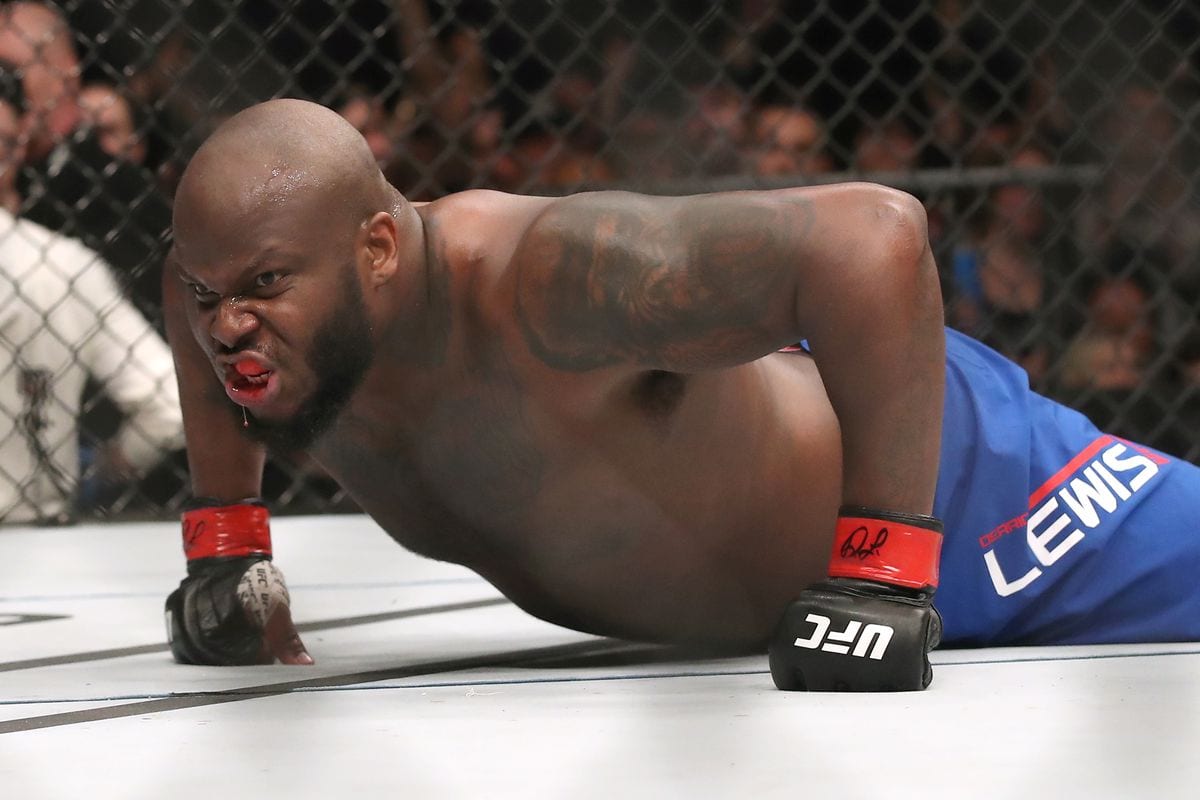 The wait is over. UFC 229 Is here. Before Conor McGregor and Khabib Nurmagomedov collide in the biggest fight in MMA history two top heavyweights square off.
"The Black Beast" Derrick Lewis and Alexander "Drago" Volkov will meet in a feature heavyweight attraction on Saturday (Oct. 6 2018) night.
Houston's Lewis has developed into a complete mixed martial artist. Once considered more of a novelty act in the UFC, Lewis has transformed his overall game and truly become a force to be reckoned with. He was won a staggering nine of his last 10 fights.
Since entering the UFC all "Drago" has done is run rough shot through the heavyweights best. Volkov has won six straight and his last four have been in the Octagon. He most recently picked apart former champion Fabricio Werdum this last March.
Round One 
The fight starts with a 30 second feeling out period. then both guys engage. Volkov goes to the body and Lewis doubles over in pain. Volkov closes the distance and lands another punch. Lewis grabs Volkov for a takedown, Volkov defends. The Russian hurts Lewis again with a counter punch. The fight pauses as Volkov asks for a break in the action. Volkov lands an awkward takedown but Lewis gets back to his feet. Again, the Russian trips Lewis. Volkov is on top with a minute and a half to work. Lewis flips position and lands some huge ground and pound to end the round.
Round Two
Lewis comes out swinging but doesn't land. The Russian lands a straight left hand and follows it up with another. Volkov lights Lewis up with a solid combo, Lewis stumbles but swings for the fences. Lewis lands a big right hand but didn't quite connect 100%. Volkov throws a kick to the body. Then he goes to Lewis's legs. Lewis winds up for a haymaker but misses wildly. Volkov lands an uppercut that wobbles Lewis. Volkov walks him down and lands a body kick. The round ends with Volkov picking his mouthpiece up.
Round Three
The fighters touch gloves to start the last round. Volkov fainting punches and landing some kicks to start the round. Lewis dives at Volkov in an attempt to take the Russian down. Volkov lights Lewis up with laser-like striking. Uppercuts followed by straight right hands, Volkov's striking is on point tonight. Lewis has a chin. The Russian has owned cage position and continues to walk Lewis lands a haymaker of an overhand right and sends the Russian crumbling to the canvas. Lewis shocks the world.
 Derrick Lewis defeats Alexander Volkov via KO at 4:49 of round three