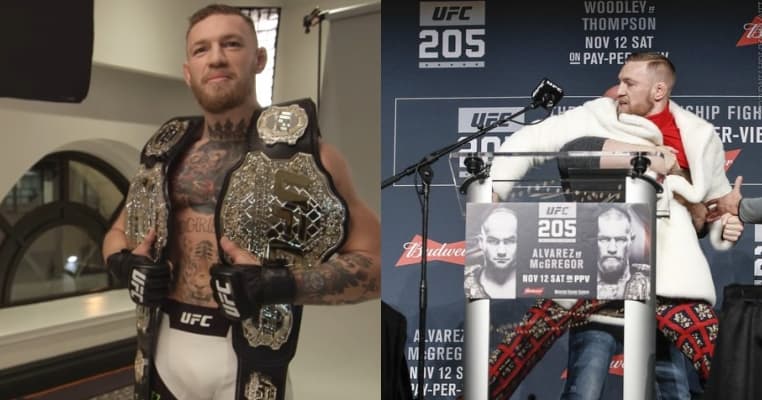 After three years of ripping it up in the UFC, Conor McGregor finds himself at the pinnacle of MMA. Facing lightweight champion Eddie Alvarez at the blockbuster UFC 205 pay-per-view in New York, McGregor will attempt to make history. Should the Irish bad boy take out 'The Silent Assassin,' he will break arguably the holiest of records, holding two belts in separate divisions at once. The storyline is similar to that of his previous opponents, the only difference is the previously mentioned title ramifications and the iconic first-time trip to NYC.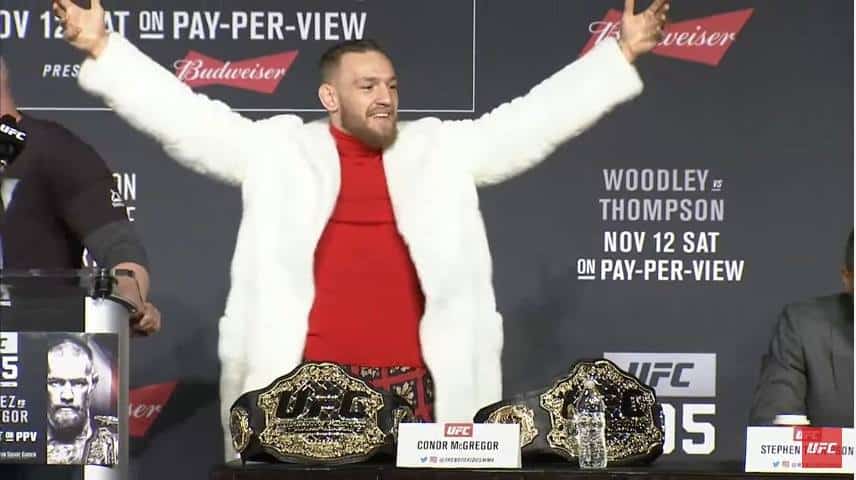 Press Conference Antics
At the UFC 205 pre-fight presser last night, 'The Notorious' was on typically sharp-wit form. Following a 30-minute delay in his arrival, McGregor showed up dressed as and acting like a trash talking pimp. Arguably the best talker in the game, McGregor knows exactly how to sell a fight, but are his antics getting a little predictable, dare we say it, old now? Let's take a look a some of the moments during last night's presser.
The 'scuffle' between Eddie Alvarez and Conor McGregor looked staged, at best, and lacked any sense of either authenticity or relevance. Yes, this is entertainment, but any fan worth their salt could see directly through this 'near chair throw' and display of Dana White's wrestling skills. Look at it from Tron Woodley's angle, via his Instagram account:
Granted sometimes these moments don't go exactly as planned for promoters, but is this a sign of Conor McGregor's antics losing their sting? Maybe after the infamous UFC 202 bottle throwing incident the promotion have put restrictions on just how much drama they'll accept. Maybe, and perhaps this is a little too 'outside the box,' the UFC should look at other ways of gaining interest in fights. Already a highly pivotal and historic event, to quote Nick Diaz, selling 'wolf tickets' was not really required.
Thinking back to some of the greatest rivalry moments in UFC history; McGregor and Diaz's FOX argument, Jones and Cormier's 'hot mics' outtake, even as far back as Ken Shamrock's living death comments on Tito Ortiz, these all had the undeniable x-factor to make them unforgettable. Without wanting to degrade this beef or sound pessimistic, what we saw last night seemed like a man running out of that promo steam.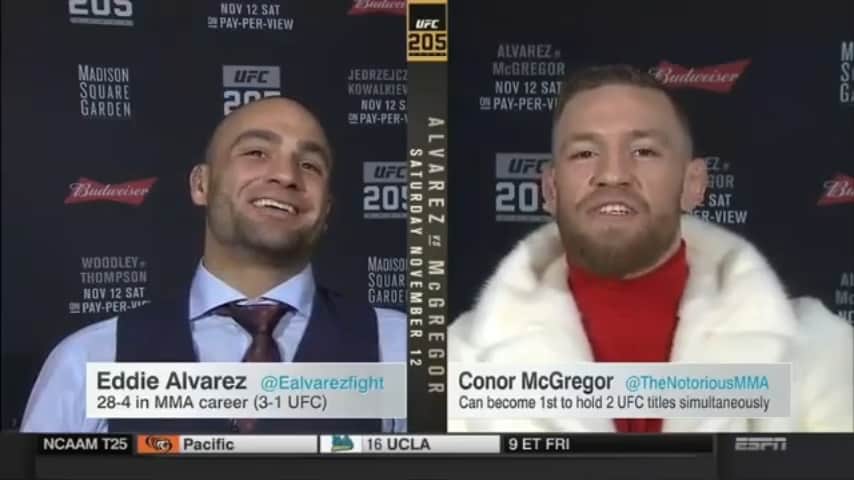 Time Off
Potentially looking at some time off after UFC 205, it's understandable if McGregor is growing weary of sporting his outlandish character around for the media. Could he be heaping too much pressure on himself? Probably not, but there is an opportunity to be had for everyone here. If trash talking and staged confrontations is becoming old hat, surely there is a new method of self promotion waiting to be found.
Let's look at it like this-since 2000 the formula for selling UFC fights has pretty much been the same. Boxing too follows this stringent code to sell seats and PPV buys, will this trend continue forever, or are we now starting to see the end as fans become a little more clued up?

It would be ironic to see the biggest trash talker and showman in the game usher in a new era of promotion, and if the new owners want to pioneer it, they need to get ahead of the curve now.