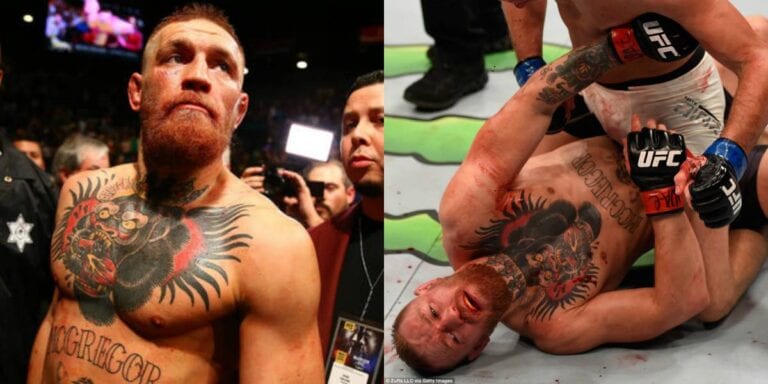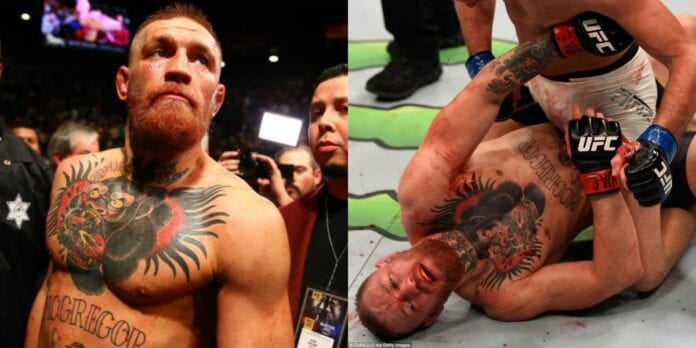 Moving up in weight to challenge Nate Diaz at welterweight didn't work out exactly how UFC featherweight champion Conor McGregor planned, but the Irishman's brash antics helped save one of the best pay-per-view cards of the year.
What McGregor did at UFC 196 this past Saturday was nothing short of legendary. From fighting two weight classes higher to taking a Diaz brother on 11 days notice, "The Notorious" proved that he's truly willing to fight anyone, anywhere, and at anytime.
But in the aftermath of his first promotional loss, albeit in a division he doesn't officially occupy, McGregor's overall work of art is called into question. How much of his success is legitimate and how much of it is a product of good timing, quick finishes and overzealous opponents?
Look no further. Here are five reasons why the 27-year-old is not the world beater we thought he was.
Reason 1: His punching power
So much has been said about McGregor's left hand. It's vicious. It's stunning. It's an unequivocal one-punch knockout weapon.
But through all of that, McGregor was unable to significantly hurt Diaz with one of those left hands at UFC 196. And it's not like the Irishman couldn't find a home for it, as he beat Diaz's face in for the first five minutes and a decent time of the second round..
While this fight was contested at 170 pounds, Diaz is a true lightweight. His frame is built for the 155-pound division, he was ragdolled by Rory MacDonald when he fought at welterweight years ago and his best work inside of the Octagon has come one class higher than McGregor's.
With that said, it's alarming that McGregor was unable to daze Diaz with any of his power shots. For a fighter who finished six out of his seven featherweight appearances by way of TKO or knockout, including stoppages over Jose Aldo and Chad Mendes, his power was unable to carry over in a contest that favored his athleticism and movement.
It makes you wonder what he'd do against other lightweights like champion Rafael dos Anjos, Anthony Pettis and Khabib Nurmagomedov.

Reason 2: His distance control
There's no disputing that Conor McGregor is one of the best in the business when it comes to controlling distance.
Much of his success in this department relates to his movement around the edges, slick combinations, bewildering in-and-out attacks and constant versatility. But these are attributes that played well for the Irishman at 145 pounds, a division that allows his bigger frame, intimidating aggression and forward movement to be the deciding factor.
When McGregor met Diaz this past Saturday, pundits believed that the featherweight champion would be able to utilize his quickness, reaction time, athletic movement and shot selection to move inside and out without absorbing serious damage. That belief was proven wrong from the bout's outset.
Whether it was McGregor's looping overhand lefts or his inability to get inside for more than a few nano-seconds, "The Notorious" felt incapable of forging excellence on his feet opposite a longer and rangier Diaz. It showed that McGregor's tantalizing striking may not be that effective if you can limit his range, comfort level, and Octagon control.
Diaz may be one of the best precision strikers in the lightweight division, but his recoil usually opens him up for a counter. McGregor didn't take advantage of that, and it cost him.

Reason 3: His chin
While McGregor's letdown versus Diaz at UFC 196, is officially ruled a submission defeat, it was surprisingly close to being a TKO loss.
Just a few moments before Diaz sunk in the rear naked choke heard around the world, he peppered the Irishman with countless straight jabs and a powerful right. It shook McGregor like we've never seen before, causing his hands to drop, legs to quiver and willingness to stand and bang to dissolve.
After tasting significant leather for the first time in his UFC career, it's evident that McGregor has a fairly decent chin. But after seeing how he wilted under the pressure of Diaz's conservative power shots down the stretch, opting for an unlikely takedown attempt, it's safe to say that the featherweight champion is more than susceptible to being finished on his feet.
How much of that was a product of fighting a bigger fighter has yet to be seen, but McGregor was less than two weeks away from facing RDA at UFC 196. That brutalizing power-focused fighter hits a lot harder and more often than Diaz does, suggesting McGregor's world-class chin may only apply to his run as a 145-pound champ.

Reason 4: His stagnant ground game
If there is anything to pick out from McGregor's skillset that doesn't stack up with the rest of his abilities, it'd be his ground game.
This includes his wrestling, top control, takedown defense, transitions off his back, and submission defense.
While it's telling that McGregor's two prior defeats in his career leading into UFC 196 came by way of submission, as well as his efforts opposite a less-than-ready Chad Mendes at UFC 189, training alongside grappling wizard Gunnar Nelson was supposed to set the Irishman straight. But in disappointing fashion, Diaz made McGregor look like a mere amateur on the mat when he finally decided to turn it up in the second round.
It should be noted that Diaz is one of the best in the game when it comes to submissions in transitions and split-second scrambles, but McGregor did little to suggest he knew how to ward off any advancements on the canvas.
The featherweight champion must improve his grappling heading into the future. And while we didn't look at his ground game as a means of winning a fight, we didn't believe he could look so bad on the ground while losing.
Like former lightweight champion Anthony Pettis is susceptible to wrestlers who push him against the cage, McGregor may just be easy pickings for rangy strikers with good jiu-jitsu.

Reason 5: His simplistic approach
Whether it was the size of his opponent, the change in walkout music or the fact that he lugged an extra 25 pounds with him at UFC 196, McGregor didn't look quite the same.
His early efforts were certainly admirable, as he busted Diaz up with some great power lefts. But outside of that, the featherweight champion lacked the versatility, creativity, distance control, and most importantly, the shot selection that we've grown accustomed to seeing him operate with.
Because of this, McGregor's effectiveness evaporated after only one round. He was tired, left his hands down, lacked the necessary movement to avoid Diaz's offense barrage and was nearly put out on his feet.
It's not certain what may have caused McGregor to look different in this fight than in his previous seven inside of the Octagon, but it's most likely a combination of energy conservation, his inability to deal with a longer opponent, and the pressure that came with saying you're going to finish every opponent in the first round.
The change in momentum and outcome at UFC 196 may suggest that McGregor doesn't have it all figured out. It may indicate that he hasn't pushed through all the adversities we need to see him conquer in order to crown him one of the best in the world.
And to the disdain of his many fans, it may have finally proven that "The Notorious" is capable of being outworked in the cage himself.