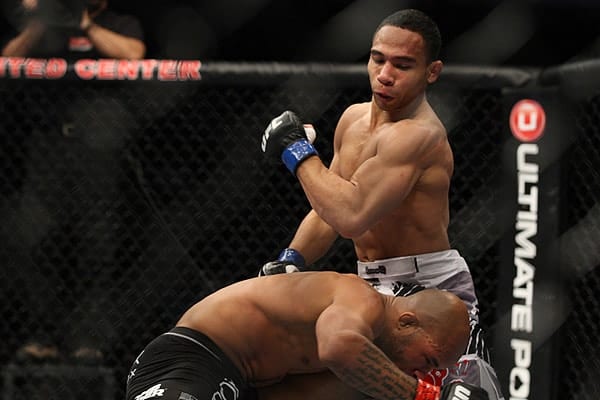 UFC 187 fight day is here, after months of anticipation we'll finally see the doubleheader of title fights tonight (Saturday May 23rd, 2015) in the MGM Grand Garden Arena in Las Vegas, Nevada. Aside from the plethora of star power on the PPV (pay-per-view) main card, there was a strong host of talent on the evening's preliminary cards.
John Dodson and Zach Makovsky faced off in the feature prelim that doubled as a flyweight title eliminator. Dodson landed a big hook early on, and Makovsky countered with a stiff left of his own. Dodson snapped counters and Makovsky scored a knee as he controlled the distance with kicks. He didn't score with any of his takedown attempts, but it was a strong round for 'Fun Size' overall. Dodson landed a combo to start the second, and they traded knees. 'The Magician' went to work with body shots, yet Makovsky largely stayed out of Dodson's power range to land a head kick. He got a brief takedown, and Dodson fought through to get a big slam. The fighters hugged to start the third, and a chess match ensued up until a knee from Makovsky. Dodson threw but missed some big shots, and 'Fun Size' snapped a counter. Dodson landed two knees and a punch off a Makovsky takedown attempt, throwing him to the mat for a second. More strikes came from 'The Magician' as the bout went the distance, with Dodson taking home the close fight by unanimous decision.
Former WSOF (World Series Of Fighting) title contender and TUF 2 competitor Josh Burkman faced 'Stun Gun' Dong Hyun Kim at 170 pounds. Kim drug Burkman to the mat after an early clinch, but Burkman rolled through to hit 'Stun Gun' with a big knee. Kim jumped to his back and sought a rear-naked choke, clinching with some knees to close out the first round. Burkman came out aggressive with his striking in the second, landing some big shots to go for a takedown. Kim reversed with a crucifix on the ground, landing relentless punches for the larger part of the round. Burkman landed some huge knees to start the last round, wobbling Kim. But 'Stun Gun' recovered to land in side control and lock on a super-tight arm triangle choke to earn the stoppage.
Knockout striker Uriah Hall battled apparently hated rival Rafael Natal, who came out with a hard kick that hit below the belt. 'Primetime' landed a stiff counter right and Natal a good punch of his own. Hall scored front and body kicks and the fighters traded shots before Natal missing a takedown. Hall threw two sharp high kicks and a spinning back kick, but Natal completed a short takedown to end the round. Hall landed strong jabs to start the second and Natal came back with a power takedown. Natal worked some knees to the thigh when Hall got back up, but 'Primetime' landed a hard knee and high kick, transitioning to two surprising lift takedowns at the bell. Hall came out loose in the final frame, winging kicks and knees but eating a hard punch from 'Sapo.' Another big kick came from Hall, followed up by some low kicks as the pace slowed. Natal broke the lull with a powerful right, clinching unsuccessfully but landing a decent punch as the fight ended. Natal took home a close split decision when it was all said and done.
A women's strawweight battle between Rose 'Thug' Namajunas and Nina Ansaroff was supposed to kick off the FOX Sports 1 preliminary card. However, after failing to make weight by a whopping four pounds, Ansaroff pulled out of the bout today because of illness.
Veteran welterweight Mike Pyle battled young upstart Colby Covington, who looked for a takedown up against the fence early. After a low knee stopped the action momentarily, Covington flung a big overhand and clinched again, eventually completing a big double leg to gain the round. Covington sought a takedown again to start the second, but Pyle countered with a knee to the body. Covington landed big punches and drug Pyle to the mat to land some sharp elbows. The undefeated prospect wung some big punches that barely missed the mark as the second came to its close. Following a flying knee from Pyle, Covington took the fight to the mat again, smothering his veteran opponent. However, Pyle reversed to mount Covington, taking his back to lock on a tight choke that 'Chaos' broke free of. Ultimately Covington won a clear-cut decision for his biggest win.
Leo Kuntz met touted Dagestani grappler Islam Makhachev in a lightweight tilt. Makhachev not surprisingly clinched with Kunt zearly, breaking to land a big right that lead to a huge judo throw. Makhachev took Kuntz's back yet couldn't capitalize. Kuntz scored with an uppercut and low kick until Makhachev scored a barrage of uppercuts and a takedown. Makhachev came out with solid punches in the second, taking Kuntz's back again and flattening him out with a rear-naked choke that earned the tap.
Super 125-pound scrappers Josh Sampo and Justin Scoggins opened the Fight Pass prelims in the wrongly unheralded UFC flyweight division. The bout started off with varied striking exchanges, as Scoggins landed some spinning kicks and Sampo some rushing combos. Towards the end of the frame, Scoggins took over with his karate-based striking. Scoggins dropped Sampo with a hook kick in the second, winning the striking game until Sampo got a short takedown and a stinging body kick. Scrambles brought Sampo back into the bout in a much closeer round. Scoggins went back to his kicks in the third, but Sampo floored him to land some light ground shots. Yet Scoggins got back, landing some more kicks to win the unanimous decision.
UFC 187 FOX Sports 1 "Prelims" (8 p.m. ET) Results:
John Dodson def. Zach Makovsky via unanimous decision (29-28, 29-28, 29-28)
Dong Hyun Kim def. Josh Burkman  via R3 submission (arm triangle choke, 2:13)
Rafael Natal def.Uriah Hall via split decision (29-28, 28-29, 29-28) 
Colby Covington def. Mike Pyle via unanimous decision (30-27, 29-28, 30-27)
UFC 187 Fight Pass "Prelims" (7:00 p.m. ET):
Islam Makhachev def. Leo Kuntz via R2 submission (rear-naked choke, 2:38)
Justin Scoggins def. Josh Sampo via unanimous decision (30-27, 30-27, 30-27)