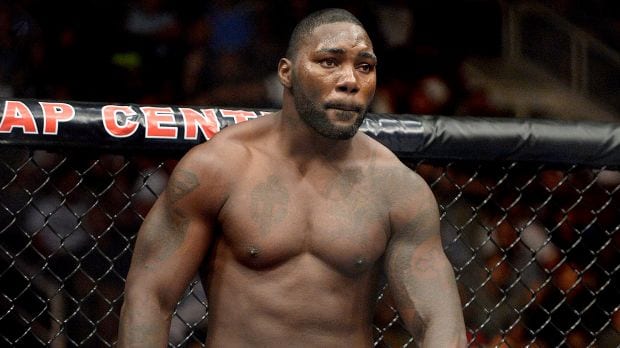 Even with the loss of Jon Jones and Khabib Nurmagomedov from the PPV (pay-per-view) main card, UFC 187 is still looking like one of the strongest cards of the year. Just two days removed from May 23rd, the two title fights at the head of the card have the MMA collective itching with anticipation. At the pinnacle of the Las Vegas, Nevada based card is a light-heavyweight title scrap between two of the most elite in the division.
Daniel Cormier will fight for the title for the second time in a row this Saturday, hoping to erase the memory of his UFC 182 loss to the now vacated champion Jon Jones. He faces Anthony Johnson, who has fought a hard road to the title shot and will look to rain on 'DC's' party with a huge knockout.
Without further ado, the LowKickMMA UFC 187 Anthony Johnson vs Daniel Cormier preview and analysis:
Striking:
Here we have an interesting pairing, with styles that match up pretty well. Johnson is a beast in the stand up, 13 knockouts from 19 wins, and holds records such as being the only man in UFC history to hold four sub-minute knockouts to his credit, he has the fastest 170-pound debut finish with his 13-second knockout of Chad Reiner, and he also holds the most first round finishes in welterweight history with five.
His heavy-handed style is clearly effective early on, but I'd actually lean towards Cormier as far as technical abilities are concerned. The former Strikeforce heavyweight GP winner has outstruck all opponents apart from Jones at UFC 182, he has a higher connect percentage than Johnson of 49% to 'AJ's' 45%. There is also the clinch that Cormier loves to fight in, where some of his most damaging shots can be thrown. It's interesting to know that Johnson has never lost a decision, and also that Cormier has never unanimously lost a round outside of UFC 182. Striking defense for Cormier is 65%, and 'AJ' is 66%.
It would be easy to say that Johnson's devastating knockout power makes him an obvious favorite, but the truth is that power isn't everything. I give Cormier the speed and footwork advantage, 'Rumble' the power, but don't forget that 'DC' has crushed six from 15 by T/KO including a monstrous 64-second KO of Antonio Silva back when he was beating guys like Fedor Emelianenko. Ground strikes for Cormier have proven to be a very effective tool in the past also. You may disagree, but I'd actually call the striking even at 50-50.
Takedowns:
'Rumble' is no slouch in the wrestling department as a former Junior College National Champion, and his startling takedown defense rate of 85% is outstanding when you consider he is primarily a striker. His offensive stats are 58% successful takedowns, and he actually exceeds Cormier's 41% offensive output with 81% defense rate. The difference here is that Cormier is an Olympic level wrestler with more credentials in that department than both their MMA fights combined.
'DC' likes to get under the hips and scoop for big slams, his lower centre of gravity gives him excellent balance and leverage, and when on form Cormier can make slamming a 250-pound man look like easy work. Training with Cain Velasquez at AKA (American Kickboxing Academy) means 'DC' gets the best input available in this department.
All things considered, I'd call it 60-40 Cormier.
Submissions:
Cormier is a brown belt in BJJ (Brazilian Jiu Jitsu) Johnson holds no official ranking and has been subbed by rear naked choke in three of his four losses. 'DC' has never been submitted, or even finished in MMA, and holds a notable rear naked choke submission win over Dan Henderson.
Not much to say about the submission game of either man, except that Cormier's is probably a bit stronger than 'Rumble's'. 60-40 for Cormier.
So we'll have a new UFC light-heavyweight champion after Anthony Johnson vs Daniel Cormier transpires, and potentially a new champion in the middleweight division also. UFC 187 is carrying a lot of weight right now, and could cause some serious ramifications in two of the promotion's marquee divisions.

Stay tuned to LowKickMMA as we guide you through UFC 187 fight week.