We here at LowKickMMA feel that the world of mixed martial arts deserves to be shown in a different light sometimes. As with many major sports, the media can get caught up in the negative connotations of MMA all too often, and the lighter side seems to get overlooked. Ironically, from the violent one-on-one combat game, where two athletes attempt to choke and batter the living daylights out of each other, emerges some of the funniest moments ever.
Whether it's hilarious fight celebrations, absurd walkouts or just straight-up madness in or outside the octagon, the UFC has provided us with some side-splitting memories with their interpretation of MMA.
As usual, you members of the LowKick community can upload your own contributions to the list using the comments section below, and I'll use the wizardry of modern technology to insert them on to the list! Who knows, maybe you'll upload the new number one Gif….
Without further ado, check out the Top 11 Funniest UFC Gifs!

11. Mickey Rourke the douchebag Gif
Mickey Rourke attended UFC 113 with his Russian supermodel girlfriend of the time, and enjoyed the action octagon-side when the cameras swooped in for a cut scene. The usual awakardness of these celebrity is enough as is, let alone when the broad that is riding your coattails decides to make you look a mug on worldwide television.
Rourke has his own part of the blame too though, as he attempts to play puppet master to the unwilling chick's arm, as she can clearly be seen telling the ageing actor to stop it.
Enjoy the cringeworthy moment below….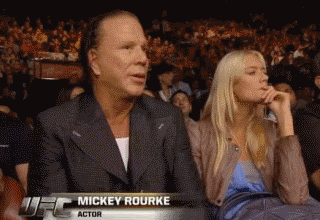 10. Mayhem trolls Wanderlei Silva
Jason Mayhem Miller makes his entry on the list with a fantastic troll of Wanderlei Silva, simple in nature but effective as a long-standing lol in UFC history.
Check out Miller's cut scene-bombing of 'The Axe Murderer' below, and prepare to 'just bleed':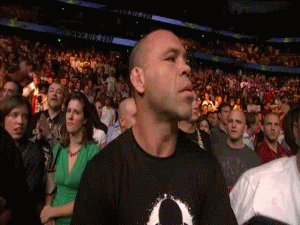 9. Just bleed guy
The UFC crowd shot is sometimes amazing, and later you'll find that it's potentially a bad idea. This time around, the cameras caught the funniest and most eager fan in attendance, the 'just bleed' guy to be precise.
His hilarious expression, potentially a gurn, awkward as it is glorious, and protracted for far too long, makes the number nine of the UFC Gif list with ease.
Here it is, in ll it's glory, the 'just bleed' UFC Gif: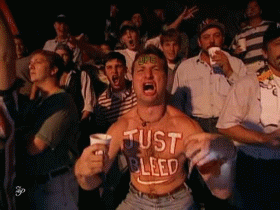 8. Junior Dos Santos up in flames
This weird and funny Gif comes from UFC on FOX's promo team in attempting to promote the first title fight on the promotion's then-newly acquired network buddies.
No much more needs to be said on how epic this fail was, so check it out and get your running shoes on…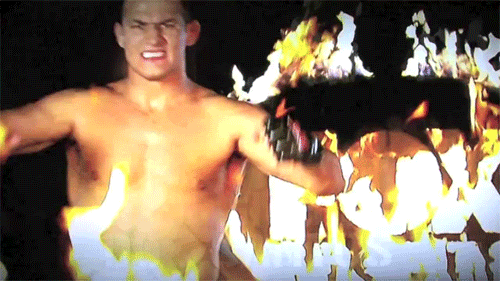 7. Nate Quarry Running Man
This hilarious two-part Gif comes from the archives of UFC 83 where Khalib Starnes faced a frustrated Nate Quarry back in 2008. Fans in Quebec, Canada grew restless as Starnes did his best to avoid 'The Rock' for all three rounds.
As Quarry grew impatient, he began to improvise, and the classic Nat Quarry Running Man Gif was born, check out 'The Rock' in full troll mode below:


6. Nick Diaz vs. Anderson Silva
Nick Diaz and Anderson Silva squared off in an ll-fated UFC 183 main event this past January, and it was just bursting with hilarious Gif-making moments.
Diaz took his taunting to elite levels during the five-round main event, clowning and poking fun at 'The Spider' with comical precision.
Check out the wonderful array of Lol moments from Diaz below, and get ready for BJ's banner….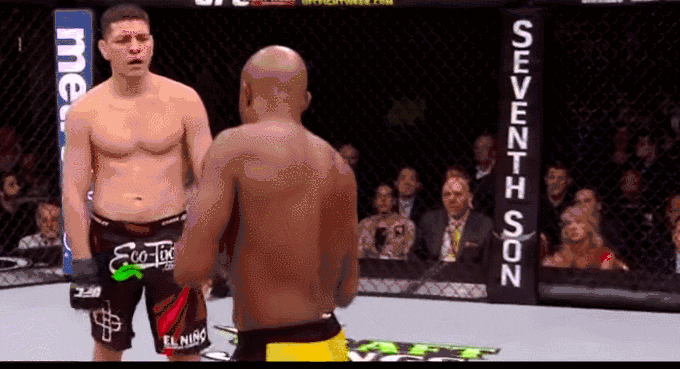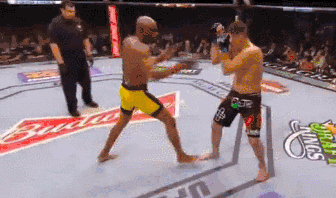 This vintage Gif comes from the days of BJ Penn, as the former lightweight champion closed in on the final stages of his legendary career.
To cut a long story short, Penn's corner had trouble with his banner, and the resulting Gif is an instant classic!
Enjoy BJ Penn's banner Gif below: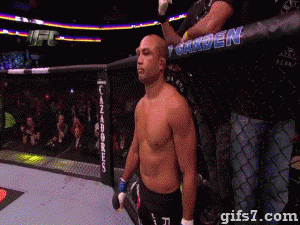 4. Dana White/Alistair Overeem Gif
OK, so it's an edit, but nonetheless this is a brilliant look at Dana White's portrayed reaction to Alistair Overeem's then-steroid fuelled physique.
The K-1 champ graces the stage and the UFC president's reaction to an Ultimate Fighter knockout is cleverly grafted in to increase the funny factor ten fold.
Check out the number three gif, and join us for more Dana White goodness…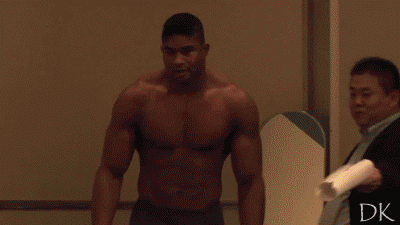 3. Shit just got real
Another silly promo produces a ball-bag busting funny Gif to add to the list, as ex-UFC and TUF star Cody McKenzie attempts to look tough for the cameras.
'Shit just got real' get's pasted in by some cyber-genius, making this odd and hilarious Gif one of the UFC's most classic fail/win Gifs.
Take a look and prepare for a Snoop Dogg colab like no other…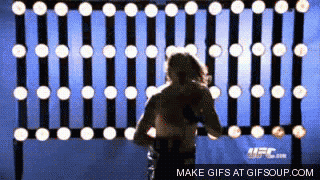 2. Dana White and Snoop Dogg Gif
Who knows what Dana White was doing up on stage that day in 2011 at the Moon Night club, perhaps White himself doesn't even know. I like to think there's a Gif-loving God out there somewhere that just magically transported the UFC president on to the stage with Snoop Dogg, just for Lols.
The notorious gangster rapper and pop idol Snoop Dogg was putting on a show for fans in the Palms Casino club, and who better than the most recognizable bald man of MMA to make the picture complete?
Check it out, and click over to the funniest UFC Gif ever…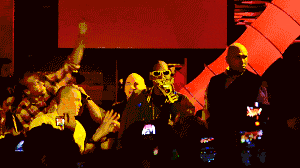 1. Chuck Liddell having a great night
Former UFC light-heavyweight champion and MMA legend Chuck Liddell was on fire in this number four spot, and needless to say it goes down as one of the funniest UFC moments ever.
Alleged footage of 'The Iceman' getting his sniff on, or just plain having a great night at UFC 51. However you look at it, this is an all-time great UFC moment.
Enjoy the funniest UFC Gif ever, and throw in your opinions below!