Conor McGregor is a master on the mic, Chael Sonnen can cut a promo like no other and Dominick Cruz is as smart and insightful as anyone in the sport, but let's face it, there's plenty of fighters out there who don't share their gift for the gab.
You can't blame them. After all, you try busting out your snappiest one-liners and lucid streams of consciousness live on air after 15 minutes of getting punched and kicked in the head, as thousands of fans yell in the background and millions around the world judge you on your every word.
Nonetheless, it would be remise of us not to notice that moments like these often provide the perfect breeding ground for some of the most unintentionally hilarious quotes you're ever likely to hear, and so in this article we'll pay tribute to 10 of the very best of them!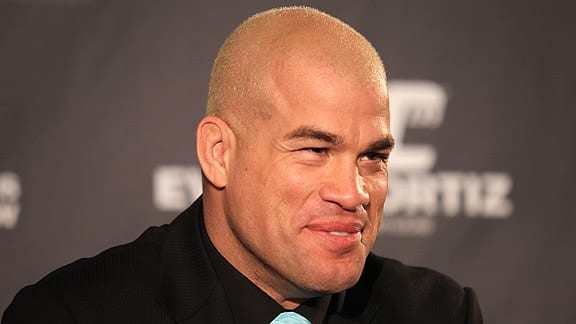 Tito Ortiz
Tito Ortiz has truly proven himself to be a black belt in World Salad over the years.
For instance, who can forget the time he served as Affliction's in-cage interviewer for their 'Banned' show in 2008.
"I want to tell me what you see. Let's go ahead and see by the fight, what you saw, in the ring," he incoherently babbled to Renato 'Babalu' Sobral.
That night Ortiz would take to calling Sobral, "Seraldo", Russian heavyweight legend Fedor Emelianenko, "Theodore," and of course not forgetting, "Matt 'The Lindland' Law.""
Then there's the time Ortiz mused that strategizing as a coach on 'The Ultimate Fighter' show was, "like a game of chest."
However, if there's one quote that stands out like a shining beacon from the rest, it has to be when he humbly declared:
"God put me on this earth to be a tool."
Later in that same Bellator 120 presser, Ortiz would answer a question about retirement by stating that, "When I start sounding retarded, perhaps its time to stop."
No one had the heart to tell him and he'd go on to fight for three more years.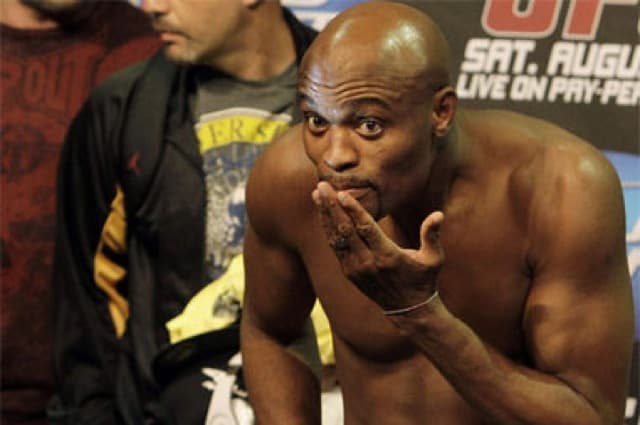 Anderson Silva
Anderson Silva was understandably overcome with emotion after he emerged with a unanimous decision victory over Derek Brunson at UFC 208 in New York City – the first time he'd had his hand raised in over four years.
Fighting back tears, the Brazilian superstar launched into a rare speech in broken English rather than his native Portuguese, humbly admitting that he knew he was now too old and slow to be going up against the best UFC fighters, but that he still loved to compete.
It was a beautiful sentiment from the 41-year-old legend and there were even a few misty eyes in the crowd, but Silva wasn't quite finished.
"Fight is my life…" Silva said with great sincerity.
If only he'd just left it there, but instead he reached deep into his soul, wrestled with his limited English vocabulary, and then solemnly declared…
"…Fart is my heart."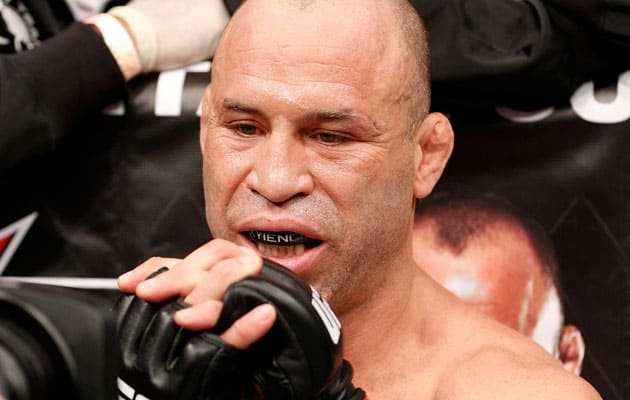 Wanderlei Silva
Fans could scarcely contain themselves when legendary PRIDE knockout artist Wanderlei Silva was brought into the Octagon during the UFC 61 pay-per-view in the summer of 2006 for a major announcement.
'The Axe-Murderer', one of the most intimidating fighters in MMA history, took to the mic to address the fans, who were waiting with baited breath to learn what was on this modern day gladiator's mind.
"My job is to fight with the best fighters in the world," Silva began.
"For this reason I'm coming here tonight, because I want to fuck…
[awkward pause]
"…I want to…FIGHT, with Chuck. Fuck Chuck!"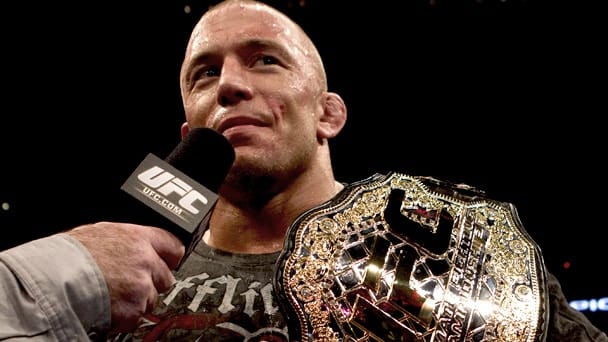 Georges St-Pierre
With French being his first language, Canadian superstar Georges St-Pierre has had an ongoing battle with the finer points of the English language during his legendary MMA career.
Never was this endearing struggle more apparent than after his victory over Sean Sherk at UFC 56 in November of 2005, in which he admitted, "Matt Hughes beat me fair and square," only to then doubt himself and stammer, "I'm sorry, I'm still learning English…fairly squarely."
However, perhaps the ultimate example of GSP's nearly-but-not-quite quotes came several years later when he was discussing a rather unique approach to preparing for his next title fight.
"I've got fresh guys coming on me every five minutes," St-Pierre proudly declared.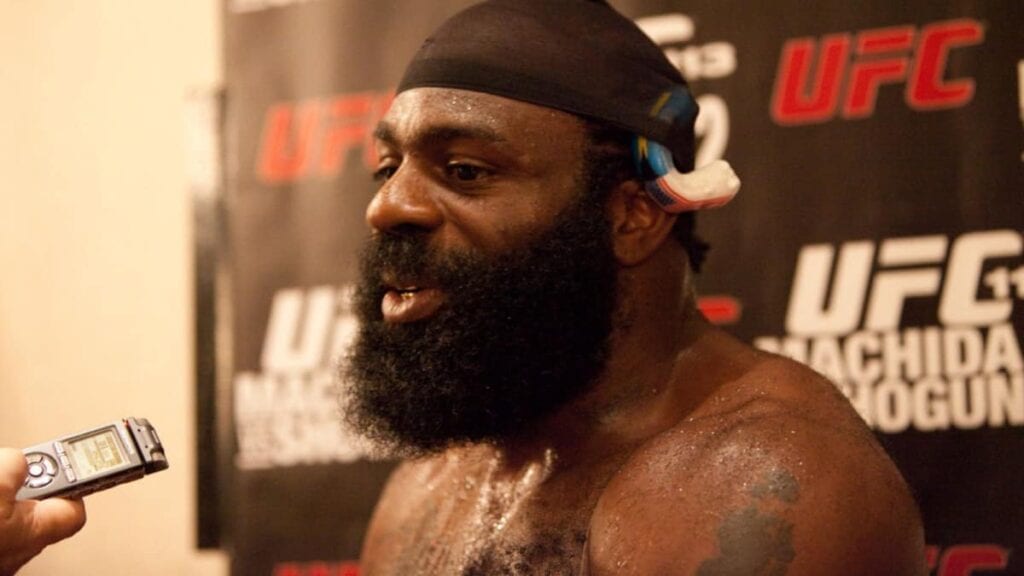 Kimbo Slice
Just a few months before the late Kimbo Slice signed up to be a competitor on 'The Ultimate Fighter Season 10' in 2009, the famed backyard brawler turned MMA fighter was flown to Japan by K-1 to serve as guest commentator at their 'World Grand Prix' broadcast.
Having spent much of his life hustling on the streets of Miami, Kimbo couldn't wait to convey his enthusiasm for this rare opportunity to head overseas.
"First of all, I love the city of Japan!" Kimbo blurted out on the live TV broadcast.
If nothing else, it served as a timely reminder that geography wasn't high on the list of priorities for a man who had made a living serving up knuckle sandwiches on the streets!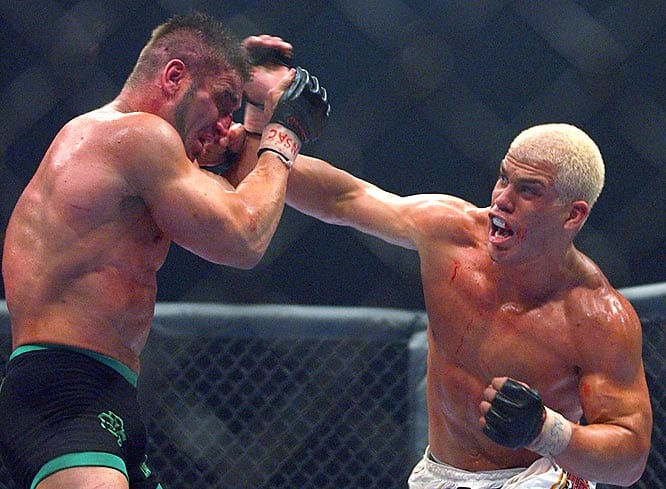 Ken Shamrock
UFC hall-of-famer Ken Shamrock has shown a remarkable knack for putting his foot directly into his own mouth over the years.
For instance, who can forget the time he eloquently observed that, "you got kicked. By a kick," or when he helpfully pointed out that, "I'm very confident this fight can go either way."
However, nothing can compare to the moment when Shamrock took to the podium at a press conference with Tito Ortiz prior to UFC 40 and tried to verbally intimidate his cocky adversary.
"I hope to god you come ready, because if you don't, I'm going to beat you into the living death," Shamrock declared.
There was a moment's silence as Ortiz let that absurd declaration sink in, then he threw his head back and burst into uncontrollable laughter, slapping his hand down on the table in front of him so hard that he knocked his championship belt off it's perch.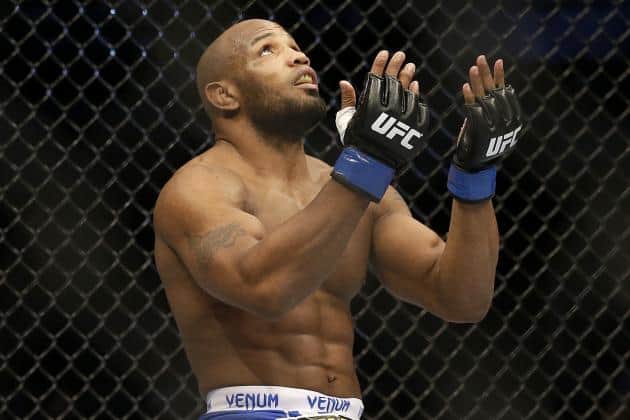 Yoel Romero
Of all the times to launch into a speech about religion, inside the Octagon right after you've just beat someone up doesn't seem like the best time to get the message across.
Nevertheless, live on TV at UFC On FOX 11 in 2014 Yoel Romero burst into a passionate lecture on the mic, urging people not to turn their back on religion.
Unfortunately for 'The Soldier Of God', much of what he was saying was being lost in translation due to the fact that he was speaking in broken English with a heavy Cuban accent.
Therefore, when he got to the climax of his speech, many people watching thought that Romero was ranting, "Not for gay Jesus, people!"
Immediately social media was buzzing with fans speculating that Romero was criticizing a court ruling from earlier that week that had legalized gay marriage.
Backstage a sheepish Romero and his translator then confirmed what those who could decipher his accent already knew – that he'd actually been saying, "Not forget Jesus, people!"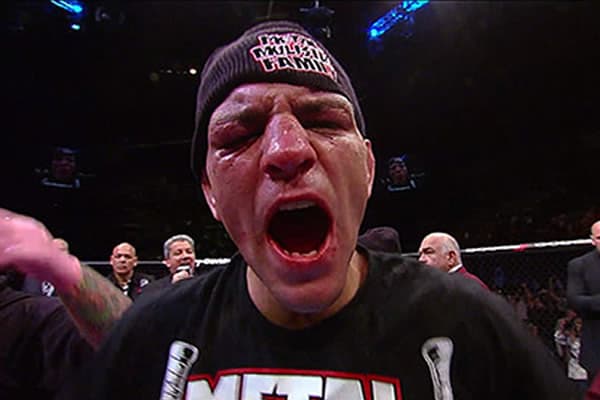 Nick Diaz
When fan-favorite Nick Diaz gets on the mic, it's almost taken as read that he'll speak in a rambling fashion that's often hard to follow, yet nonetheless entertaining, that he'll turn the air blue with expletives, and that he'll call out everyone, from his fellow fighters to the UFC and the media.
With that in mind it caught everyone by surprise when he grabbed the mic from Joe Rogan after beating up BJ Penn at UFC 137 and proceeded to express his love for the color-commentator's hugely popular podcast in a concise, well-thought-out manner.
Well, almost…
"Train by day, Joe Rogan podcast by night…all day!" Diaz yelled.
The fact that it didn't quite make sense made Rogan love it even more.
So much so in fact that the sound bite now greets his millions of listeners at the start of every episode of 'The Joe Rogan Experience.'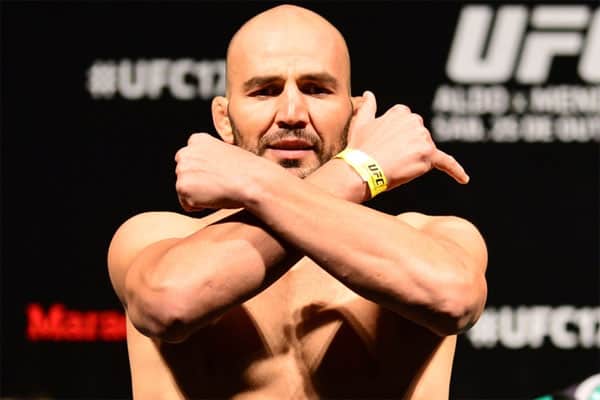 Glover Teixeira
After a grinding decision win over Glover Teixeira at UFC 208, Glover Teixeira was apologetic about his performance, which had drawn some boo's from the crowd.
The Brazilian fighter explained to the Octagon afterwards that he'd torn a previous injury again just a couple of weeks prior to the fight.
"Your shoulder, is that what you meant?" Joe Rogan attempted to clarify.
"The labia," Teixeira replied.
We're going to go ahead and assume he in fact meant the labrum, a piece of cartilage in the shoulder, rather than the labia, a part of the female genitalia.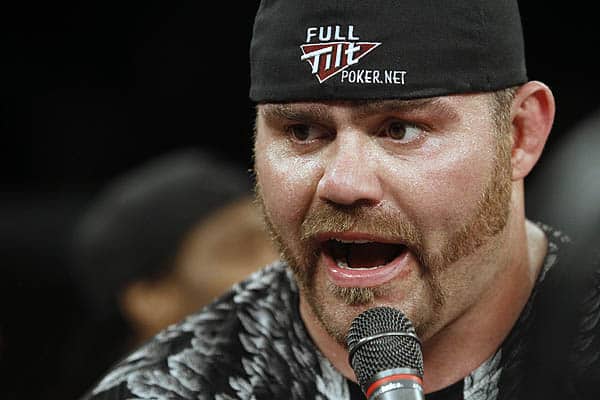 Tim Sylvia
MMA fighters generally aren't your first port of call when looking for words of wisdom, but some fighters are actually surprisingly intellectual and have insightful, thought-provoking things to say.
Former UFC heavyweight champion, Tim 'The Maine-iac' Sylvia is not one of those people.
"I'm the oldest I've ever been, right now," Sylvia once revealed.
Apparently, mathematics isn't his strong suit either.
"Half of this game is 90% mental."
Sylvia retired from the sport several years ago, and if anyone is wondering, we can confirm that he's still the oldest he's ever been, right now.