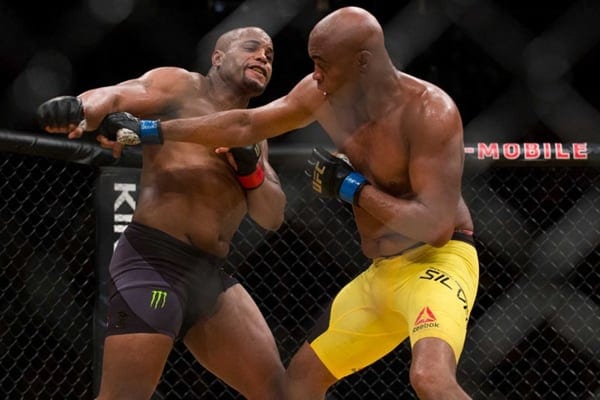 Daniel Cormier vs. Anderson Silva
UFC 200 in July of 2016 had long been targeted as a major marquee event for the promotion, but it proved to be a jinxed card that saw a series of high-profile fights fall through.
After Conor McGregor vs. Nate Diaz II fell through as the headliner the UFC regrouped and came up with a 205-pound title rematch between Daniel Cormier and Jon Jones, but disaster struck just three days before the show when it emerged that Jones had failed a drug test and had been removed from the lineup.
Blindsided by this, the UFC scrambled to find a last-minute replacement to keep Cormier on the card and preserve the line-up's 'stacked' status.
Their savior would come completely out-of-the-blue, with former middleweight champion Anderson Silva reaching out to say he would step up to take the fight at 205 pounds on just 48 hours notice, despite the fact he'd underwent gallbladder surgery just seven weeks earlier.
The UFC jumped at the chance to have such as high-profile replacement, but as many suspected the odds were just too firmly stacked against the 40-year-old Silva to pull off a major upset, with Cormier dominating him on the mat for three rounds to emerge victorious, though 'The Spider' earned respect for his 'fight anyone-anytime' attitude, even in the midst of the worst losing streak of his career.