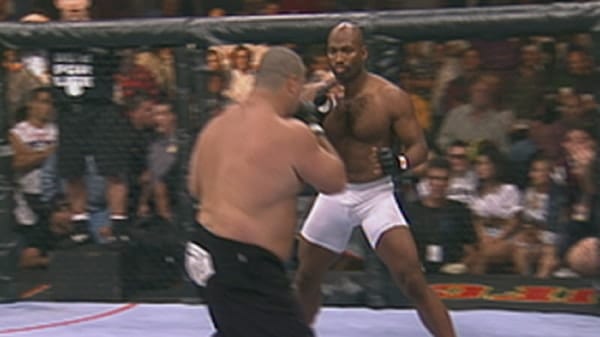 The matchmaking for this past weekend's UFC 223 headliner had more twists and turns than a Hollywood blockbuster.
However, it's far from the only time in the promotion's history that the UFC's matchmakers have been left scrambling at the last minute to find short-notice replacements.
In this article, we'll look back at 10 classic examples of new opponents unexpectedly materializing out-of-the-blue in the final days before a big event to ensure that the show could still go on.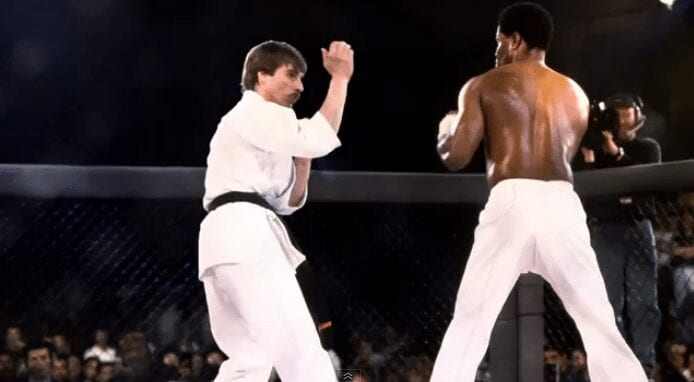 Fred Ettish vs. Johnny Rhodes
You have to dig deep into the history books to find out the shortest-notice fight ever in UFC history.
The night before UFC 2 in March of 1994, alternate fighter Fred Ettish was informed that he wouldn't be fighting on the show, but he was invited to help out behind-the-scenes to make sure that the other fighters had everything they needed and were ready to fight on time.
On the night, Ettish was working backstage when one of the UFC's head honchos Rorion Gracie urgently approached and asked if he could step in at the last minute to replace Freek Hamaker, who had just injured his hand during his opening round victory in the tournament.
Ettish estimates he had as little as 10-20 minutes to prepare, in which time he had to gather his gear, cornermen and do the briefest of warm-ups, before heading out to fight his opponent, Johnny Rhodes.
Unfortunately for Ettish, his bravery that night didn't pay off as a disappointing performance against Rhodes led to a first-round submission loss, while he then cruelly became something of a laughing stock among MMA fans at the time, though these days he's become more fondly remembered and respected.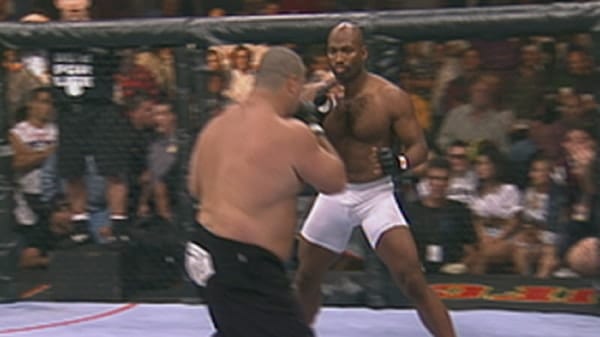 Tank Abbott vs. Maurice Smith
UFC 15 in October of 1997 was supposed to feature a heavyweight title bout between Maurice Smith and Dan Severn, but it was nixed on the week of the fight when it emerged that Severn had suffered an injured hand the previous weekend at PRIDE's first-ever event in Japan.
With just a few days remaining until the event, the UFC turned to the popular brawler 'Tank' Abbott, who wasn't training at the time and claimed to have "slid off the barstool" to accept the heavyweight title opportunity.
Needless to say that wasn't exactly the ideal preparation to fight the champion, who had won the title in a 'Fight Of The Year' performance against Mark Coleman just a few months earlier.
Smith wisely looked to tire Abbott out in the early stages of the fight and made him exert a lot of energy grappling in the opening minutes of the fight, before then punishing him on the feet with heavy leg kicks that led to the exhausted Tank verbally submitting, declaring, "I've had enough."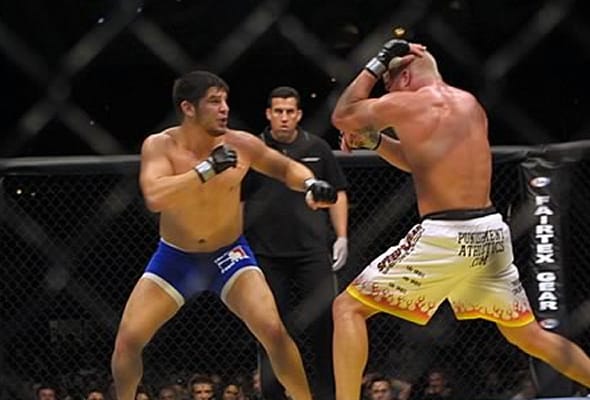 Tito Ortiz vs. Patrick Cote
UFC 50 in October of 2004 was supposed to be headlined by one of the company's biggest stars, Tito Ortiz, in a trilogy fight with Guy Mezger, but alarmingly his opponent suffered a stroke during fight week and was pulled from the lineup.
The UFC began desperately hunting for a last-minute substitution to keep Ortiz on the card, but it was difficult given that there were only four days until fight night and so the best they could do was promote Patrick Cote to the main card.
Back then Cote was a young, unknown prospect with just a 5-0 record who had been scheduled to make his UFC debut deep in the preliminary card of the event, but he talked a good game, claiming that he'd punch Ortiz harder than Chuck Liddell could.
He wasn't able to prove that on the night though, with Ortiz emerging victorious via unanimous decision after three rounds.
Nonetheless, UFC officials appreciated Cote's fighting spirit and the fact he'd gone the distance with the former champion, so they ensured that he would get another fight and he would go on to enjoy a long career in the Octagon lasting well over a decade until finally retiring in 2017.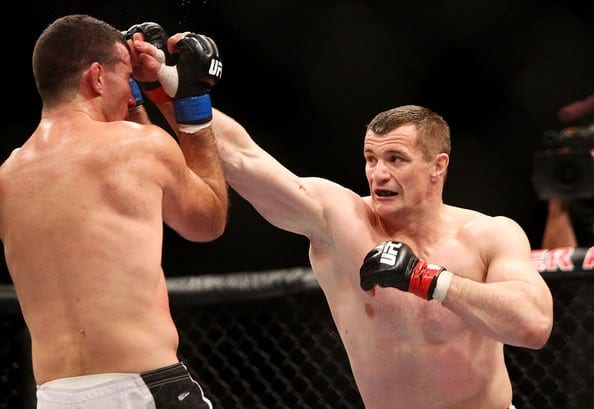 Mirko Cro Cop vs. Anthony Perosh
Grizzled Australian veteran Anthony Perosh had two fights in the UFC back in 2006, but having lost both and then spent several years on the regional circuit, it seemed like the 39-year-old's opportunity to get back on the big stage had slipped away.
However, just two days out from the promotion's first-ever event in Australia at UFC 110 in 2010, Perosh was suddenly thrust into the spotlight after being asked to step in as a late replacement for Ben Rothwell to fight the legendary Mirko 'Cro Cop' Filipovic.
It was a big ask to take the biggest fight of his career on 48 hours notice, not to the mention the fact that at the time he was competing at light-heavyweight, but nonetheless, Perosh accepted a bout that higher-profile fighters had reportedly turned down.
Alas, 'Cro Cop' proved to be too much for Perosh on the night, though he would showcase his toughness to last two full rounds before doctors ruled he couldn't continue.
However, Perosh had earned a lot of respect for stepping up to fight and so he was handed another chance to compete in the UFC, this time with a full training camp under his belt.
He'd not only go on win his next three fights but in total had a 10-fight run in the promotion before retiring at the age of 43.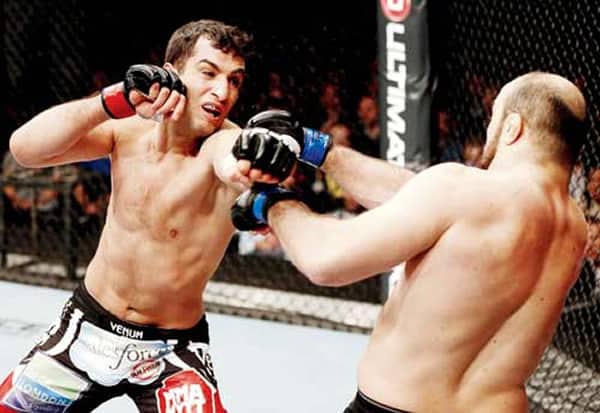 Gegard Mousasi vs. Ilir Latifi
When former Strikeforce light heavyweight champion Gegard Mousasi joined the UFC in 2013, he was immediately launched into a potential No. 1 contender fight with Alexander Gustafsson in the main event of UFC On Fuel TV 9 in Sweden.
However, the hometown hero Gustafsson suffered a facial cut in training and had to pull out, leaving the event without its biggest star only four days out from fight night.
There were few good options available and in the end they opted to go for a wildcard, offering the fight to one of Gustafsson's Swedish training partners, Ilir Latifi, who had a 7-2 (1 NC) record at the time, but had never fought for the UFC before and was essentially unknown outside his home country.
Despite a lack of time to train and prepare, 'The Sledgehammer' agreed to the main event match-up and immediately had to cut 26 pounds to make weight just three days later.
The fight itself proved to be somewhat lackluster, with Mousasi eventually emerging victorious via unanimous decision, but it still worked out for Latifi as he would go on to find a permanent home on the UFC roster and has registered a 7-3 record to date.
TJ Dillashaw vs. Joe Soto
Just a day out from UFC 177 in 2014, Joe Soto was cutting weight in preparation for his promotional debut when a teammate phoned him and said that UFC bosses wanted to speak to him urgently.
Soto soon learned that one of the event's headliners, Renan Barao, had slipped in the bath and knocked himself out in the bath while cutting weight and was out of his bantamweight title fight with TJ Dillashaw.
Soto assumed he was going to be asked to fight someone else to cover for a change to the card's lineup, but was shocked to then discover that the UFC actually wanted him to step in to the main event to fight Dillashaw for the title.
Soto jumped at the unlikely opportunity and immediately had to get back to cutting even more weight to make the 135-pound championship limit.
Soto was a massive underdog heading into the fight, and indeed Dillashaw did prove to be the superior fighter throughout, but the last-minute replacement still managed to last until the fifth round before finally being finished by a head kick and punches.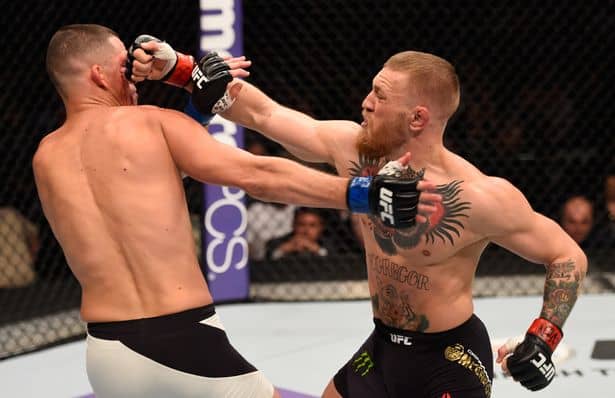 Conor McGregor vs. Nate Diaz
McGregor's first attempt to become a two-weight world champion was due to take place at UFC 196 in March of 2016 against the lightweight titleholder at the time, Rafael dos Anjos, but the champ broke his foot during the final days of his training camp, leading to a desperate search for a new opponent.
A few months earlier, Nate Diaz had memorably called out McGregor in an expletive-ridden rant following an impressive win on FOX and so he became the No. 1 pick to fight 'The Notorious'.
When the UFC came calling, Diaz was drinking tequila while partying on a yacht in Cabo, but he kept that from them, instead claiming that he was in training for a triathlon.
Diaz demanded that the fight be at 170 pounds instead of 155 pounds and McGregor didn't flinch, feeling confident that the Stockton native was going to be his next victim.
However, it didn't work out that way, as Diaz withstood the best McGregor threw at him and then turned the momentum, hurting the tiring superstar on the feet before submitting him by rear-naked choke in the second round and sending shockwaves around the world.
Diaz scored a $500,000 payday for his late call-up, but that paled in comparison to the millions he would go on to earn for their rematch a few months later at UFC 202 – the biggest pay-per-view in company history.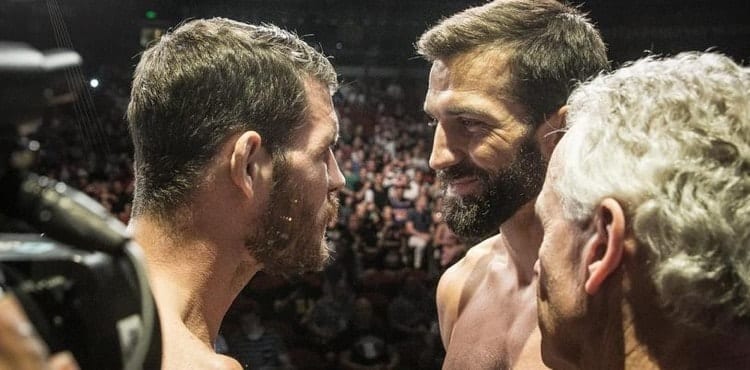 Luke Rockhold vs. Michael Bisping
Michael Bisping was on the set of the 'xXx' movie drinking beer with his co-stars Vin Diesel and Samuel L. Jackson in May of 2016 when the UFC came calling with a dream opportunity – a chance to fight for the middleweight title at UFC 199.
There was a catch though – he would only have two weeks to prepare for the biggest fight of his life. Oh, and his opponent would be Luke Rockhold, who had soundly beaten up and submitted him barely 18 months earlier.
Nevertheless, Bisping didn't hesitate to grab the opportunity with both hands and claimed that the fact he hadn't had time to over-train for the fight would be a blessing in disguise.
Nobody gave Bisping a chance of coming out on top against the in-form Rockhold, who opened as a 1/10 favorite to win, but the Brit was eager to prove everyone wrong.
It took less than a round for 'The Count' to do just that as he delivered one of the most memorable late replacement victories in UFC history by KO'ing Rockhold in the first round to become the new champion.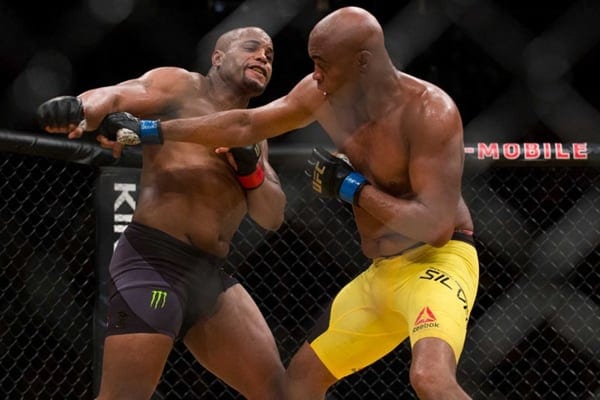 Daniel Cormier vs. Anderson Silva
UFC 200 in July of 2016 had long been targeted as a major marquee event for the promotion, but it proved to be a jinxed card that saw a series of high-profile fights fall through.
After Conor McGregor vs. Nate Diaz II fell through as the headliner the UFC regrouped and came up with a 205-pound title rematch between Daniel Cormier and Jon Jones, but disaster struck just three days before the show when it emerged that Jones had failed a drug test and had been removed from the lineup.
Blindsided by this, the UFC scrambled to find a last-minute replacement to keep Cormier on the card and preserve the line-up's 'stacked' status.
Their savior would come completely out-of-the-blue, with former middleweight champion Anderson Silva reaching out to say he would step up to take the fight at 205 pounds on just 48 hours notice, despite the fact he'd underwent gallbladder surgery just seven weeks earlier.
The UFC jumped at the chance to have such as high-profile replacement, but as many suspected the odds were just too firmly stacked against the 40-year-old Silva to pull off a major upset, with Cormier dominating him on the mat for three rounds to emerge victorious, though 'The Spider' earned respect for his 'fight anyone-anytime' attitude, even in the midst of the worst losing streak of his career.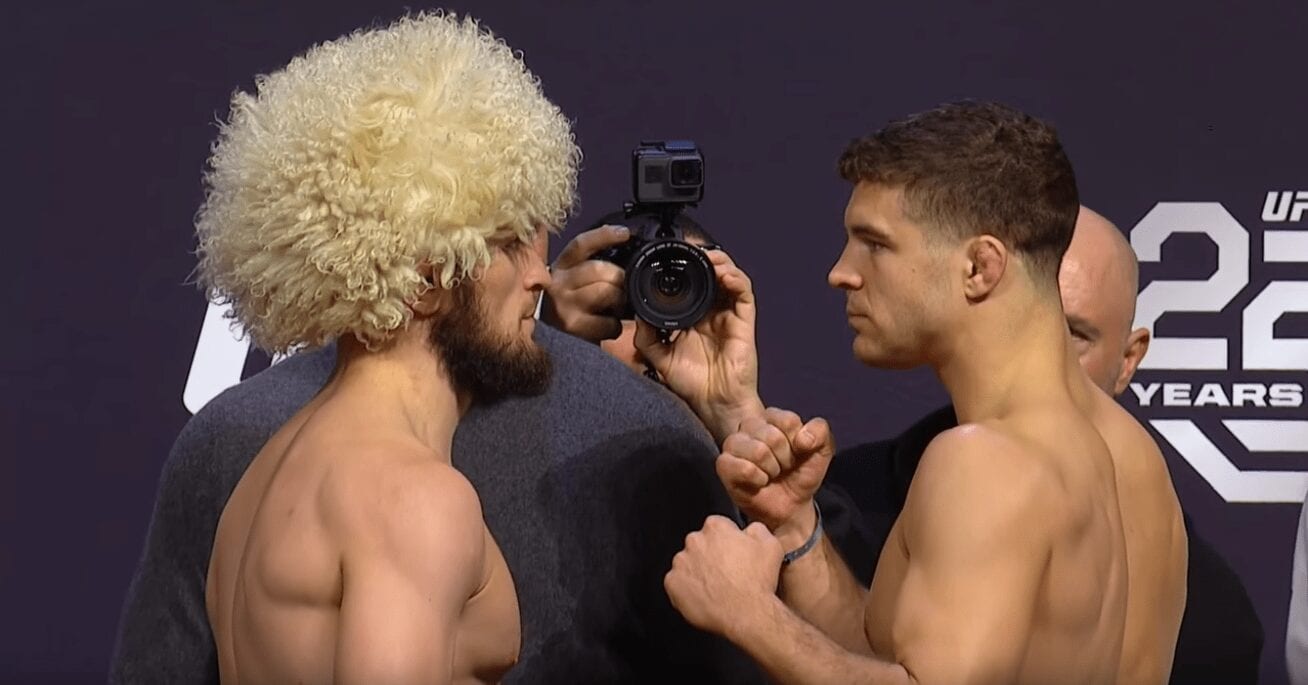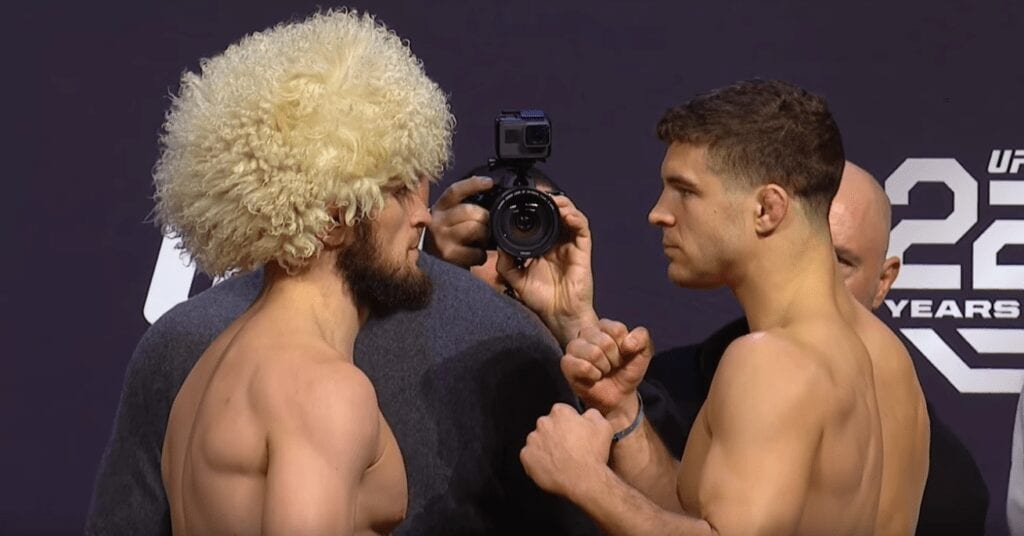 Khabib Nurmagomedov vs. Al Iaquinta
When the news first broke that Tony Ferguson had been forced out of his fight with Nurmagomedov due to a knee injury less than a week out from UFC 223, most fans' first reaction was to laugh it off as an April Fool's Day hoax.
Unfortunately, it emerged that Holloway really had torn his knee ligament by tripping over a wire while doing media on a FOX studio set.
Then came another bombshell – featherweight champion Max Holloway had agreed to step up to lightweight to fight Nurmagomedov for the belt on just six days' notice.
However, Holloway's nutritionist George Lockhart warned that the fighter faced a daunting weight cut that was equal to the largest he'd ever personally overseen to get down to the championship 155-pound limit, and in the end that proved to be too much, with 'Blessed' being pulled from the fight on the day of the weigh-ins by the New York State Athletic Commission (NYSAC) due to health concerns.
Remarkably, even at that late stage the UFC still managed to rustle up yet another replacement in Al Iaquinta, who had previously been scheduled to fight Paul Felder, agreeing to step up to main event the card opposite Nurmagomedov for the title on just 24 hours notice.
As many people expected, Nurmagomedov was able to dominate Iaquinta in the fight on his way to winning the lightweight title, but 'Raging Al's' willingness to step in and save the show earned him a great deal of respect and more than likely the best payday of his career.