Jon Jones News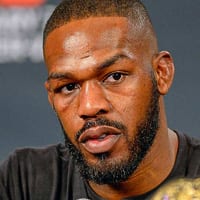 DOB: July 19th, 1987
Birthplace: Rochester, New York
Nickname: Bones
Gym: Jackson-Wink MMA
Style: MMA
Championships: 2x UFC Light Heavyweight Champion
Jone's amateur wrestling career
Jon Jones came from an athletically gifted family. Both of his brothers play professionally in the NFL, while Jon chose a career in MMA.
In high school, Jon played football and wrestled. One of his football coaches gave him the nickname "bones" for his slender frame. 
Jones excelled at wrestling winning the New York state championship while in high school. He would also win the JUCO national championship at Iowa Central Community College.
Bones then went to  Morrisville State College for a brief time before dropping out and beginning his MMA career.
Jon's early MMA career
When Jones began his MMA career he excelled immediately. In a 3 month span, he went 6-0 early in his pro career. Finishing all of his opponents with ease.
Not even a year into his pro career, Jones would sign to fight for the UFC in August of 2008.
Jon Jones's early UFC run
Jones made his UFC debut on UFC 87 taking a fight on 2 weeks notice against Moyses Gabin. He would use his wrestling to control his opponent to win his UFC debut by decision. 
For his next fight, he would fight TUF veteran Stephan Bonnar and get the MMA world talking with his performance. Using his amazing wrestling ability and superior athleticism putting on a show before winning a decision.
Jon would continue his dominance topping each of his last performances and improving his abilities. The only blemish on his record would be a controversial DQ against Matt Hamill in a fight Jones  dominated.
Not phased by the DQ loss, Jones would go on to win his next 3 fights to put him in line for a title fight.
Jon's first title win and reign
After accumulating a record of 13-1, Jones would be in the spotlight facing Shogun Rua for the world title. Jon immediately brought the fight to Rua pressing the fight and throwing multiple types of strikes.
Rua was off balanced from the beginning of the fight and would succumb to strikes in the 3rd round. Earning the first title win for Jones and the beginning of the most dominant reigns in MMA history.
Defending his title 7 times before meeting who would become his arch rival Daniel Cormier.
Jones vs Cormier
Bad blood formed between the two before their first fight at UFC 182, They got into a scuffle at a press conference and both were fined $50k.
At the fight, Cormier would press Jones to win the first two rounds, but Jones would bounce back. Winning the last 3 rounds to retain his title.
Jon's legal troubles and failed drug tests
Before his first fight with Cormier, Jones tested positive for a metabolite of cocaine. Although he tested clean on the second test, controversy would unfortunately become normal with the champion.
A few months after the failed test in April of 2015, Jones was convicted of a hit and run. Striking a pregnant woman with his car and videotaped fleeing the scene elevating the misdemeanor to a felony.
Jones was stripped of the title and suspended.
Before a scheduled rematch with Cormier, Jones tested positive for two banned substances and was pulled from the title fight.
Then after winning a rematch with Cormier at UFC 214 it was announced Jones had failed another drug test. Overturning the result of the fight to a no contest.
Jones would have another run in with drug tests at UFC 232, where the NSAC saw inconsistencies in his test. To keep from cancelling the show, the UFC moved the whole show to California on a few days notice.
Dropping the title and move to heavyweight
After defeating Alexander Gustafsson in a rematch, Jones would defend the title 3 more times. He would then drop the title citing that there were no more fights at that weight to add to his legacy. Jones has teased about making the move to heavyweight.