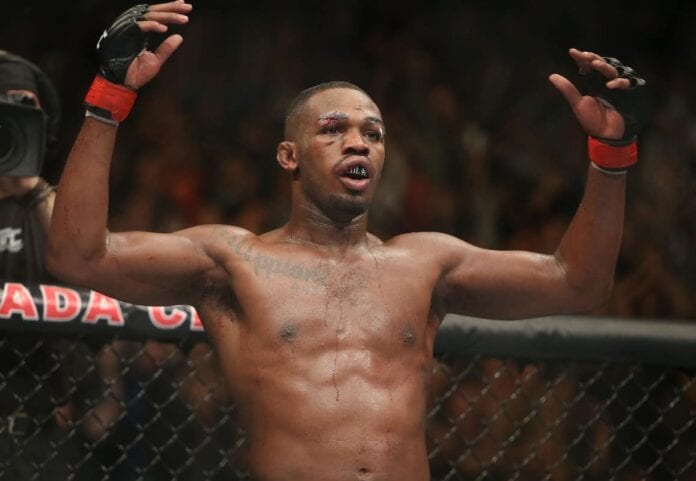 With the UFC's hand tied in the aftermath of Jon Jones' felony arrest for an alleged hit-and-run involving a pregnant woman, the promotion had no other choice but to act decisively.
And act they did, as news just broke live on FOX Sports 1 that the UFC has stripped the title from Jones and Daniel Cormier will face Anthony "Rumble" Johnson in the main event of May 23's UFC 187.
UFC President Dana White, who flew to Albuquerque, New Mexico, to talk with the embattled champion tonight, acknowledged that while this was certainly not an enjoyable decision to make, the company had to move on:
"It's not fun, but you know what they say: the show goes on." 
White went to clarify that Jones had been suspended indefinitely from the UFC while he deals with his legal issues:
"Obviously he has to focus on his legal matters right now."
White had joined UFC co-owner Lorenzo Fertitta and COO Lawrence Epstein in a meeting with Jones' lawyer Vincent Ward, and obviously they decided that Jones' latest in a long line of questionable and dangerous decisions concerning drugs and alcohol was simply too much for them to let slide after he got off relatively scot-free for failing a drug test for cocaine before UFC 182 back in January.
Jones was named a suspect in the accused accident, where he supposedly hit 25-year-old Vanessa Sonnenberg and left the scene after grabbing a fistful of dollars and leaving his marijuana, paraphernalia, and rental paperwork identifying the smashed SUV he was driving as his.
A felony arrest warrant was issued for him, and he was forced to turn himself in to Albuquerque Police. After posting $2,500 bond, Jones asked for and received his travel restriction to be lifted. He also did not enter a plea and will await the District Attorneys' office decision of whether or not to file to pursue an indictment via a grand jury trial.
But the UFC has already hit him where it hurts, and that's in his ability to fight as the world's No. 1-ranked pound-for-pound fighter. For his part, Jones issued an apology on Twitter that simply said he's got a lot of soul searching to do:
Got a lot of soul searching to do. Sorry to everyone I've let down.

— Jon Bones Jones (@JonnyBones) April 29, 2015
Yet the UFC did what they had to do. Do you agree with their decision?

online survey
Photo Credit: Tom Szczerbowski-USA TODAY Sports