Darren Till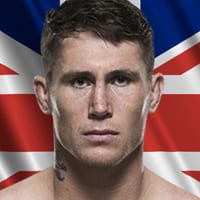 DOB: December 24th, 1992
Birthplace: Liverpool, England
Nickname: The Gorilla
Gym: Team Kaobon Liverpool
Style: Muay Thai
Weight Division: Middleweight
MMA Record: 18-3
Till's early years
Darren "the gorilla" Till grew up in Liverpool, England where he would take up Muay Thai at 12 years old. He came from a troubled household, so he became immersed in his training as a way to escape.
After training for two years, Darren dropped out of school and began training full time. Joining Team Kaobon Liverpool to train MMA later at age 17. 
Till then ran into some trouble and was nearly killed after being stabbed twice after an incident at a party. Barely surviving the attack his trainer advised him to go to move to Brazil and train with a former coach.
Till begins his MMA career
Darren then moved to Balneário Camboriú, Brazil joining Astra Fight Team. His plan of saying for 6 months turned into 3.5 years.
During his time in Brazil, Till would begin his MMA career. Going 12-0 in 3 years fighting throughout Brazil and one time in Argentina.
Till's UFC debut
After going 12-0, Till was offered a fight on a UFC Fight Night card against Wendell de Oliveira in Goiânia. He would go on to win his debut with a phenomenal KO by elbows to begin his UFC stint.
Till continued to impress
Darren would fight to a draw against Nicolas Darby in his second UFC fight, but went on a great run afterward. Winning 4 straight fights including a TKO finish against Donald Cerrone and decision win against Stephen Thompson.
MMA critics were crowning Till as the next big star in MMA due to his skill and charisma. With the welterweight division wide open this gave Till the next shot at the title against Tyron Woodley.
Losing the title match and move to middleweight
At UFC 228, Darren challenged the then welterweight champion Tyron Woodley. There was a lot of hype behind Till being undefeated, but he would come up short in the title match.
Woodley stunned Till in the first round with heavy shots shutting down his striking. The fight primarily took place on the ground, where Woodley would land a barrage of elbows. Tyron would continue to pummel Till until locking in a darce choke.
Darren would suffer another setback losing by devastating knockout to Jorge Masvidal in his return fight. With two losses in a row at welterweight, Till decided to move to middleweight for a fresh start. Till felt the weight cuts were affecting his health and he'd fight better at middleweight.
Darren's run at middleweight
At middleweight, Till's first fight was against former title contender and TUF winner Kelvin Gastelum at UFC 244. It was a back and forth fight, where Till edged out Gastelum for a split decision win.
In his next fight Till would lose a close decision against former champ Robert Whitaker on Fight Island. Even in a close loss, Till still looked like he belonged among the UFC's top middleweight contenders.